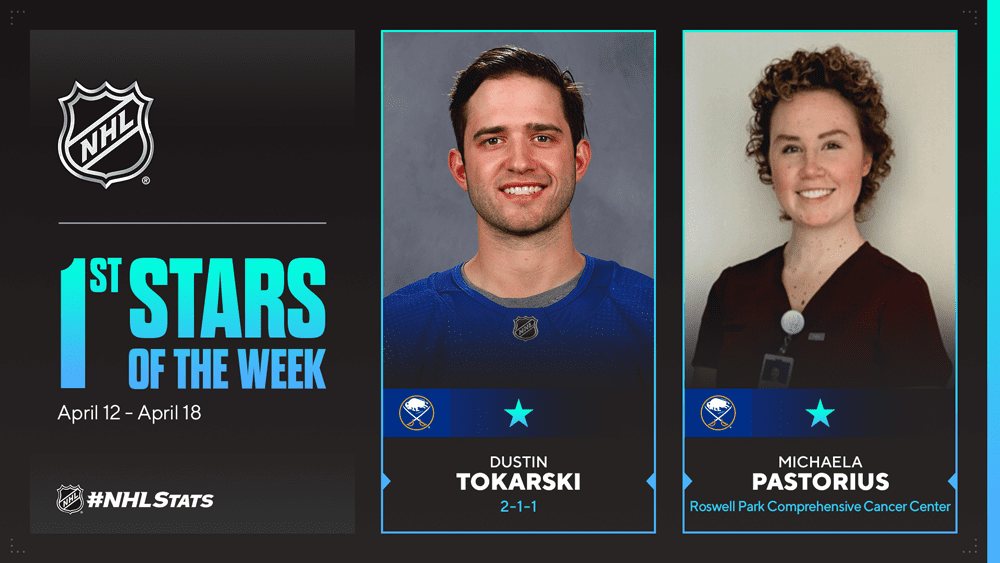 Rangers' Panarin, Golden Knights' Stone Round Out 'Three Stars'
NEW YORK (April 19, 2021) – Buffalo Sabres goaltender Dustin Tokarski and Roswell Park Comprehensive Cancer Center RN Michaela Pastorius have been named the NHL's "First Stars" for the week ending April 18.
Throughout the 2020-21 season the NHL is celebrating the remarkable efforts of the off-ice stars who make it possible for us to play our games amid a pandemic by honoring frontline healthcare heroes from the regions represented by the League's weekly and monthly "Stars."
Pastorius works as a nurse at Buffalo's Roswell Park Comprehensive Cancer Center, where just a few years ago she was walking the same halls as a patient battling a cancer diagnosis. Pastorius put nursing school on hold while going through treatment, but vowed to finish her degree and now works alongside the nurses who once cared for her as a patient.
The inpatient unit at Roswell Park where Pastorius works – known as 6West – is typically for cancer patients with solid tumors, but has become a designated COVID-19 space over the past year. Pastorius understands what these patients are going through and brings a positive attitude to the floor despite the incredibly challenging and emotional experience of the pandemic on both patients and staff.
"When I was going through inpatient chemotherapy at Roswell Park, the Buffalo Sabres gave me motivation to continue fighting," Pastorius says. "The amount of support the Sabres show for Roswell and its patients felt personal to me since I am such a big fan . . . The appreciation I had and still have for their support is bottomless."
Rounding out the "Three Stars" of the week are New York Rangers left wing Artemi Panarin and Vegas Golden Knights right wing Mark Stone. More on each NHL player's performance can be found below:
FIRST STAR – DUSTIN TOKARSKI, G, BUFFALO SABRES
Tokarski made a League-best 128 saves on 137 shots, compiling a 2.27 goals-against average and .934 save percentage to help the Sabres (12-26-7, 31 points) go 2-1-1 versus three of the top four teams in the MassMutual NHL East Division. He turned aside 29 shots in a 3-2 shootout loss to the Boston Bruins April 13. Tokarski then recorded 27 saves for his first NHL victory since Dec. 12, 2015 (w/ MTL) – and first win since his father passed away in 2017 – in a 5-2 triumph over the Washington Capitals April 15. He finished the week with a pair of starts against the Pittsburgh Penguins, making 38 saves in a 3-2 loss April 17 followed by 34 stops in a 4-2 victory April 18. The 31-year-old Watson, Sask., native – who last appeared in the NHL in 2016-17 (w/ ANA) prior to signing with Buffalo in November – has played in nine games this season, posting a 2-5-2 record with a 3.15 goals-against average and .914 save percentage.
SECOND STAR – ARTEMI PANARIN, LW, NEW YORK RANGERS
Panarin led the NHL with 4-6—10 and a +8 rating (tied) in four contests to power the Rangers (23-16-6, 52 points) to a sweep of their four-game series against the New Jersey Devils. Panarin scored once in a 3-0 win April 13, giving him a franchise-record 138 points (45-93—138) through his first 100 appearances with New York. He then collected multiple points in each of his next three games, notching 2-1—3 in a 4-0 triumph April 15, 1-3—4 (including the game-winning goal) in a 6-3 victory April 17 and two assists in a 5-3 win April 18. The 29-year-old Korkino, Russia, native and 2015-16 Calder Memorial Trophy winner ranks second in the League with 1.53 points per game this season, placing 10th overall with 16-36—52 in 34 outings.
THIRD STAR – MARK STONE, RW, VEGAS GOLDEN KNIGHTS
Stone ranked second in the NHL with 3-5—8 in four games to lift the Golden Knights (31‑11-2, 64 points) to a perfect week and their sixth straight win dating to April 9. He recorded consecutive 1-1—2 performances in a pair of matchups against the Los Angeles Kings, a 4-2 victory April 12 and 6-2 triumph April 14. Stone added another four points in two games versus the Anaheim Ducks, collecting two assists in a 4-0 win April 16 and 1-1—2 in a 5-2 victory April 18. The 28-year-old Winnipeg native tops Vegas and places 12th in the NHL with 15-35—50 through 43 contests this season. He also sits among the League leaders in plus/minus (3rd; +25), game-winning goals (t-3rd; 7), shooting percentage (7th; 20.3%) and assists (t-8th; 35).
COURTESY NHLmedia.com