Rich Eisen Ran 40-Yard Dash at SoFi Stadium
NFL Legends Jerry Rice, Ray Lewis, Cris Carter, Rod Woodson, Terrell Davis, Michael Vick, Torry Holt & Eric Metcalf Along w/ Various Entrepreneurs Took Part
Continues to Benefit St. Jude Children's Research Hospital
The 17th annual 'Run Rich Run' continues to raise awareness and support for St. Jude Children's Research Hospital®.
Highlighting the 'Run Rich Run' campaign each year is NFL Network's Emmy-nominated host Rich Eisen donning his trademark suit and tie to run a 40-yard dash, and this year Eisen conducted his run at the beautiful SoFi Stadium at Hollywood Park – home of the Los Angeles Rams and Los Angeles Chargers, and site of Super Bowl LVI.
Over the past five years, Eisen's annual 40-yard dash has blossomed into a premiere philanthropic event raising millions of dollars for St. Jude Children's Research Hospital. For this year's run, Eisen enlisted the help of numerous NFL legends including Jerry Rice, Ray Lewis, Cris Carter, Rod Woodson, Terrell Davis, Michael Vick, Torry Holt and Eric Metcalf to be partnered with some of the country's most celebrated entrepreneurs.
Provided below are the entrepreneurs who took part:
Brett Adcock & Adam Goldstein – Co-Founders and Co-CEOs of Archer
Vinit Bharara – Co-Founder of Quidsi (Diapers.com, Soap.com, Wag.com) and Some Spider Studios
Andy Dunn – Co-Founder of Bonobos
Nate Faust – Founder of Olive & Co-Founder of Jet.com
Jenny Fleiss – Co-Founder of Rent the Runway and Venture Partner at Volition Capital
Glenn Gonzales – Co-Founder and CEO of Jet It
Marc Lore – Serial Entrepreneur (Quidsi, Jet.com)
Jason Robins – Co-Founder and CEO of DraftKings
Serial entrepreneur Marc Lore brought these entrepreneurs together to donate more than $1 million to St. Jude Children's Research Hospital and the opportunity to be paired with an NFL Legend to create a fun competition in which each pair ran a 40-yard dash, with the lowest combined time being declared the winner.
Eisen's 40-yard dash, presented by Lowe's and Zebra Technologies, will air during NFL Network's coverage of Rounds 4-7 of the 2021 NFL Draft in Cleveland on Saturday, May 1 at 12 Noon ET.
Fans are encouraged to continue to submit their "40-yard dash" videos or unique variation on social media using the hashtag #RunRichRun or #RunYour40.
'Run Rich Run' has grown to become a defining and leading charitable campaign. Since Eisen began supporting St. Jude through 'Run Rich Run' fundraising six years ago, approximately $2.5 million has been raised to benefit the mission of St. Jude: Finding cures. Saving children.® Eisen's commitment to charity was formerly recognized in 2017 when he was bestowed with the Pat Summerall Award at the Legends of Charity Dinner during Super Bowl LI in Houston.
Fans around the globe have since rallied around Eisen's passion for this cause, knowing that not only will it be fun to participate, but their generous donations support research and treatment toward a cure for childhood cancer and other life-threatening diseases. Continued participation will ensure that families never receive a bill from St. Jude for treatment, travel, housing or food – because all a family should worry about is helping their child live.
Since 2012, the NFL has partnered with St. Jude through NFL PLAY 60, which is the "Official Champion of Play" at St. Jude Children's Research Hospital. As the League's national youth health and wellness campaign encouraging youth to get physically active for 60 minutes a day, the NFL PLAY 60 initiative helps patients and families at St. Jude cope with serious illnesses through play therapy, peer interaction and other activities.
Eisen is the host of The Rich Eisen Show, which streams Monday-Friday at 12 Noon ET on Peacock TV and airs on SiriusXM Ch. 211.
Visit nfl.com/runrichrun or stjude.org/runrichrun to make a gift.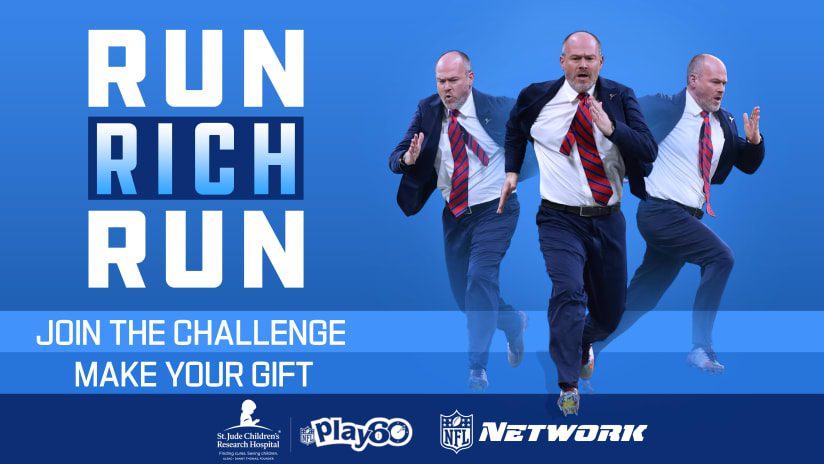 ABOUT NFL MEDIA
NFL Media is comprised of NFL Network, NFL Films, NFL.com, the NFL app and NFL RedZone.
Seven days a week, 24 hours a day, 365 days a year, fans turn to NFL Network to receive information and insight straight from the field, team headquarters, league offices and everywhere the NFL is making news. Launched in 2003, NFL Network gives fans unprecedented year-round inside access to all NFL events, including the Super Bowl, Playoffs, regular season, preseason, Pro Bowl, Pro Football Hall of Fame induction weekend, NFL Draft, NFL Scouting Combine, Senior Bowl, league meetings, minicamps and training camps.
For fans on the go, all NFL Network programming can be streamed live through the NFL and NFL Network apps on smartphones, tablets, PCs and connected TV devices (Amazon Fire TV, Android TV, Apple TV, PlayStation 4, Roku and Xbox One). Access is available for NFL Network subscribers of participating TV providers. For more information, go to NFL.com/nflnetwork.
COURTESY NFLmedia.com