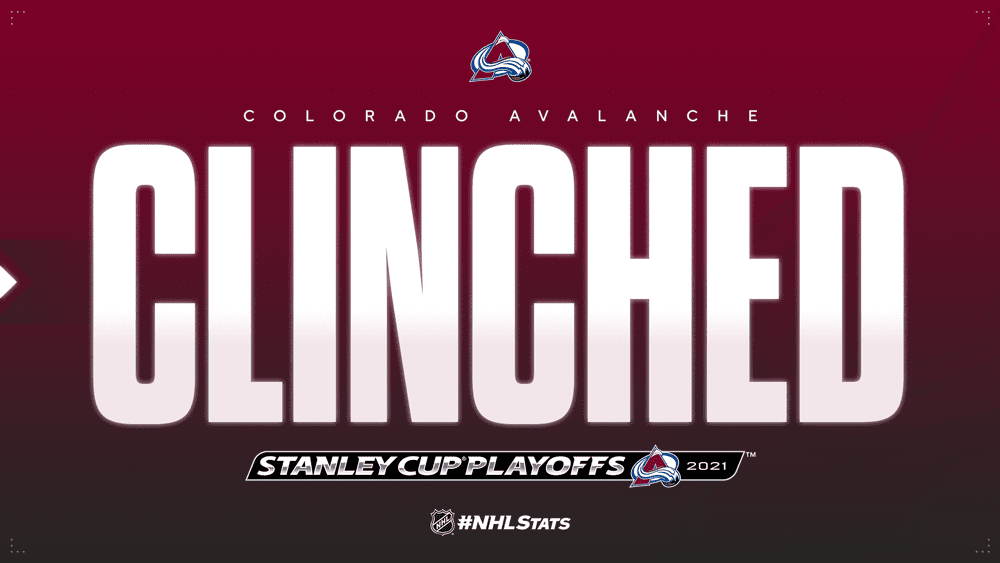 Ten #NHLStats about the Colorado Avalanche, who are headed to the postseason for the fourth consecutive season and 26th time in franchise history (17x as Colorado, 9x as Quebec).
1. Colorado will return to the Stanley Cup Playoffs for a fourth consecutive year, the longest streak for the franchise since making 11 straight trips from 1995 to 2006. The only other time the club reached the playoffs in four or more consecutive years was a seven-season run from 1981 to 1987 as the Nordiques.
2. The Avalanche are averaging 3.33 goals per game in the postseason during their current streak of appearances (since 2018), only the Oilers (3.75) have a higher rank in that same timeframe. Colorado has scored six or more goals in a playoff game five times since 2018 – only Boston (6x) has more over that span.
3. Nathan MacKinnon is averaging 1.35 points per game throughout his playoff career (20-34—54 in 40 GP), the fourth-highest total among players to appear in at least 15 postseason games, behind only Wayne Gretzky (1.84), Mario Lemieux (1.61) and Barry Pederson (1.53). MacKinnon had a point in 14 consecutive games during the 2020 postseason.
4. Nathan MacKinnon ranks 10th in franchise history with 20-34—54 in 40 postseason appearances (his 1.35 P/GP ranks first in COL/QUE history). MacKinnon is closing in on a trio of key 1990s Avalanche contributors on the all-time franchise playoff points list – all of whom played 22 or more playoff games with the club than he has to date. MacKinnon needs one point to tie Claude Lemieux (21-34—55 in 62 GP), two to match Adam Deadmarsh (22-34—56 in 88 GP) and six to equal Valeri Kamensky (25-35—60 in 64 GP).
5. Gabriel Landeskog (Stockholm, Sweden) aims to become the second Swedish-born captain in NHL history to lead his team to a Stanley Cup. Nicklas Lidstrom (Vasteras, Sweden; 2008 Red Wings), Zdeno Chara (Trencin, Slovakia; 2011 Bruins) and Alex Ovechkin (Moscow, Russia; 2018 Capitals) are the only non-North American players to captain a Cup winner.
6. Cale Makar burst onto the scene with a goal in his NHL debut, which occurred in Game 3 of the 2019 First Round against his hometown Flames. Makar (5-16—21 in 25 GP) has continued to produce in the postseason and already ranks fourth in franchise history for playoff points by a defenseman behind Sandis Ozolinsh (18-47—65 in 82 GP), Rob Blake (16-27—43 in 68 GP) and Adam Foote (7-35—42 in 170 GP) – all of whom won a Stanley Cup with Colorado.
7. Mikko Rantanen has 13-26—39 in 33 career postseason games. Only four players have required fewer than 40 contests to record their first 40 playoff points with the franchise: Peter Stastny (28 GP), Joe Sakic (30 GP), Nathan MacKinnon (33 GP) and Peter Forsberg (36 GP).
8. Colorado's roster features three Stanley Cup winners: Brandon Saad (2013 CHI, 2015 CHI), Andre Burakovsky (2018 WSH) and Philipp Grubauer (2018 WSH).
9. Philipp Grubauer has a 12-5-1 record across two postseasons as a member of the Avalanche (2.15 GAA, .924 SV%, 2 SO). Among goaltenders in franchise history to appear in at least 10 postseason games, Grubauer ranks first in save percentage and second in goals-against average behind David Aebischer (2.07 GAA).
10. Nazem Kadri led the League with five game-winning goals in the 2020 postseason. The only player in Avalanche/Nordiques history to record more in a single playoff year was franchise icon Joe Sakic, who netted six game-winning goals in the 1996 Stanley Cup Playoffs en route to the club's first championship.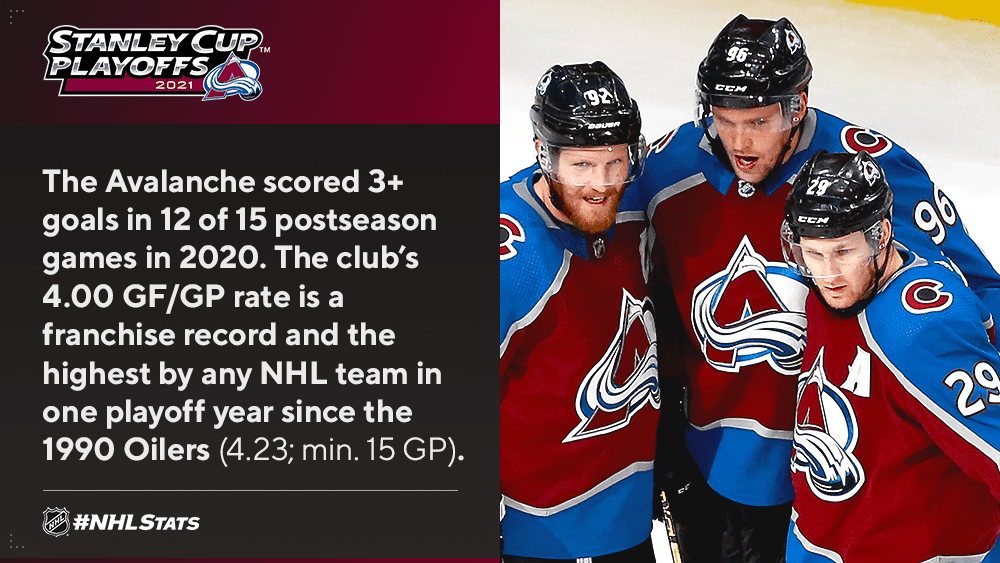 COURTESY NHLmedia.com