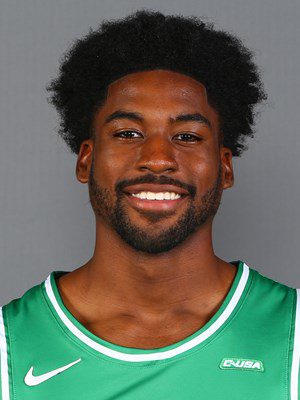 DALLAS – Conference USA has announced its 2021 Winter Spirit of Service Award winners. The award honors one student-athlete from each of the league's 14 members with significant community service endeavors, good academic standing and participation in their sport. The Spirit of Service award is presented three times throughout the season, with these honorees representing men's and women's basketball, men's and women's indoor track and field, cross country and football.
A leader on-campus and in the locker room, JJ Murray has worked to make a make a difference in the community at every turn for North Texas. He serves as a member of the Student-Athlete Advisory Committee, and volunteered to lead the SAAC Community Service and Promotion Sub-Committee. In this role, Murray was instrumental in organizing community service activities with the local chapter of the Salvation Army's Angel Tree Donation arm, and community Yard Sale to raise funds for the organization. He also works to organize service events due to his role as President of the UNT chapter of the American Society of Engineering Management and member of the National Society of Black Engineers.
As a Mechanical Engineering major and Business Administration minor, Murray has achieved considerable academic success. Since his arrival is Fall 2018, he has never had a semester GPA under a 3.0, and was named to the C-USA Commissioners Honor Roll for five straight semesters. He has been named to the Dean's List three times (Spring 2019, Fall 2019, Fall 2020). In addition, Murray was named to the President's List in the Spring 2020 semester with a 4.0 GPA.
A former walk-on who later earned an athletic scholarship and played in 36 career games, he averaged 2.4 points per game and 1.6 rebounds per game. Murray is the first substitute off the bench for the 2021 C-USA champion Mean Green that won a NCAA Tournament game for the first time in program history.
2021 WINTER SPIRIT OF SERVICE HONOREES
| | | |
| --- | --- | --- |
| Name | Sport | School |
| Maya Singletary | Indoor Track and Field | Charlotte |
| Kyla Nelson | Women's Basketball | FIU |
| Kara Wilkins | Women's Swimming and Diving | Florida Atlantic |
| Jada Branch | Indoor Track and Field | Louisiana Tech |
| Taylor Pearson | Women's Basketball | Marshall |
| Courtney Whitson | Women's Basketball | Middle Tennessee |
| Joseph JJ Murray | Men's Basketball | North Texas |
| Jacob Cobb | Men's swimming | Old Dominion |
| Noah Hutchins | Men's Basketball | Rice |
| DeAndre Pinckney | Men's Basketball | Southern Miss |
| Amy Kohan | Mixed Rifle | UAB |
| Jonna Warnken | Rifle | UTEP |
| Karrington Donald | Women's Basketball | UTSA |
| Dartez Hamlin | Indoor Track and Field | WKU |
Click here to learn more about all of the 2021 Conference USA Spirit of Service winners.
COURTESY NORTH TEXAS ATHLETIC COMMUNICATIONS & CONFERENCE USA