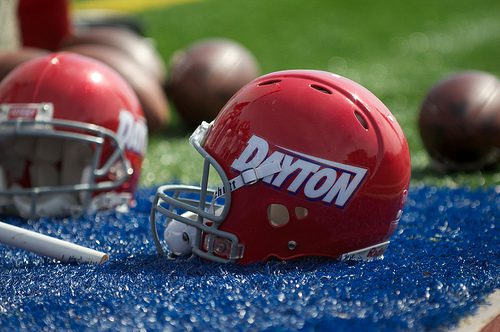 Flyers Will Play Six Home & Five Road Games In 2021
DAYTON – When the University of Dayton returns to football game action next season, it will be at home on Sept. 4 against Robert Morris.
After opting out of the 2020-21 season, the Flyers will play six home games and five on the road this fall.
UD has three non-conference games on the schedule, and eight games in the Pioneer Football League. With 11 members beginning in 2021, the two teams Dayton will not play this year are charter member San Diego and one of two new members, St. Thomas (Minn.).
Dayton will open with a pair of home games – Sept. 4 with Robert Morris and Sept. 11 vs. Eastern Illinois. The Flyers will then close out non-conference action in Carbondale, Ill. against Southern Illinois on Sept. 18.
UD will begin PFL play against the other new league member, Presbyterian, on Sept. 25 with a home game at Welcome Stadium. Dayton will then go on the road for its next two PFL contests at Morehead State (Oct. 2) and Drake (Oct. 9).
The Flyers will alternate home and road game the rest of the regular season – Marist (Oct. 16), at Valparaiso (Oct. 23), Butler (Oct. 30), at Stetson (Nov. 6) and Davidson (Nov. 13).
The first round of the FCS playoffs is Nov. 27.
UD was 8-3 overall and 6-2 in the PFL in 2019.  The Flyers finished tied for second in the league that season.
COURTESY DAYTON MEDIA RELATIONS