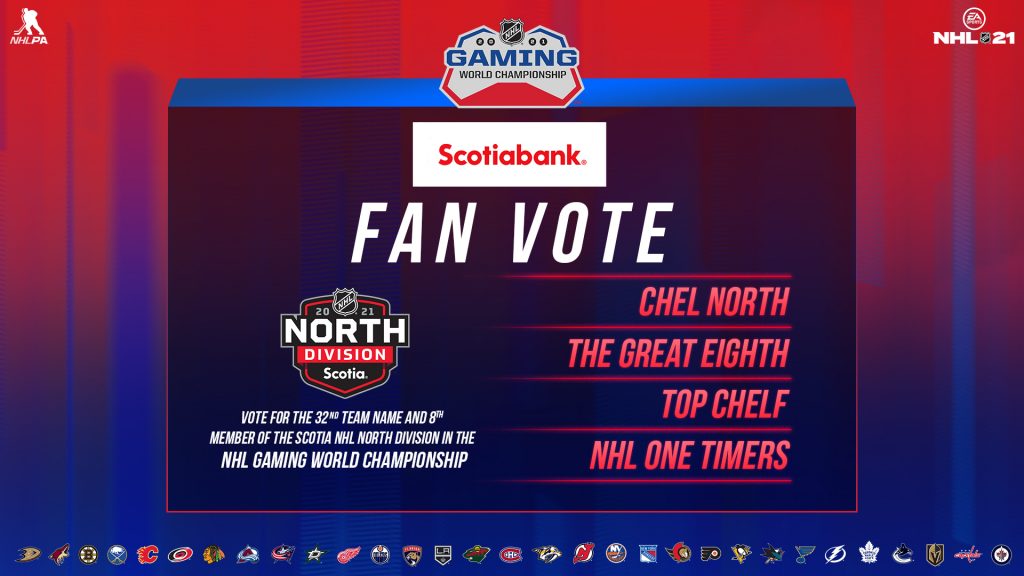 Fans Can Cast Ballot to Name Eighth Team Competing in Scotia NHL® North Division for 2021 NHL Gaming World Championship
Vote Here; Twitter Poll Will Remain Open Through Sunday, April 18
NEW YORK (April 14, 2021) – Hockey fans everywhere have the opportunity to virtually step into an NHL team owner's shoes as the National Hockey League (NHL®) today announced the opening of the 2021 NHL Gaming World Championship™ (GWC) Scotiabank Fan Vote.
In a new twist to the NHL's annual competition played on EA SPORTS™ NHL®21, fans have the chance to name the 32nd team that will compete for this season in the Scotia NHL® North Division of the GWC North American Club Championship. Fans can vote for their favorite team name on Twitter from April 14-18, with the winner being revealed live on Tuesday, April 20 during the NHL's weekly Twitch stream with GWC broadcast voice Arda Ocal. The results will also be published on the NHL's social platforms.
Fans can choose from one of the following four team names: Chel North, NHL One Timers, The Great Eighth and Top Chelf.
"Scotiabank is committed to opening up the game of hockey so that future generations of players and gamers from diverse backgrounds see themselves in the sport," said Mike Tasevski, Vice President of Global Sponsorship at Scotiabank. "As the official Bank of the NHL Gaming World Championship, we are excited to be a part of this fun and unique opportunity to engage the global hockey gaming community and continue introducing new fans to the game we all love."
Scotiabank has been a Canadian partner of the NHL Gaming World Championship since the tournament's inception in 2018. They have been supportive in grassroots gaming initiatives and last year sponsored a five-part content series called 'Learn to Chel' – which featured popular NHL gaming personalities teaching beginners how to play the EA SPORTS™ NHL® video game title. Episodes are available here.
In addition to voting, players can register to compete for their share of the $100,000 prize pool and a chance to represent this new team or any of the other 31 NHL teams. Registration for the 2021 NHL Gaming World Championship™ is now open. Eligible players can sign up at www.nhl.com/gaming as well as find all tournament information, including format changes, schedules, rules and regulations, and prize pool allocation. Tournament matches will be streamed on the NHL's Twitch channel.
COURTESY NHLmedia.com