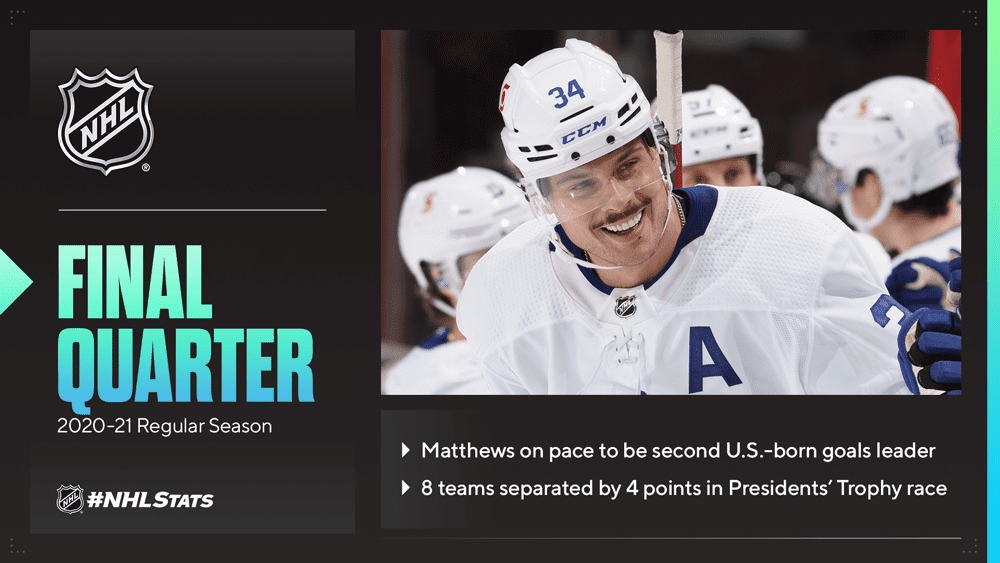 The 2020-21 NHL regular season will enter its final quarter with the conclusion of three games today (648 of 868 GP entering Wednesday, April 14; 74.7%)
165 – Current NHL players who were not yet born when Patrick Marleau made his NHL debut on Oct. 1, 1997 (min. 1 GP in 2020-21). Marleau (1,764 GP) is on track to overtake Gordie Howe (1,767 GP) as the all-time leader in regular-season games played on Monday, April 19.
92 – Points that Oilers forward Connor McDavid (23-46—69 in 42 GP) is on pace to conclude with this season. Only one player since 1997-98 has had at least that many points in 56 or fewer games played within a season: Sidney Crosby as a teenager in 2006-07 (26-69—95 in 56 GP).

75 – Years since a Maple Leafs player has ended a season leading the NHL in goals – Gaye Stewart in 1945-46 (37 G in 50 GP) is the only Toronto player to achieve that feat in the League's modern era (since 1943-44).
71 – Percentage of games in 2020-21 decided by a one-goal margin or multiple goals following an empty-net tally (458 of 648 GP), the third-highest percentage at this stage of a season in NHL history (2015-16: 74%, 481 games; 2018-19: 72%, 464 games).
49 – Years since the NHL saw three or more teams from one division each finish the regular-season with a points-percentage of .675 or higher. The only such instance in League history came in 1971-72 when the Bruins (.763), Rangers (.699) and Canadiens (.692) did so in the East Division; New York eliminated Montreal in the opening round of the playoffs before losing to Boston in the Stanley Cup Final.
42 – Years since Toronto and Montreal last met in the Stanley Cup Playoffs (1979 Quarterfinals). They have held the No. 1 and No. 4 seeds, respectively, in the Scotia North Division each day since Feb. 19.
26 – Points recorded by the Predators since March 15, the second-most in the NHL over that span behind the League-leading Avalanche. Nashville has climbed from seventh place – and 10 points out of a playoff spot – to fourth place in the Discover Central Division standings in that time frame.
25 – NHL-leading win count shared by Andrei Vasilevskiy (TBL) and Philipp Grubauer (COL). Vasilevskiy can join Martin Brodeur (2x) as the second goaltender in the NHL's expansion era (since 1967-68) – and fifth in NHL history – to at least share the League lead in wins in four consecutive seasons. Grubauer can become the third in Avalanche/Nordiques history to top the NHL in wins (1996-97: Patrick Roy, 2013-14: Semyon Varlamov).
23 – Points since March 1 by Stars forward Jason Robertson, tops among rookies in that span. That has allowed him to narrow the gap from 11 to five points as he pursues Wild forward Kirill Kaprizov in the rookie scoring race.
23 – Wins by a team that trailed by multiple goals in the third period, tied for the fourth-highest such total at this stage of a season in NHL history (through 648 GP; 33 in 2019-20, 25 in 2009-10 and 24 in 2013-14).

8 – Length of the active goal streak belonging to Senators forward Connor Brown, already a franchise record and the longest in the NHL since 2008-09 (Mike Green: 8 GP w/ WSH). Only two players in the last 27 seasons (since 1993-94) have had a goal streak of nine or games: Teemu Selanne in 1997-98 (11 GP w/ ANA) and Jaromir Jagr in 1996-97 (9 GP w/ PIT).
7 – The largest lead for any division leader, with the Maple Leafs pacing the Scotia North Division where the No. 2- and No. 3-ranked Jets and Oilers are separated by only one point.
5 – Wins required by Golden Knights goaltender Marc-Andre Fleury (484) to tie Roberto Luongo (489) for third place in NHL history. Fleury currently is tied for fourth place with Ed Belfour (484).
5 – Number of different birth countries represented among the NHL's top five goal-scorers so far in 2020-21, following a 2019-20 campaign that was the seventh in League history to end in that fashion.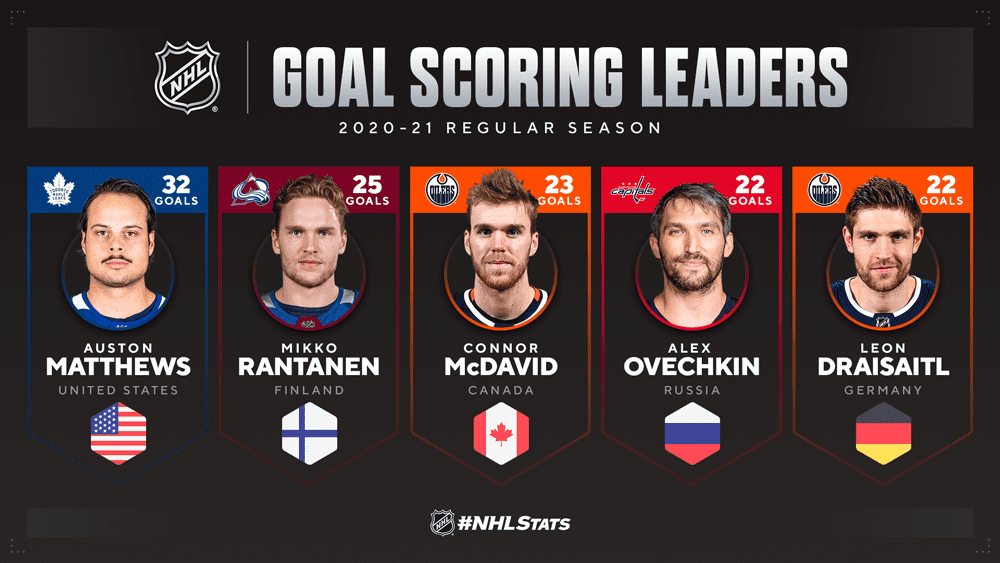 4 – Points separating the No. 1 and No. 8 seeds in the race for the Presidents' Trophy. Five of those eight clubs have yet to win the award since its inception in 1985-86 (Toronto, Vegas, Carolina, NY Islanders & Florida).
4 – Points separating the top two teams in the Honda West Division, with the Avalanche (29-9-4, 62 points) and Golden Knights (28-11-2, 58 points) scheduled to meet twice more in the regular season (April 26 and April 28).
4 – Number of points separating the top three teams in the MassMutual East Division, with the Capitals (28-11-4, 60 points) pacing the Islanders (27-11-4, 58 points) and Penguins (27-13-2, 56 points). Washington (5) and Pittsburgh (1) have finished first in their division a combined six times in seven seasons since 2013-14 (all in Metropolitan Division), while the NY Islanders last did so in 1987-88 (Patrick Division).
3 – Number of teams tied for the most points in the Discover Central Division, with the Hurricanes (27-10-4, 58 points) holding tiebreakers over the Lightning (28-12-2, 58 points) and Panthers (27-12-4, 58 points). Carolina last finished as the No. 1 seed in its division in 2005-06 en route to winning its lone Stanley Cup, while Tampa Bay (2017-18 & 2018-19) and Florida (2015-16 & 2011-12) each have done so twice since then.
3 – Goals required by Capitals forward Alex Ovechkin (728) to tie Marcel Dionne (731) for fifth place in NHL history. Five more after that would give him an NHL-record 16th consecutive 30-goal season.
3 – Number of Art Ross Trophy wins by Oilers teammates Connor McDavid (2) and Leon Draisaitl (1) since 2016-17. Should either of them win in 2020-21, it would mark the fourth time in the League's expansion era (since 1967-68) that a team has had a player claim the award at least four times in five seasons (PIT: 9x from 1991-92 to 2000-01; EDM: 7x from 1980-81 to 1986-87; and BOS: 7x from 1968-69 to 1974-75).
1 – Number of times in the NHL's expansion era (since 1967-68) that the Maple Leafs have finished a regular-season as the No. 1 seed in their division (1999-00 in Northeast Division).
1 – Number of U.S.-born players who have led the NHL in goals at the end of a regular season – Keith Tkachuk (Melrose, Mass.) did so with the Coyotes in 1996-97. That was five months before Auston Matthews (San Ramon, Calif.) was born and two campaigns before the Maurice "Rocket" Richard Trophy first was presented.

0 – Number of NHL seasons to finish with goaltenders born outside North America holding each of the top five spots on the rookie wins list – the current breakdown in 2020-21. The only campaign to date to come close was 2013-14 when Frederik Andersen topped a rookie wins list where each of the top three were born overseas.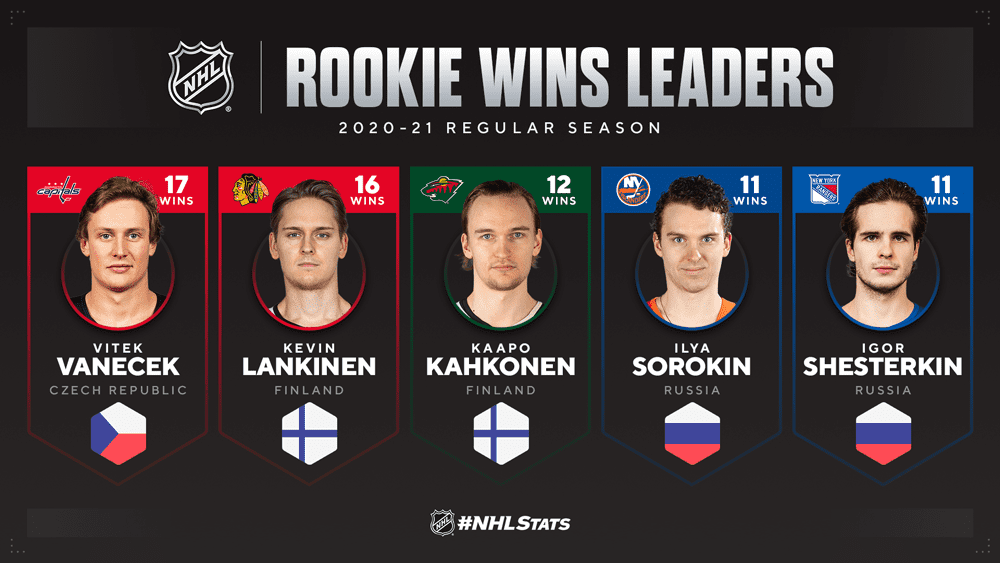 COURTESY NHLmedia.com