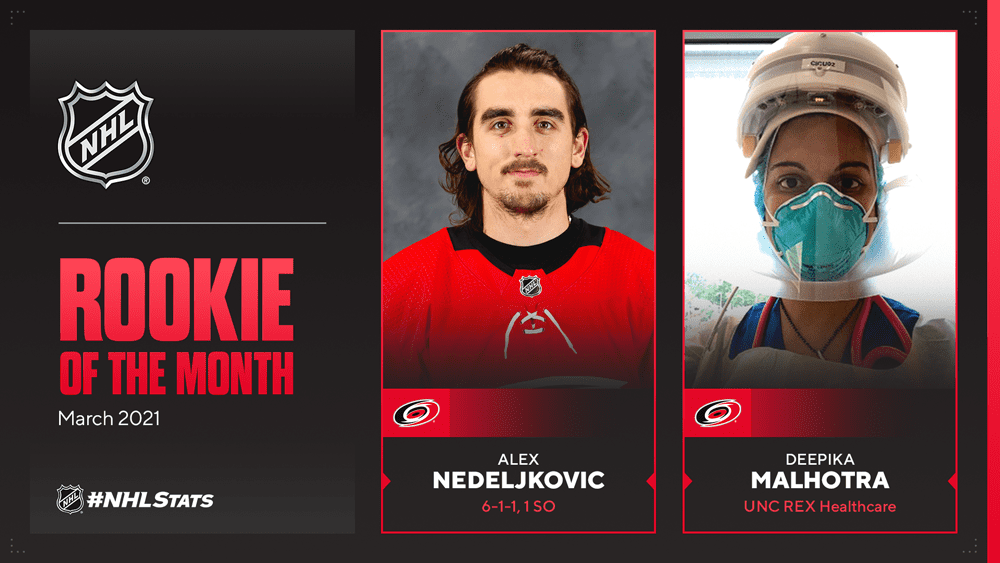 NEW YORK (April 1, 2021) – Carolina Hurricanes goaltender Alex Nedeljkovic and UNC REX Healthcare senior registered respiratory therapist Deepika Malhotra have been named the NHL's "Rookies of the Month" for March.
Throughout the 2020-21 season the NHL is celebrating the remarkable efforts of the off-ice stars who make it possible for us to play our games amid a pandemic by honoring frontline healthcare heroes from the regions represented by the League's weekly and monthly "Stars."
Malhotra, who has more than 17 years of experience as a respiratory therapist, joined UNC REX Healthcare in Raleigh, N.C., in September 2019 – just months before the start of the pandemic. She is involved in every step of a patient's journey in fighting COVID-19, which attacks the lungs and respiratory system.
Malhotra is an expert in helping coronavirus patients breathe, adjusting oxygen and providing treatments to ease discomfort. She also is involved in caring for patients who cannot sustain normal respiratory function and require mechanical ventilation.
Although there are many uncertainties regarding COVID-19, Malhotra and other respiratory therapists continue to step up, set aside fears and care for patients despite the high-risk nature of their job. "It's a super rewarding career," she says. "When you can't breathe, nothing else matters. And whenever you can't breathe, a respiratory therapist will be at your bedside!"
Nedeljkovic went 6-1-1 with a 1.85 goals-against average, .934 save percentage and one shutout in eight March games to edge Dallas Stars left wing Jason Robertson (5-11—16 in 17 GP), Nashville Predators right wing Eeli Tolvanen (6-8—14 in 16 GP), Minnesota Wild left wing Kirill Kaprizov (6-5—11 in 16 GP) and New York Islanders goaltender Ilya Sorokin (6-1-0, 2.28 GAA, .910 SV%) for "Rookie of the Month" honors.
Among all goaltenders (rookie or veteran) with at least five March appearances, Nedeljkovic ranked fourth in goals-against average (1.85) and fifth in save percentage (.934). He yielded two or fewer goals in six of his eight starts, highlighted by his second career shutout March 22 – in his native Ohio against the Columbus Blue Jackets (19 SV).
Nedeljkovic – who was selected in the second round (37th overall) of the 2014 NHL Draft – has compiled an 8-3-2 record in 13 total contests this season (2.05 GAA, .927 SV%, 2 SO). The 25-year-old Parma, Ohio, native leads rookies and ranks among the top 10 netminders (rookie or veteran) in both goals-against average (6th; 2.05) and save percentage (7th; .927).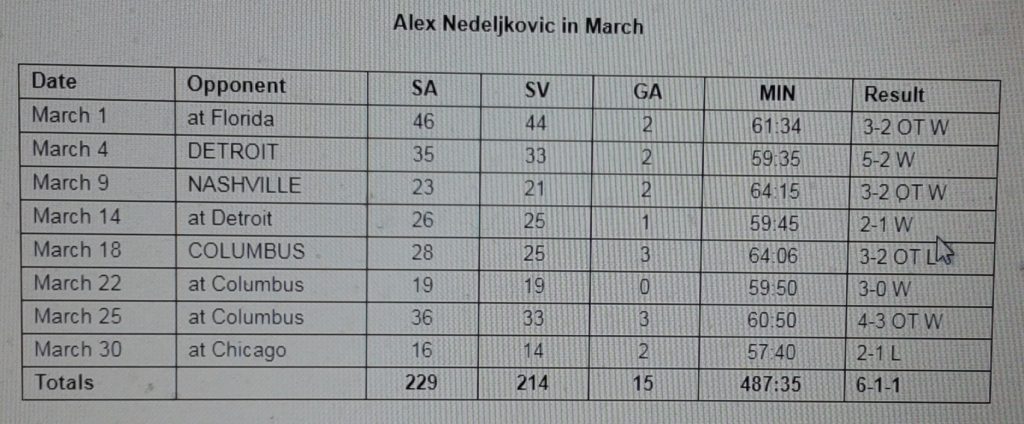 COURTESY NHLmedia.com