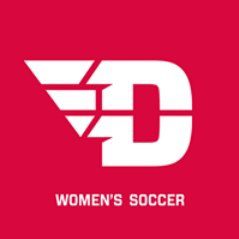 APRIL 11, 2021
NEWPORT NEWS, Va. – The University of Dayton women's soccer team is the fourth seed in the 2020-21 Atlantic 10 Women's Soccer Championship which begins Thursday on the campus of No. 1-seed Saint Louis at Hermann Stadium.
The Flyers, 7-5-1 overall and 4-3-1 in the A-10, will take on the Billikens for the fourth time this season. The semifinal match will be Thursday, April 15 at 1 p.m. ET.
The Billikens finished at 8-0-0 in league play, and 13-1-0 overall. Saint Louis is paced offensively by Hannah Friedrich with 18 points on two goals and 14 assists, and Abbie Miller with six goals and four assists for 16 points. Emily Groark and Hannah Larson each had a team-high seven goals. Goalkeeper Emily Puricelli made 45 saves and allowed just eight goals in 14 games for a goals against average of 0.56.
Freshman Itala Gemelli leads the Flyers and the A-10 with 19 points, including a league-best nine goals. Sophomore Jessica Sheldon has a team-high five assists. Madelyn Dewey allowed 13 goals and made 42 saves for a 1.19 goals against average for the Flyers in goal.
Massachusetts won the North Division with 16 points, the second most of any team, and will be seeded second for the championship. Davidson finished with 14 points to capture the South Division and is the No. 3 seed. Dayton recorded 13 points to secure the wild card berth and the fourth seed in the championship. The Flyers earned the final spot in the championship through the established league tiebreakers over George Washington and VCU, both of which also had 13 points.
No. 2 Massachusetts was 5-2-1 in the Atlantic 10 and 6-4-1 and was led by Jenny Hipp with five points for two goals and one assist. Lauren Bonavita and Hannah Peric each has two assists to lead the Minutewomen. Alyssa Chase made 22 saves and allowed eight goals for a 1.23 goals against average.
UMass will face third-seeded Davidson, which was 4-2-2 in league play and 6-3-3 overall, in the second semifinal Thursday at 5:00 pm ET/4:00 pm CT. The Wildcats are led offensively by Hailey Braemer with 13 points on four goals and five assists, both of which are team highs. Mary Grace Bunch made 29 save with eight goals against for a 0.67 goals against average.
The winners of the two semifinals will advance to meet in the championship final, which will be played Saturday, April 17 at 1 p.m. ET/Noon CT.

All three games of the A-10 Women's Soccer Championship will be aired on ESPN+. For watch links, result, photos and more visit Women's Soccer Championship Central at atlantic10.com.
DAYTON'S A-10 BACKGROUND
• Dayton has won the A-10 Tournament Championship more than any other team in the conference: 10 times (1996, 1999, 2001, 2003, 2004, 2009, 2010, 2011, 2014, 2016).
• UD has also won or shared 11 Atlantic 10 Regular Season titles (1996, 1998, 1999, 2000, 2001, 2002, 2003, 2004, 2009, 2010, 2013). The next closest is Massachusetts with five.
• Dayton has appeared in 23 A-10 tournaments, earning a berth every year the Flyers have been a member of the conference.

COURTESY DAYTON FLYERS MEDIA RELATIONS