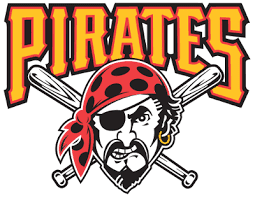 PITTSBURGH PIRATES (1-4) vs. CINCINNATI REDS (4-1)
April 7, 2021 at Great American Ball Park, Cincinnati, OH — GAME #6/ROAD #6
RHP CHAD KUHL (0-0, 3.00 ERA) vs. RHP LUIS CASTILLO (0-1, 21.60 ERA in 2020)
THE PIRATES…suffered a 14-1 loss Tuesday night in Cincinnati after dropping a 5-3 decision to the Reds on Monday…Have lost their last four games after beating the
Cubs, 5-3, on Opening Day at Wrigley Field…Were 2-3 after five games in 2020 (2-4 after six).
ON THE BUMP: Chad Kuhl was the Opening Day starter and received a no-decision against the Cubs at Wrigley Field last
Thursday afternoon (3.0ip/2r/1er)…Dating back to the 2020 season, Kuhl has been charged with two runs or less in seven
of his last 10 starts.
PHILTHY: Phillip Evans has homered in back-to-back games and has gone 5-for-12 with two homers and three RBI while
starting each of the last three games (two at third base and one in right field)…In his 11 starts with the Pirates last season,
Evans hit .359 (14-for-39) with a homer and nine RBI…Overall, Evans is hitting .373 (19-for-51) with three homers, 12 RBI,
a .439 on-base percentage and a 1.027 OPS in his 14 career starts with the Bucs.
WE ARE DIFO, D-I-F-O: Wilmer Difo played an inning at third base Monday night and the final four frames of Tuesday's
game in center field…It was his third career appearance in center field and his first appearance there in a big league game
since 4/8/18…Prior to today's game, Difo has made 30 Major League starts at third base, with the last one coming with the
Nationals last year on 9/4 at Atlanta.
HEADING HOME: Following the game today the Pirates travel to Pittsburgh, where the home slate of the 2021 schedule is
expected to begin with a 1:35 contest against the Cubs tomorrow afternoon…Following a day off Friday, the series with the
Cubs continues Saturday and Sunday before the Padres come to town for a four-game series beginning Monday night…The
Pirates will now be starting their Sunday home games at 1:05pm for the first time since 1980 and weekday games in April,
May and September are scheduled to start at 6:35pm.
THE HOME OPENER: Tomorrow's game with the Cubs will mark the 25th time (first since a 1-0 win in 10 innings in 2005)
in which the Pirates will host the Cubs in their Home Opener…Game time is scheduled for 1:35…The National Anthem will
be performed by 30-year Pirates season ticket holder and 34-year Pittsburgh public school teacher Tim Pollack…God Bless
America will be sung by Tech Sgt. Vannessa Norris of the US Air Force…All fans in attendance will receive a Pirates magnetic
schedule and a Pirates face mask, courtesy of AHN and Highmark.
PNC PARK OPENERS: The 2021 season marks the 20th anniversay of PNC Park…The first regular season game was played
on April 9, 2001, with the Pirates dropping an 8-2 decision to the Reds…The Bucs have gone 9-11 in Home Openers at PNC
Park, having lost each of the last two after winning five straight from 2014-2018…Overall the Pirates have posted a 77-57
record in their Home Openers, dating back to April 30, 1887, and their 6-2 win over Chicago at Recreation Park.
THE RAP ON REYNOLDS: Bryan Reynolds has hit safely in each of the first five games this season (6-for-19), which includes
a solo home run Monday night…He hit safely in each of his first six career games played at Great American Ball Park (9-for-21,
.429) and enters today's action having reached base safely in 12 of his 13 career starts in Cincinnati.
AND THE WHIFF: Pittsburgh's bullpen shares the Major League lead with 30 strikeouts…Overall, the entire Bucco pitching
staff has punched out 53 batters in 41.0 innings of work this season (11.6 K/per 9.0ip).
SHELTY'S CREW: Manager Derek Shelton and his entire 2020 coaching staff have returned for a second season in 2021…
Christian Marrero has joined the staff as Assistant Hitting Coach…Returning coaches include Tarrik Brock (First Base),
Joey Cora (Third Base), Rick Eckstein (Hitting), Don Kelly (Bench), Oscar Marin (Pitching), Justin Meccage (Bullpen), Mike
Rabelo (Field Coordinator) and Glenn Sherlock…Catching coaches Herbie Andrade and Jordan Comadena have returned.
THE PIPELINE TO PITTSBURGH: The Pirates entered the 2021 campaign with the eighth-best minor league system in all of
baseball according to MLB Pipeline…It's the club's first time to be among the top 10 farm rankings since the beginning of
2017…Four members of the organization are currently among MLB Pipeline's Top 100 prospects, led by third baseman Ke'Bryan
Hayes (#9) and followed by infielder Nick Gonzales (#43), RHP Quinn Priester (#52) and infielder Oneil Cruz (#64).
BIG LEAGUE ROSTER: Pitchers (14) – Tyler Anderson, David Bednar, JT Brubaker, Trevor Cahill, Kyle Crick, Michael Feliz, Clay Holmes, Sam Howard, Mitch Keller, Chad Kuhl, Luis Oviedo, Richard Rodríguez, Chris Stratton, Duane Underwood, Jr….
Catchers (2) – Michael Perez, Jacob Stallings…Infielders (6) – Wilmer Difo, Phillip Evans, Adam Frazier, Erik González, Colin
Moran, Kevin Newman…Outfielders (4) – Anthony Alford, Dustin Fowler, Gregory Polanco, Bryan Reynolds.
TAXI SQUAD: INF Rodolfo Castro, RHP Sean Poppen, LHP Chasen Shreve and C Andrew Susac.
SPRING FLING: The Pirates posted a 13-14-2 record in spring training action this year…Ke'Bryan Hayes lead all qualifying
Major League players with a .431 batting average and .463 OBP…Kevin Newman hit .606 (20-for-33) and did not strike out in
his 39 plate appearances; his .606 average was the highest in spring training since Houston's Tony Eusebio also hit .606 (20-
for-33) in 1994…Gregory Polanco led the team in RBI (10)…Bryan Reynolds and Todd Frazier shared the lead in HR (3)…
Tyler Anderson led the staff in innings pitched (18.0) and shared the team lead in strikeouts (18) with David Bednar (8.2ip).
ON THIS DATE IN PIRATES HISTORY
April 7, 1979: Bucco catcher Steve Nicosia recorded the first hit of his career with a second-inning home and the Pirates went on to walk off
the Expos with a 7-6 win at Three Rivers Stadium. Montreal scored four times in the ninth to take a 6-5 lead before Pittsburgh answered with
a pair of runs in the home half of the inning, thanks to a throwing error by pitcher Elias Sosa.
UP-COMING GAMES AND PROBABLE PITCHERS
Thursday vs. Chicago (NL) 1:35 RHP Jake Arrieta (1-0, 1.50 ERA) vs. LHP Tyler Anderson (0-1, 5.40 ERA) AT&T SportsNet
Friday in Pittsburgh OFF DAY
Saturday vs. Chicago (NL) 6:35 RHP Zach Davies (1-0, 3.18 ERA) vs. RHP Mitch Keller (0-1, 9.00 ERA) AT&T SportsNet
Sunday vs. Chicago (NL) 1:05 RHP Trevor Williams (1-0, 3.00 ERA) vs. RHP JT Brubaker (0-0, 2.25 ERA) AT&T SportsNet
Monday vs. San Diego 6:35 TBA vs. TBA AT&T SportsNet.
TODAY'S STARTING PITCHER
39 – RHP CHAD KUHL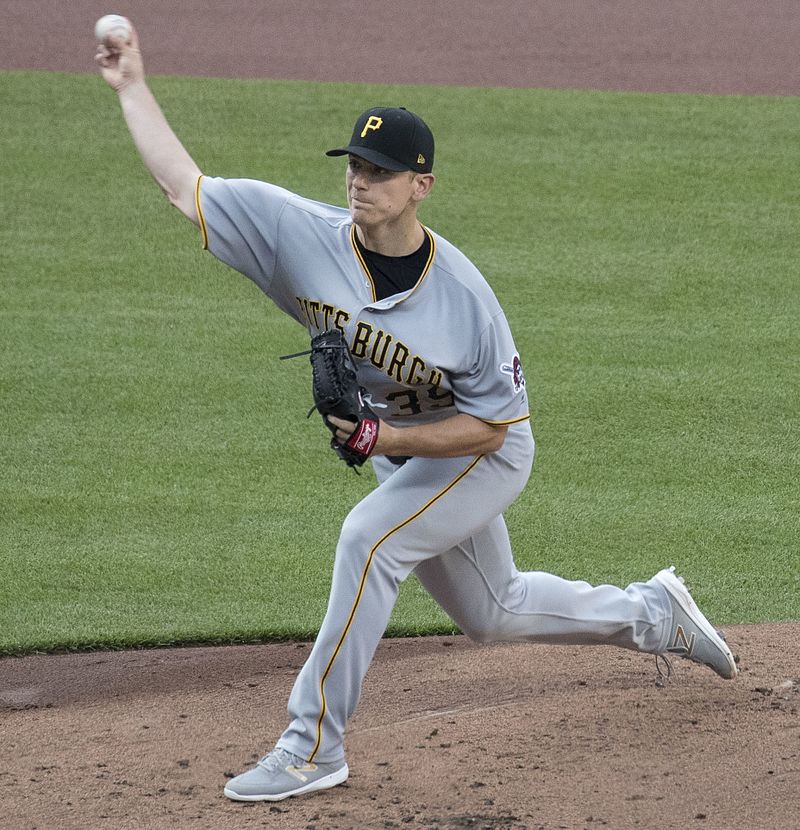 YEAR W-L ERA G GS CG SHO IP H R ER BB SO
2020 2-3 4.27 11 9 0 0 46.1 35 26 22 28 44
2021 0-0 3.00 1 1 0 0 3.0 1 2 1 3 2
M.L. CAREER 20-23 4.35 73 71 0 0 362.1 357 190 175 156 322
vs. CINCINNATI: 2-2 with a 3.19 ERA (36.2ip/13er) in seven career starts…Went 0-1 with a 5.63 ERA (8.0ip/5er) in two starts last season; suffered a loss to Sonny
Gray on 8/14 at Great American Ball Park (5.0ip/3er) and had a no-decision on 9/6 at PNC Park (3.0ip/2er)…Is 0-2 with a 4.60 ERA (15.2ip/8er) in three career
starts at GABP, having surrendered seven home runs which account for all eight runs he has allowed in Cincinnati (six solo shots and a two-run johnny).
DATE/OPP W/L IP H R ER BB SO PITCHES ERA SCORE
4/1 at Chicago-NL ND 3.0 1 2 1 3 2 63 3.00 5-3 W
TOTALS (0-0, 3.00 ERA) 3.0 1 2 1 3 2 63
SPRING TRAINING
2/28 at Orioles W 1.0 2 0 0 0 3 24 0.00 6-4 W
3/5 at Phillies L 2.0 3 2 2 0 2 26 6.00 0-3 L
3/10 threw 46 pitches (3.0ip) in a Live BP session
3/16 at Twins W 3.0 2 0 0 2 4 57 3.00 4-2 W
3/27 vs. Red Sox ND 2.0 1 1 1 2 2 32 3.38 4-7 L
TOTALS (2-1, 3.38 ERA) 8.0 8 3 3 4 11 185
CAREER BATTING: .108 (10-for-93) 2 2B 0 3B 0 HR 4 RBI 11 SACS
2021 BATTING: .000 (0-for-1) 0 2B 0 3B 0 HR 0 RBI 0 SACS
COURTESY PITTSBURGH PIRATES & MLBpressbox.com