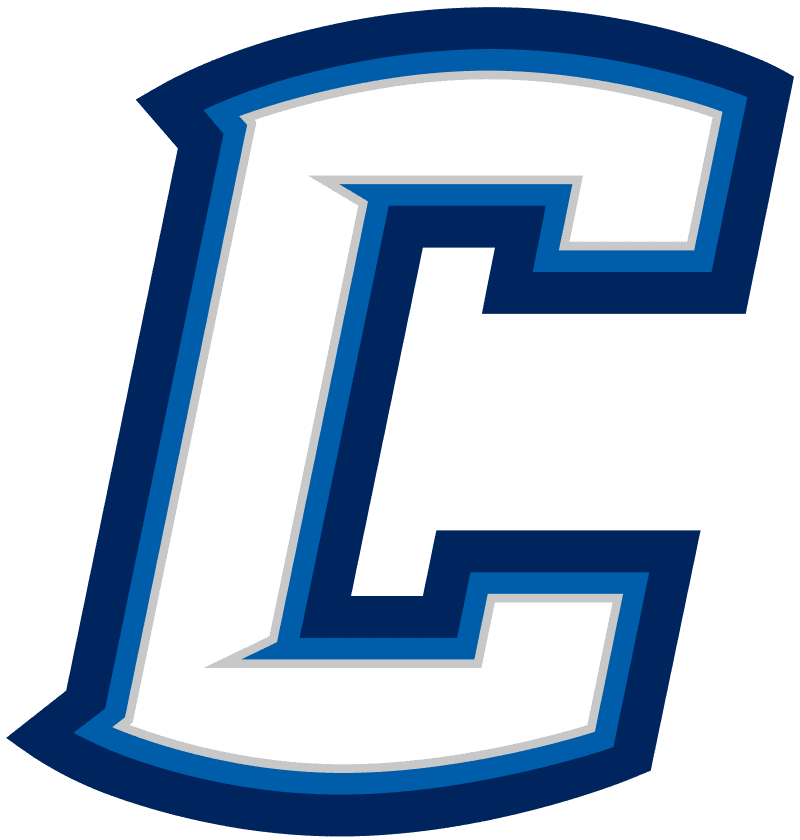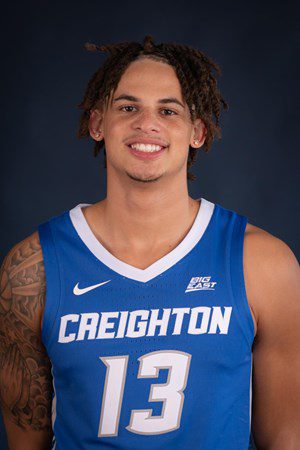 2020-21
13
Christian Bishop • F
6-7 • 220 • Jr. • Lee's Summit, Mo.
PPG RPG FG% FT%
11.0 6.4 .682 .573
• Leads team with 48 dunks, including game-winning slam with
0.8 left at Providence (1/2). Last year CU-best 38 dunks.
• Leads BIG EAST in FG percentage (68.2%).
• Made 2 FT with 16.0 left to beat UCSB in NCAA Tourney (3/20).
• Career-high 15 rebounds vs. Ohio to clinch Sweet 16 bid (3/22).
Man In The Middle
Christian Bishop is one of four players to have double-doubles in a pair of NCAA Tournament games
this season, joining Colin Castleton (Florida), Evan
Mobley (USC) and Kevin Obanor (Oral Roberts).
of 11 rebounds (vs. UCSB) and then 15 rebounds
(vs. Ohio). The 15 rebounds were the most by a
Bluejay since Ronnie Harrell Jr. had 15 vs. No. 23
UCLA on Nov. 20, 2017.
Those 26 total rebounds so far in the NCAA
Tournament lead all players.
On Sunday, he'll attempt to join Martin Krampelj
(in 2017-18) and Doug McDermott (once in 2011-
12, once in 2012-13) as the only Bluejays since 1994
with three straight double-doubles.
Bishop is Creighton's first player with multiple
double-doubles in the same NCAA Tournament
since Chad Gallagher in 1991.
The only Creighton player with three doubledoubles in the same NCAA Tournament is Paul
Silas, who did it in 1964.
No player from any team has had three double-doubles in the same NCAA Tournament since
Oregon's Jordan Bell in 2017, and no player has
opened the NCAA Tournament with three straight
double-doubles since 2016 when Gonzaga's
Domantas Sabonis and Notre Dame's Zach
Auguste both did it.
Paul Silas owns every rebounding-related
record in program history, including those in the
NCAA Tournament. He had single-game program
highs of 27 (March 9, 1964 vs. Oklahoma City),
single-year program highs of 57 (over 3 games in
1964) and in a career (101 in 6 games).
Milestone Watch
• A few approaching milestones…
Christian Bishop has attempted 198 field goal
attempts this season. With two more attempts, he'll
be eligible to qualify for the single-season field goal
percentage leaders in Creighton history. At 68.2
percent currently, he'd trail only Geoffrey Groselle
(.702 in 2015-16) on the all-time list. Bishop is
already second in CU history in career field goal
percentage (.642), once again trailing only Groselle
(.684).
With a double-double on Sunday, Christian
Bishop would join Paul Silas in 1964 as the only
Bluejays with three double-doubles in an NCAA
Tournament.
Magnificent Debuts
With 15 points and 11 rebounds last Saturday,
Christian Bishop had his team-leading fifth double-double of the season and established a career
high in the carom column.
Bishop's 11 rebounds were the most by a
Creighton player in their NCAA Tournament debut
since George Morrow had 14 rebounds vs. Saint
Joseph's in 1981.
Bishop's double-double was the first by a Bluejay
in an NCAA Tournament since Doug McDermott
had 30 points and 12 rebounds in a 2014 win vs.
Louisiana, which also happened to be CU's last
NCAA Tournament victory.
Bishop is the first Bluejay with a double-double in his NCAA Tournament debut since Doug
McDermott vs. Alabama on March 16, 2012.
McDermott had 16 point and 10 rebounds in a
one-point win.
Bishop followed up Saturday with 12 points
and 15 rebounds vs. Ohio on Monday for his sixth
double-double.
In Creighton's last 14 NCAA Tournament games
(since March 17, 2002), the Bluejays are 5-0 when
it has an individual with a double-double but 0-9
when it doesn't have a double-double.
Clutch At The Charity Stripe
Saturday's win vs. UCSB was Creighton's first victory in regulation when trailing in the final minute
of regulation since Jan. 18, 2020 vs. Providence.
Before his heroics with 16 seconds left, Christian
Bishop had made 45 different trips to the free
throw line for two shots (or a 1 and 1), but made
both shots on just 11 of those occasions. He
swished both shots in crunch time on Saturday.
For the season, Bishop is now 5-for-7 at the free
throw line in the final minute of regulation. As a
team, Creighton is 46-for-63 (.730) at the foul stripe
in the final minute of regulation this season, well
above its season average of 64.3 percent that ranks
321st-best nationally.
Bishop The Ultimate Chess Piece
Christian Bishop is a tad undersized to play the
center position, but his versatility has made him a
match-up nightmare for some opponents.
For the year, Bishop is shooting 68.2 percent
from the field, far ahead of the next best competitor in the BIG EAST (Nate Watson, 60.2 percent).
In league play only, Bishop's 65.4 percent marksmanship easily outpaced St. John's Isaih Moore's
60.7 percent.
2019-20: Sophomore at Creighton
• Started all 31 games, averaging 8.6 points, 5.3 rebounds and 1.1 blocked shots in 21.5 minutes per game.
• Shot team-best 59.2 percent from the field.
• In the BIG EAST, ranked fourth in field goal percentage, seventh in blocks per game, 14th in offensive rebounds per game and 19th in rebounds per game.
• Had 38 of team's 60 dunks during the year, including five vs. No. 21 Butler (Feb. 23).
• Team was 12-2 when he scored 10 or more points.
• Had three games with 10 or more points despite being scoreless at halftime.
• Had then-career-highs with 12 points and three blocks while adding seven rebounds in first career start vs. Kennesaw State (Nov. 5).
• Scored 10 points vs. Cal Poly (Nov. 22), including his first career three-pointer.
• Grabbed four of his eight rebounds in overtime to help the Bluejays beat No. 12 Texas Tech (Nov. 29), adding nine points.
• Scored 17 points and added eight rebounds vs. Oral Roberts (Dec. 3), including four dunks.
• Had 10 points and nine rebounds in 16 minutes vs. Nebraska (Dec. 7).
• Had 12 points, nine rebounds and two blocks after halftime in road win at Arizona State (Dec. 21).
• Had team-leading 16 points and tied season-best with nine rebounds vs. No. 16 Villanova (Jan. 7).
• Scored 10 points, all in the second half, of road win at Xavier (Jan. 11).
• Finished with 11 points and added five rebounds in win at No. 10 Seton Hall (Feb. 12).
• Set career-highs in points (19), assists (5), blocks (4) and steals (3) in win vs. No. 21 Butler (Feb. 21), finishing with five dunks.
• Blocked three shots in win vs. No. 8 Seton Hall (March 7), a victory that clinched CU's first BIG EAST title.
Summer 2019: Australia Trip
• Breakout player in Australia, averaging 15.7 points and 5.0 rebounds while starting all three games.
• Had 25 points and six rebounds in Creighton's final game vs. Bullets Invitational (Aug. 12).
2018-19: Freshman at Creighton
• Reserve post player who averaged 4.1 points and 2.1 rebounds in 8.9 minutes per game for the season.
• Was averaging 3.7 points and 1.5 rebounds in 8.0 minutes per game through Creighton's first 30 games before nearly doubling those averages to 6.0 points and 5.2 rebounds in 13.4 minutes per game over the final five contests.
• Averaged 8.7 points and a team-high 6.7 rebounds per game in three NIT contests.
• Had a streak of 15 made field goals in a row that were made over nine games at one point from Dec. 8-Jan. 16.
• Ranked second on the team with 15 dunks, including three in NIT game at TCU (March 26).
• Made regular-season debut in the final minutes vs. Georgia State (Nov. 20), contributing four points, three rebounds, one assist and a block in five minutes.
• Saw first extended playing time vs. Green Bay (Dec. 14), recording three points and a steal in nine minutes.
• Scored nine points on 4-for-4 shooting vs. UMKC (Dec. 27), including three dunks.
• Had five points and a blocked shot in seven minutes of BIG EAST debut, a win at Providence (Dec. 31).
• Scored seven points in six minutes vs. Villanova (Jan. 13).
• Delivered nine points and four rebounds vs. St. John's (Jan. 30).
• Had season-high 10 points and added three rebounds at Seton Hall (Feb. 9).
• Scored eight points and contributed four rebounds in 10 minutes of NIT win over Loyola Chicago (March 19).
• Produced eight points, a career-high 10 rebounds, one steal and one blocked shot in NIT win over Memphis (March 22).
• Tied season-high with 10 points, adding six rebounds, in NIT quarterfinal at TCU March 26).
• Led club in rebounding in each of team's final two NIT games.
Lee's Summit West High School
• Four-star prospect who was the No. 103 prospect by Rivals when he signed and No. 139 overall in the 247Sports composite recruiting rankings.
• Two-time First Team All-State, all-area and all-conference selection.
• Appeared in a pair of All-Star Games following his senior campaign.
• Became first player in school history to post a triple-double when he had 24 points, 14 rebounds and 10 blocked shots in a win vs. Christian Brothers College.
• Averaged 12.6 points, 7.1 rebounds and 1.4 blocked shots per game as a junior, shooting 58.8 percent from the floor.
• High school team reached the Missouri Class 5 state title game as a junior, where he scored 10 points.
• One-time point guard grew 12 inches while in high school.
• High school coach was Michael Schieber.
• Played AAU for Team Rush and coach Victor Williams.
• Committed in June of 2017.
• Also recruited by Missouri, Kansas State and Wichita State.
Personal
• Son of Jerry and Terrel Bishop and Jennifer Bishop.
• Has siblings Grant, Shane, Bella, Manny and Yor.
• A healthy lifestyle management major.
• His father played basketball at Abilene Christian and his brother Grant played hoops at Missouri Baptist.
• Nickname is CB.
• Favorite current athlete is Patrick Mahomes, plays for his favorite pro team, the Kansas City Chiefs.
• Wears No. 13 because he was born on the 13th of June.
• Favorite meal is steak with potatoes and vegetables.
• First car was a 2005 Dodge Stratus.
• Dream car is a Corvette.
• Favorite visiting BIG EAST city is Washington, D.C., because of its history.
• Favorite holiday is Christmas.
• Would choose Florida if he could live anywhere.
• Favorite historical leader is MLK.
• Dream date is Kylie Jenner.
• Favorite video game is Call of Duty.
• Loves the BIG EAST because "it is the best conference."
• If he could change college hoops, he'd make dunks worth three points.
• Believes the GOAT is LeBron James.
• Favorite kinds of music are rap and hip hop.
• If he could meet anyone, it'd be Drake.
• First celebrity crush was Selena Gomez.
• Believes that the way to beat social injustice is to vote.
• Winning the BIG EAST was the biggest sports thrill he's participated in.
COURTESY CREIGHTON ATHLETIC COMMUNICATIONS