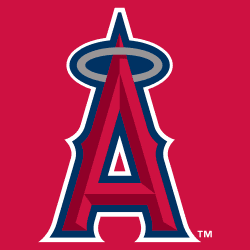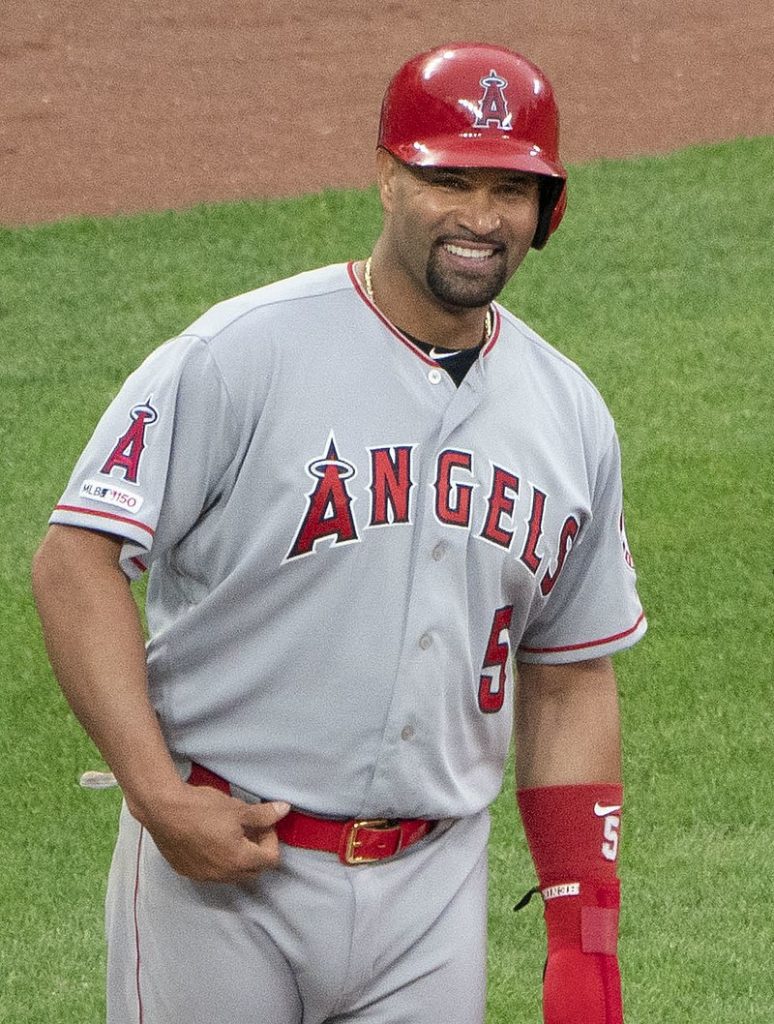 It has been 20 years since Albert Pujols debuted with the St. Louis Cardinals.
Under then manager Tony La Russa, the Cardinals were urged and persuaded by then first baseman Mark McGwire to promote Pujols to the big league club although, there were no positions open at the time.
The Cardinals knew that the powerful Pujols could hit, so they listened to the veteran McGwire and gave him a spot on the roster. To get in the lineup, the 21-year-old native of Santo Domingo, Dominican Republic had to play 3B, RF, LF,1B.
A future Hall of Famer with 665 homers (5th all-time), the 6'3, 235-pound DH/1B of the Los Angeles Angels, played his first major league game at 21 and went on to win the NL Rookie of the Year, hitting .329 with 37 homers and 130 RBI for St. Louis.
The 41-year-old Pujols' 10-year contract he signed with the Angels after the 2011 season will expire at the end of the 2021 season. Most observers feel that this will be his final season although he is still productive at the plate.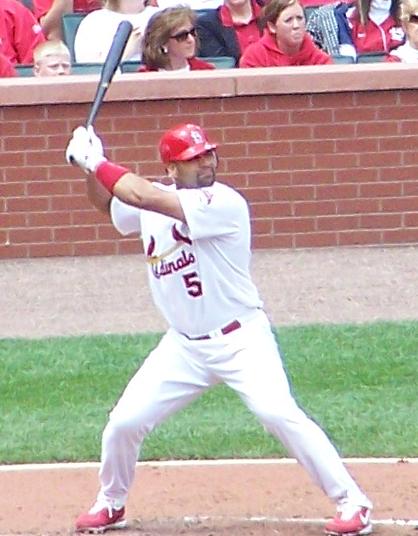 FROM WIKIPEDIA COMMONS
José Alberto Pujols Alcántara (/ˈpuːhoʊls/ POO-holes, Spanish pronunciation: [puˈxols]; born January 16, 1980) is a Dominican-American professional baseball first baseman and designated hitter for the Los Angeles Angels of Major League Baseball (MLB). He previously played 11 seasons for the St. Louis Cardinals, with whom he was a three-time National League (NL) Most Valuable Player (MVP) (2005, 2008, 2009) and nine-time All-Star (2001, 2003–2010). Since joining the Angels in 2012, he has made one All-Star appearance, in 2015. A right-handed batter and thrower, Pujols stands 6 feet 3 inches (1.91 m) tall and weighs 235 pounds (107 kg).
Pujols was born in the Dominican Republic and moved to the United States in 1996. After one season of college baseball, he was selected by the Cardinals in the 13th round of the 1999 MLB draft. As a rookie for the Cardinals in 2001, he was unanimously voted the NL Rookie of the Year. Pujols played consistently for the Cardinals, contributing to two World Series championships in 2006 and 2011. After the 2011 season, Pujols became a free agent and signed a 10-year contract with the Angels.
Pujols was, at the height of his career, a highly regarded hitter who showed a "combination of contact hitting ability, patience and raw power."He is a six-time Silver Slugger who has twice led the NL in home runs, and he has also led the NL once each in batting average, doubles, and RBIs. He is significantly above-average in career regular season batting average (.299), walk rate (10.8 percent), and Isolated Power (.249). He holds the MLB all-time record for most times grounded into a double play (395). With 14 seasons of 100 or more RBI produced, he is one of only four players in MLB history to have topped 2,000 RBI in his career, surpassing Alex Rodriguez for third place on the official all-time list during the 2020 season. Pujols collected his 3,000th career hit in 2018, becoming the 32nd player in MLB history to do so. Pujols also became the fourth member of the 3,000-hit club to also hit 600 home runs, joining Willie Mays, Hank Aaron, and Alex Rodriguez.