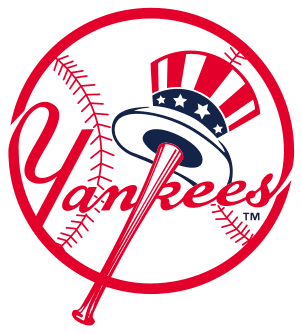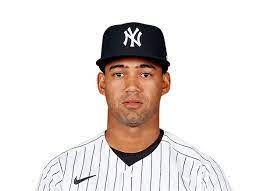 March 29th, 2021
The New York Yankees today announced that right-handed pitcher Deivi García is the recipient of the 2021 James P. Dawson Award, given annually to the most outstanding Yankees rookie in spring training.
In five official spring training starts, García, 21, has posted a 3.86 ERA (14.0IP, 6ER) with 14K. Over his first four spring starts, he allowed just 2ER in 11.0IP while striking out 12 batters. The Bonao, D.R., native was signed by the Yankees as a non-drafted free agent on July 2, 2015. He enters the 2021 season tabbed by Baseball America as the Yankees' No. 2 prospect and the No. 55 prospect in all of baseball.
The award was established in honor of James P. Dawson (1896-1953), who began a 45-year career with The New York Times as a copy boy in 1908. Eight years later, he became boxing editor and covered boxing and baseball until his death during spring training in 1953.
Two winners of the honor, Tony Kubek in 1957 and Tom Tresh in 1962, went on to win the American League "Rookie of the Year" Award. The Dawson Award first was presented to rookie Norm Siebern by Manager Casey Stengel in St. Petersburg, Fla., at the conclusion of spring training in 1956. New York Yankees beat writers vote on the winner.
In conjunction with the award, García received a watch from Oris.
James P. Dawson Award winners
· 1956…Norm Siebern OF
· 1957…Tony Kubek SS
· 1958…John Blanchard C
· 1959…Gordon Windhorn OF
· 1960…John James P
· 1961…Rollie Sheldon P
· 1962…Tom Tresh SS
· 1963…Pedro Gonzalez 2B
· 1964…Pete Mikkelsen P
· 1965…Arturo Lopez OF
· 1966…Roy White OF
· 1967…Bill Robinson OF
· 1968…Mike Ferraro 3B
· 1969…Jerry Kenney OF/Bill Burbach P
· 1970…John Ellis 1B/C
· 1971…None Selected
· 1972…Rusty Torres OF
· 1973…Otto Velez OF
· 1974…Tom Buskey P
· 1975…Tippy Martinez P
· 1976…Willie Randolph 2B
· 1977…George Zeber INF
· 1978…Jim Beattie P
· 1979…Paul Mirabella P
· 1980…Mike Griffin P
· 1981…Gene Nelson P
· 1982…Andre Robertson SS
· 1983…Don Mattingly 1B
· 1984…Jose Rijo P
· 1985…Scott Bradley C
· 1986…Bob Tewksbury P
· 1987…Keith Hughes OF
· 1988…Al Leiter P
· 1989…None Selected
· 1990…Alan Mills P
· 1991…Hensley Meulens OF
· 1992…Gerald Williams OF
· 1993…Mike Humphreys OF
· 1994…Sterling Hitchcock P
· 1995…None Selected
· 1996…Mark Hutton P
· 1997…Jorge Posada C
· 1998…Homer Bush INF
· 1999…None Selected
· 2000…None Selected
· 2001…Alfonso Soriano 2B
· 2002…Nick Johnson 1B
· 2003…Hideki Matsui OF
· 2004…Bubba Crosby OF
· 2005…Andy Phillips INF
· 2006…Eric Duncan INF
· 2007…Kei Igawa P
· 2008…Shelley Duncan INF/OF
· 2009…Brett Gardner OF
· 2010…Jon Weber OF
· 2011…Manny Banuelos P
· 2012…David Phelps P
· 2013…Vidal Nuño P
· 2014…Masahiro Tanaka P
· 2015…Slade Heathcott OF
· 2016…Johnny Barbato P
· 2017…Gleyber Torres INF
· 2018…Miguel Andújar 3B
· 2019…Stephen Tarpley P
· 2020…Clarke Schmidt P
· 2021…Deivi García P
COURTESY NY YANKEES & MLBpressbox.com