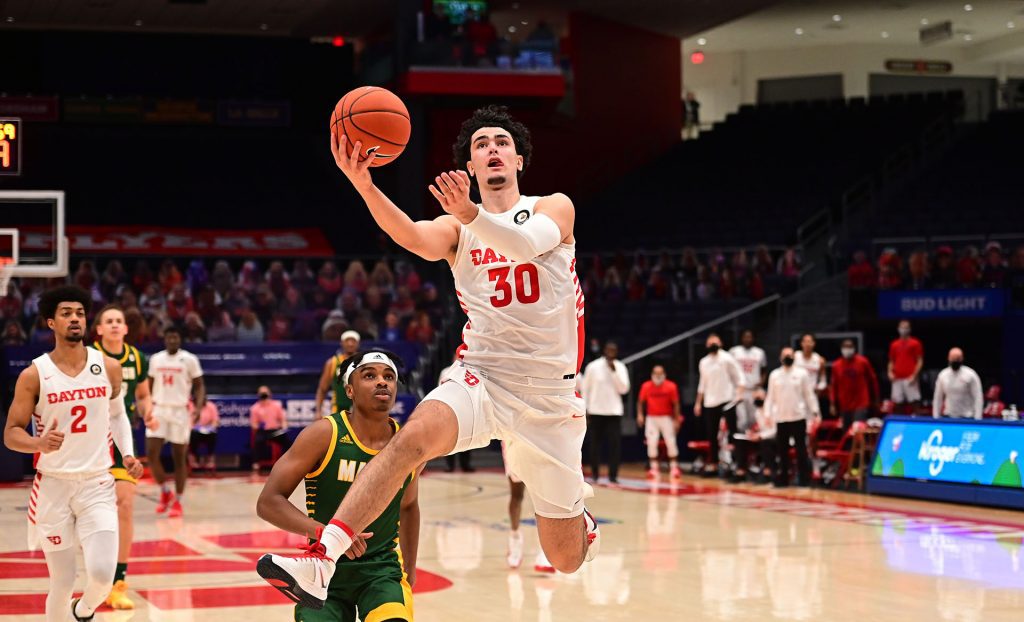 NEWPORT NEWS, Va.—Four University of Dayton men's basketball players earned Atlantic 10 post-season honors in three categories in a vote of the league's coaches, it was announced today.
• Senior guard Jalen Crutcher was named First Team All-Atlantic 10 for the second time
• Senior guard Ibi Watson was named Third Team All-Atlantic 10
• Center Jordy Tshimanga, a graduate student, was named Academic All-Atlantic 10
• Freshman forward Mustapha Amzil named to the A-10 All-Rookie Team
"Congratulations to Jalen, Ibi, Jordy and Mustapha for being recognized by our league's coaches for their performances on-and-off the court this season," Flyer coach Anthony Grant said.  "We are proud of the way our three seniors represented our program throughout their careers and we are excited about Mustapha's successes, and his potential moving forward. 
"All of these young men, along with their teammates, coaches and staff members across the Atlantic 10 adapted to the challenges of the pandemic and made tremendous sacrifices to help achieve this recognition and make this season possible. Congratulations to all!"
Amzil is an interesting story.  He signed with the Flyers in the fall of 2020 to be part of UD's nationally-ranked recruiting Class of 2021.  Circumstances changed, he joined the program at semester, and exactly 50 days after he signed, he earned the first of his three Atlantic 10 Rookie of the Week awards.  In 18 games (14 starts), he was third on the team in scoring (9.8 points a game), rebounds (5.5) and FG% (.496, 63-127).  He also shot .788 (26-33) from the line.
MOO NUMBER TWO
• Mustapha Amzil signed with UD in November, started a game in
December and was named A-10 Rookie of the Week in January.
• He was named A-10 Rookie of the Week exactly 50 days after he
signed with the Flyers on Nov. 16.
• He was also named Rookie of the Week the first week of February.
• Thrust into the lineup after just three practices when Chase
Johnson left the program, and two other more experienced players
were injured, Amzil made a splash with 22 points and seven
rebounds against La Salle.
• Over a 10-minute stretch from the end of the first half in to the
second half, he scored 17 consecutive points for UD.
• In the GMU win, he had 15 points, six rebounds, four assists and
three steals in 35 minutes.
• Exactly 50 days after he signed with UD, he was named A-10
Rookie of the Week.
• Amzil had 12 points (3-4 FG, 2-3 3-pt., 4-4 FT) at Davidson, and
11 points with eight rebounds in the Duquesne win.
• He had 11 points (5-7 FG) and seven rebounds vs. Rhode Island.
• He had his first career double-double with 11 points and 11
rebounds at Duquesne.
• Amzil had 11 points (4-6 FG) and nine rebounds at St. Joe's.
• He had 14 points (5-5 2-pt., 4-4 FT) in URI win in Richmond.
• He is the third Anthony Grant recruit to be named to the A-10
All-Rookie Team (Jalen Crutcher and Obi Toppin were the others.)
• Amzil had a strong showing in 2019 playing for Finland at the U18
European Championships in Latvia, where he averaged 12.4 points
and 7.3 rebounds in seven games.
• Last year, he attended the Helsinki Basketball Academy. Last
season for HBA-Marsky, he averaged 10.6 points, 8.1 rebounds and
2.3 assists, as HBA-Marsky finished 21-0 in Finland's first division
before the league's post season was cancelled due to the worldwide
Covid-19 pandemic.
COURTESY DAYTON MEDIA RELATIONS