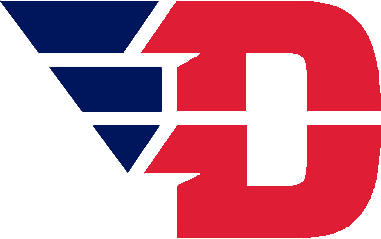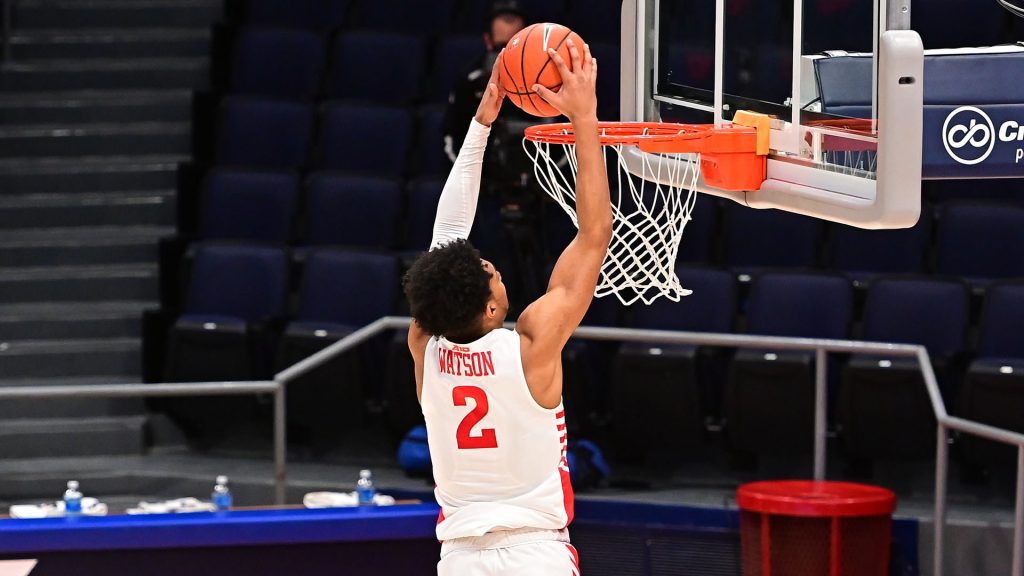 NEWPORT NEWS, Va.—Four University of Dayton men's basketball players earned Atlantic 10 post-season honors in three categories in a vote of the league's coaches, it was announced today.
• Senior guard Jalen Crutcher was named First Team All-Atlantic 10 for the second time
• Senior guard Ibi Watson was named Third Team All-Atlantic 10
• Center Jordy Tshimanga, a graduate student, was named Academic All-Atlantic 10
• Freshman forward Mustapha Amzil named to the A-10 All-Rookie Team
"Congratulations to Jalen, Ibi, Jordy and Mustapha for being recognized by our league's coaches for their performances on-and-off the court this season," Flyer coach Anthony Grant said. "We are proud of the way our three seniors represented our program throughout their careers and we are excited about Mustapha's successes, and his potential moving forward.
"All of these young men, along with their teammates, coaches and staff members across the Atlantic 10 adapted to the challenges of the pandemic and made tremendous sacrifices to help achieve this recognition and make this season possible. Congratulations to all!"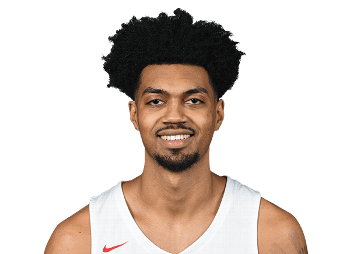 Watson was named Third Team All-Atlantic 10 after finishing 10th in A-10 in scoring (15.8), fourth in minutes (37.1) and third in both 3-pt. FG% (.427, 61-143) and three-pointers per game (2.7). He was the only A-10 player listed in the top five in both three-point categories, and had the most three-pointers made of anyone in the top 10 in percentage. His .412 (107-260) career 3-Pt. FG% is fourth at Dayton.
MR. WATSON
• A 2021 Third Team All-Atlantic 10 selection, Ibi Watson opened
the season with a game-high 16 points (11 in the first half) in the
Eastern Illinois win. He added six rebounds.
• He scored 23 (9-14 FG) vs. SMU, including a game-tying threepointer with seven seconds left in the game.
• Watson scored 19 in the NKU win.
• He had 21 points and matched his career high of five assists in
the MSU win. He scored UD's last two baskets to tie and give UD a
three-point lead ahead of clutch FTs that sealed the win.
• Watson had 16 points (4-5 3-pt.) in the first Mason win.
• He scored 24 points (8 in overtime) at Davidson.
• Watson had 19 points (13 in the second half) vs. Duq at home.
• He led UD with 22 points vs. URI, with seven rebounds.
• Watson scored 18 (12 in the second half) at Saint Louis.
• He had 20 points, five rebounds and three assists vs. GMU.
• Watson scored 20 at home against VCU.
• He scored 16 at Rhode Island.
• He scored 14 points (7 in a 3-minute stretch when Jalen
Crutcher was out getting his ankle looked at) in the SLU win.
• He had 16 at Saint Joseph's, and led UD with 14 at SBU.
• Watson scored 25 (6-11 3-pt.) vs. Rhode Island in Richmond.
• He scored 10 points and had three steals vs. VCU at the A-10's.
• He was UD's "sixth starter" last season, averaging 10.1 points
and 22.6 minutes a game, playing in all 31 games with one start.
• Watson had 16 points (4-8 3-pt.) against Kansas.
• He scored 30 in his first career start vs. Grambling (8-12 FG) and
was named A-10 Player of the Week.
• He played first two college years at Michigan, before
transferring to UD. Michigan made a run to the NCAA
Tournament Championship Game in his second season.
• In high school, he was a four-time All-Ohio selection (First
Team Division I as a senior) and as a freshman and sophomore, a
basketball teammate of Heisman Trophy winner Joe Burrow.
COURTESY DAYTON MEDIA RELATIONS