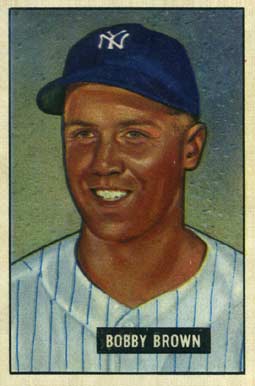 Arlington, Texas—The Texas Rangers today issued the following statement on the passing of former Major League player and American League President Dr. Robert W. (Bobby) Brown, who died this morning in Fort Worth at the age of 96.
"The Texas Rangers organization is extremely saddened by the passing of Dr. Bobby Brown. He lived an extraordinary life while excelling in both the medical and baseball professions, and he had a huge impact on the Dallas-Fort Worth community.
"Following his standout career as an infielder for the New York Yankees during which time he also attended medical school and later served in the U.S. Army during the Korean War, Dr. Brown began a 30-year career as a practicing cardiologist. In 1958, he settled in Fort Worth, where he and his family would live for much of the next six decades. When Brad Corbett purchased the Texas Rangers franchise in 1974, he asked Dr. Brown to assume the role of team President. His leadership helped stabilize the franchise, and the "Turnaround Gang" improved its win total by 27 victories from 1973.
"He returned to practicing medicine fulltime the following year but would go on to serve as a respected President of the American League from 1984-94. In his later years, Dr. Brown was a frequent visitor to Rangers home games and a friend to many in the organization. His compassion and humor are two traits that will not be forgotten.
"The Rangers extend their deepest sympathies to Dr. Brown's family and friends. He will be deeply missed."
FROM WIKIPEDIA COMMONS
COURTESY WIKIPEDIA COMMONS, TEXAS RANGERS & MLBpressbox.com