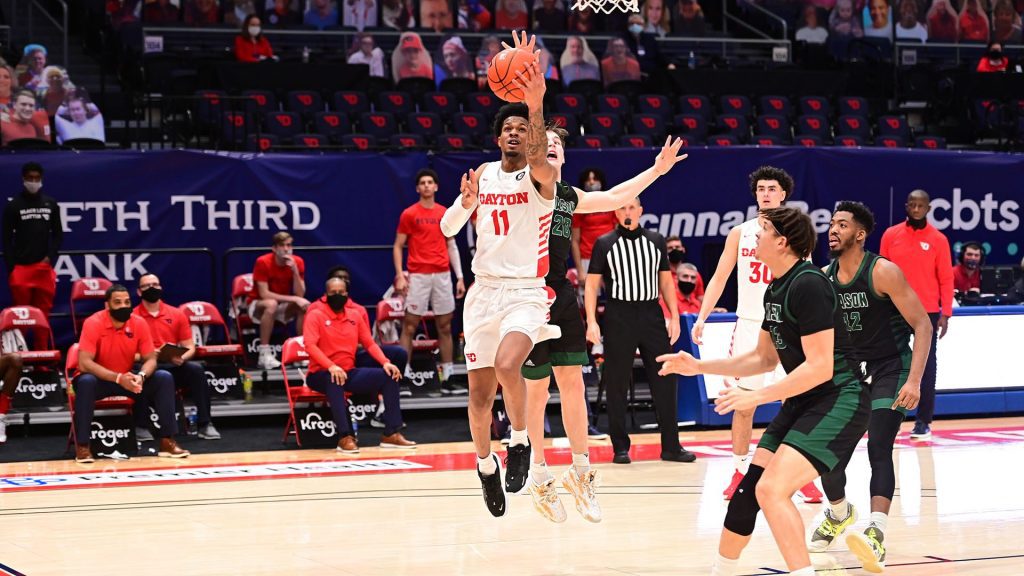 In last Saturday's NIT game, a 71-60 loss to Memphis:
*Elijah Weaver led Dayton with 16 points. 
*Back-to-back threes by Elijah Weaver boosted UD to a 21-19 advantage with 7:01 to go.
DREAM WEAVER
• Elijah Weaver transferred from USC last summer and was slated to
sit out the 2019-20 season for developmental reasons.
• He was a key player in the USC rotation as a freshman and
sophomore, seeing action in 59 games with 19 starts and averaging
5.9 points, 2.1 assists, 2.1 rebounds, and 21.3 minutes a game.
• As a high school senior at Rockledge High School in Cocoa, Fla., he
averaged 23.1 points, 8.2 rebounds, 8.7 assists, and 4.3 steals a game
and was named the Florida 6A Player of the Year.
• He was named to Florida Today's Space Coast All-Decade Team in
the spring of 2020.
• Weaver found out he was eligible two hours before making his
Dayton debut in the Ole Miss win.
• Weaver made his first Flyer start at Davidson. He had 11 points
(4-5 FG, 3-3 FT) and seven assists (with one turnover). He had
assists on three of UD's first four baskets in the game.
• He scored 12 points in the win at Saint Louis.
• Weaver had 13 points (5-7 FG), six rebounds and four assists in
the second George Mason win.
• He had 10 points (2-3 3-pt.) vs. VCU in Dayton.
2020-21 (Junior)
• Redshirted the first semester after transferring from USC
At USC
• Was a key player in the USC rotation as a freshman and sophomore
• Played in 59 games with 19 starts, averaging 5.9 points, 2.1 assists, 2.1 rebounds, and 21.3 minutes a game
• In 2019-20, he started 14 games and averaged 6.6 points, 2.4 rebounds, and 1.8 assists. He was fifth on the team in scoring as the Trojans went 22-9 overall
In High School
• As a freshman, attended Florida Air Academy in Melbourne, Fla., then spent two years at Oldsmar Christian School in the Tampa area
• As a junior, led Oldsmar Christian to the Sunshine Independent Athletic Association state championship
• For his senior season, Weaver played at Rockledge High School near his hometown of Cocoa, Fla.
• Averaged 23.1 points, 8.2 rebounds, 8.7 assists, and 4.3 steals a game and was named the Florida 6A Player of the Year
• Helped lead Rockledge High to a 25-4 record and to the District 14 6A title
• Was named to Florida Today's Space Coast All-Decade Team in the spring of 2020
• Was a four-star recruit who ranked 45th in the class of 2018, according to the 247Sports.com composite rankings. The highest of the rankings he earned was 37th on ESPN's top 100 list
Personal
• Son of Taucia Brown and Maurice Griffin
• Born on Dec. 30, 1998
• Has two siblings — Tauchon and Monesha Griffin
• Majoring in General Studies
• Played AAU with Team Breakdown
• High School Coaches were Jordan Fair and John Bianchi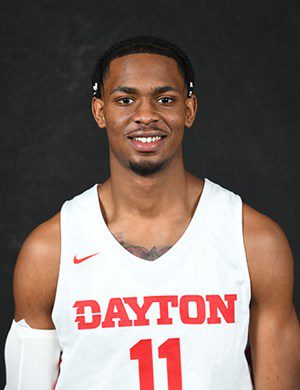 COURTESY DAYTON MEDIA RELATIONS