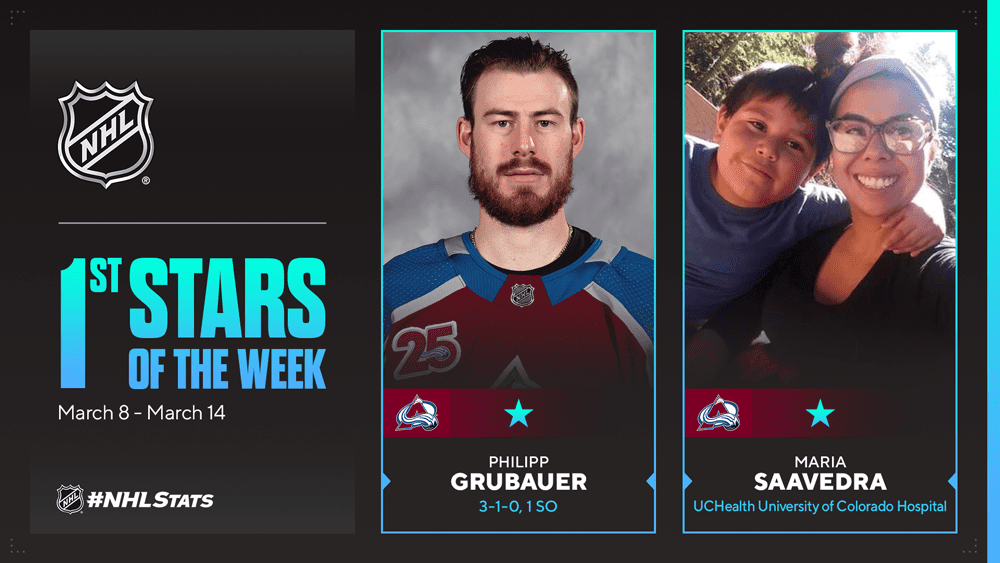 NEW YORK (March 15, 2021) – Colorado Avalanche goaltender Philipp Grubauer and UCHealth University of Colorado Hospital (UCH) food service technician Maria Saavedra have been named the NHL's "First Stars" for the week ending March 14.
Throughout the 2020-21 season the NHL is celebrating the remarkable efforts of the off-ice stars who make it possible for us to play our games amid a pandemic by honoring frontline healthcare heroes from the regions represented by the League's weekly and monthly "Stars."
Saavedra works as a food service technician at UCH in Aurora, Colo., helping to prepare and deliver 1,500 food trays daily to patients ranging from COVID-19 units to the burn center, postpartum and more. Throughout the pandemic, visitor restrictions and other safety protocols have created extra challenges for patients, but Saavedra has continued to take pride in delivering meals that not only provide diet-specific nourishment, but also a sense of comfort. She loves to go the extra mile to connect with patients, offering them a source of joy and solace during an otherwise difficult time.
"I enjoy people in general. I like talking to people, I like getting to know people," Saavedra recently told 9NEWS Denver. "I think toward the beginning some people were scared to come to work. I was here every day. I started asking if I could pick up extra shifts. Those days were long, but it was worth it."
Saavedra, who started her job just before the pandemic began, even sent her son to live with his grandparents so she could work double-shifts during the height of COVID-19. "He went to stay with them just because we all knew that it was going to be tricky being in a hospital," she explained. "We didn't know if I was going to get sick and I didn't want to get him sick."
Rounding out the "Three Stars" of the week are Edmonton Oilers center Leon Draisaitl and Winnipeg Jets left wing Nikolaj Ehlers. More on each NHL player's performance can be found below:
FIRST STAR – PHILIPP GRUBAUER, G, COLORADO AVALANCHE
Grubauer went 3-1-0 with a 1.24 goals-against average, .932 save percentage and one shutout to guide the Avalanche (16-8-2, 34 points) to six out of a possible eight standings points. He split a pair of games against the Arizona Coyotes, making 11 saves in a 3-2 loss March 8 followed by 13 stops in a 2-1 overtime win March 10. Grubauer then turned aside all 18 shots he faced for his 15th NHL shutout and career-high fourth of the season in a 2-0 triumph over the Los Angeles Kings March 12. He finished the week with 27 saves in a 4-1 victory against the Kings March 14. The 29-year-old Rosenheim, Germany, native has appeared in 22 total contests this season, ranking among the League leaders (minimum: 5 GP) in shutouts (t-1st; 4), wins (2nd; 15), goals-against average (3rd; 1.91) and save percentage (6th; .923).
SECOND STAR – LEON DRAISAITL, C, EDMONTON OILERS
Draisaitl led the NHL with 6-3—9 in four outings to power the Oilers (18-12-0, 36 points) to a 3-1-0 week. He scored the game-winning goal, his fifth of the season, in a 3-2 victory against the Ottawa Senators March 8. Draisaitl then recorded 3-2—5, including his third career hat trick and fourth career five-point performance, in a 7-1 triumph over the Senators March 10. He added 1-1—2 in a 6-2 win against Ottawa March 12 as well as Edmonton's lone goal in a 2-1 loss to the Vancouver Canucks March 13. The 25-year-old Cologne, Germany, native and reigning Hart Memorial Trophy winner has skated in 30 total games this season, placing among the top three players in points (2nd; 45), plus/minus (2nd; +20), game-winning goals (t-2nd; 5), goals (3rd; 16) and assists (3rd; 29).
THIRD STAR – NIKOLAJ EHLERS, LW, WINNIPEG JETS
Ehlers collected 3-3—6 in three contests to propel the Jets (17-8-2, 36 points) to five out of a possible six standings points, all against the Scotia NHL North Division-leading Toronto Maple Leafs. He registered two assists in a 4-3 victory March 9. Ehlers then factored on all three Winnipeg goals, posting 2-1—3 in a 4-3 overtime loss March 11. He picked up one more tally, his team-leading 14th of 2020-21, in a 5-2 win March 13. The 25-year-old Aalborg, Denmark, native – who shares sixth place in the entire NHL in goals – ranks second on the Jets with 14-15—29 in 27 total appearances this season, already half of his point production from 71 games in 2019-20 (25-33—58).
COURTESY NHLmedia.com