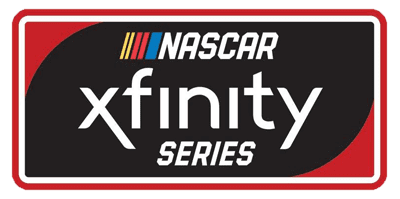 NASCAR Xfinity Series
Next Race: Call 811 Before You Dig 200 presented by Arizona 811
The Place: Phoenix Raceway
The Date: Saturday, March 13
The Time: 5:30 p.m. ET
TV: FS1, 5 p.m. ET
Radio: MRN, SiriusXM NASCAR Radio
Distance: 200 miles (200 Laps); Stage 1 (Ends on Lap 45),
Stage 2 (Ends on Lap 90), Final Stage (Ends on Lap 200)
NASCAR Xfinity Series
AJ Allmendinger hits jackpot at Las Vegas
AJ Allmendinger took the lead on the final restart of Saturday's race in Sin City with 12 laps remaining and earned his fourth Xfinity Series win in the last 16 races. This was his first race at the track in three years and the No. 16 Kaulig Chevrolet was able to hold off a hard-charging Daniel Hemric, who led 74 of the 200 laps.
Allmendinger was very emotional post-race as this is his first full-time season in NASCAR since 2018 when he was competing in the NASCAR Cup Series.
"It's emotional because you don't know when you're going to do this again. You never know. This could be the last one (win), you never know, I hope it's not. I think we can do a lot more," he said during his interview at the start/finish line.
For Hemric, it was a tough outcome once again. He has 11 NASCAR national series career runner-up showings and led eight different times and won Stage 2. In the first four races so far this season, Hemric has finished third twice and runner-up once. He has not finished outside of the top-10 in any race. Saturday marked his eighth runner-up finish in the Xfinity Series. Dale Jarrett holds the record for the most runner-up finishes in the Xfinity Series before his first victory with 10 second-place results.
Brandon Jones finished third and Austin Cindric finished fourth after winning Stage 1 and leading 43 laps. Noah Gragson finished fifth followed by Michael Annett, Josh Berry, Justin Haley, Harrison Burton, and Jeb Burton rounding out the top 10.
The Xfinity Series will be back out west this weekend, this time at Phoenix Raceway for the Call 811 Before You Dig 200 presented by Arizona 811 on Saturday, March 13 at 5:30 p.m. ET on FS1, MRN and SiriusXM NASCAR Radio.
The race will be 200 miles and 200 laps with Stage 1 ending on Lap 45 and Stage 2 ending on Lap 90.
Hemric will start from the pole position with his JGR teammate Brandon Jones joining him on the front row.
Cindric will start third with Allmendinger fourth and Haley will round out the top five.
Valley of the Sun Fast Facts
There have been 38 NASCAR Xfinity Series races at Phoenix Raceway. The inaugural race was on November 6, 1999 and won by NASCAR Hall of Famer Jeff Gordon from the third starting position.
The 38 Xfinity races at Phoenix have produced 19 different pole winners and 20 different race winners. William Byron holds the record for the youngest race winner in 2017 at 19 years, 19 months, 13 days. Greg Biffle holds the record for the oldest winner in 2009 at 39 years, 2 months, and 25 days.
Ten races have been won from the first starting position and the last race won from the pole was by Kyle Busch in 2016. Elliott Sadler holds the race record at Phoenix at 116.317 mph in 2012 and Kyle Busch holds the qualifying record at 138.504 mph in 2015.
Kyle Busch holds so many of the Xfinity Series records at Phoenix Raceway. He has the most starts of any active driver (24) and has the most poles (10). He has the most wins (11), is tied for the most top fives with Kevin Harvick (17) and has the most top 10s (20). He has the most lead lap finishes (23), the most laps completed (4,702) and the most laps led (2,234).
Last season's spring race Phoenix was won by Brandon Jones. Harrison Burton finished second and Kyle Busch finished third. Brad Keselowski finished fourth and Justin Haley finished fifth.
Jonesin' for another one
Joe Gibbs Racing's Brandon Jones took home the victory last season at Phoenix Raceway in the spring, the last race that felt normal before the COVID-19 pandemic caused a break in racing.
Jones started eighth and led 24 laps en route to his second career victory in the Xfinity Series.
Jones, who drives the No. 19 Toyota for Joe Gibbs Racing, has had a strong start to the 2021 season. In the season-opener at Daytona International Speedway, he finished 38th after being involved in a crash. But that's the only race in all four starts that he didn't finish in the top five. At the Daytona Road Course, he finished fourth, at Homestead-Miami Speedway he finished runner-up and last weekend at Las Vegas, he finished third.
"This has been honestly the best start to any year that I've had in a long time," Jones told the media. "We've put ourselves in a position to be really consistent here even on our little bit of an off day, we're still in the top-five, which I think is something to say for our team and the stuff that we're bringing to the track. That's been a very good momentum pusher, momentum builder for myself in each one of these weekends, and I think that if you keep putting yourself in these top-five positions, it keeps setting you up for the next week. We're going to have another phenomenal starting spot coming up at Phoenix because of our finishing position last week at Las Vegas. All of that stuff is going to lead to more victories, more success in the series."
Loris Hezemans to make debut; MBM Motorsports, Reaume Brothers Racing team up
Loris Hezemans, the 2019 NASCAR Whelen Euro Series champion will pilot the No. 13 Reaume Brothers Racing Chevrolet with sponsorship from Hezeberg Systems in two NASCAR Xfinity Series races this season. The first race will be this weekend at Phoenix Raceway for the Call 811 Before You Dig 200 presented by Arizona 811 (5:30 p.m. ET on FS1, MRN and SiriusXM NASCAR Radio).
This weekend will mark Hezemans' oval track debut. Hezemans, who is a six-time NASCAR Whelen Euro Series winner, finished 22nd at Road America in his debut in 2019.
Due to a change in situations, Reaume Brothers Racing needed to partner with MBM Motorsports to field their Xfinity Series entry and gain a starting spot. David Starr was originally piloting the No. 13 but will move to the No. 61 for Phoenix.
Reaume Brothers Racing prepared the cars for the various events but MBM has taken over the cars to help them field the entry and give them the starting spot.
Because the No. 61 is a partnership with Hattori Racing Enterprises but run by MBM Motorsports, it must be a Toyota. Hezemans will be piloting a Chevrolet.
Timmy Hill will remain in the No. 66 for MBM Motorsports.
Our Motorsports running No. 23 for rest of season
Our Motorsports announced that they will field the No. 23 for the rest of the 2021 NASCAR Xfinity Series season. The No. 23 will run along with the full-time No. 02 Chevrolet driven by Brett Moffitt.
The No. 23 is replacing the No. 03 which was originally expected to run full-time in 2021 but the team didn't have the proper amount of owner's points to field the entry on a full-time basis.
Our Motorsports acquired the No. 23 from RSS Racing, who ran the first two races with Jason White and Natalie Decker behind the wheel in partnership with Reaume Brothers Racing.
However, the No. 23 is now being fully run and operated by Our Motorsports.
Tyler Reddick ran the No. 23 last weekend at Las Vegas Motor Speedway and finished 12th after starting in 40th. Moffitt has run in all four races this season in the No. 02. He finished runner-up in the season-opener at Daytona and went on to start first at the Daytona Road Course and finished 11th. He finished seventh at Homestead and last weekend at Las Vegas, he finished 34th.
Blaine Perkins will pilot the No. 23 this weekend at Phoenix Raceway, making his Xfinity Series debut. Perkins, 20, ran in the ARCA Menards Series West in 2020 and in his 11 season starts, he had three wins, eight top-five finishes and finished second in the series points standings.
The NASCAR Xfinity Series 2021 season has started out with four different winners and two of them were first-timers and maybe a little bit unexpected to kick off the season. Austin Cindric continued his winning ways as the reigning NASCAR Xfinity Series champion, winning the season-opener at Daytona International Speedway and securing his spot in the Playoffs.
Ty Gibbs went on to win at the Daytona Road Course in his first ever Xfinity Series start, adding his name to the history books. Gibbs' win doesn't guarantee his spot in the postseason however due to him only running a partial schedule this year.
Next, Myatt Snider won at Homestead-Miami Speedway, securing his spot in the Playoffs, and grabbing his first career win. Most recently, AJ Allmendinger won in his first full-time season since 2018 with Kaulig Racing and stamped his ticket to the Playoffs, too.
With the start of the season bringing new winners, the Playoff outlook has shuffled the driver standings. Although it's only three races in, there are already a couple new faces in the top 12.
Daniel Hemric is still the highest ranked driver without a win followed by his Joe Gibbs Racing teammate Brandon Jones in fifth. Kaulig Racing teammates Jeb Burton and Justin Haley are taking the sixth and seventh spot in the standings. All three Kaulig Chevrolets are currently in the top 10 in points standings.
Jeremy Clements and Brandon Brown, two drivers on small, family-owned teams, are in ninth and 10th.
JR Motorsports' Noah Gragson has finally made his way back into the top 12 in points standings. Gragson's season started off tough and last weekend at Las Vegas he got his best finish of the season so far in fifth. He's currently occupying the final Playoff spot.
Team to Watch: Kaulig Racing
The 2021 Xfinity Series season has started off extremely strong for the Kaulig Racing camp and even more so after AJ Allmendinger's win on Saturday at Las Vegas Motor Speedway.
Right now, all three Kaulig Racing Chevrolet's are sitting in the top 10 in the points standings. Allmendinger is already in the Playoffs with his win and Jeb Burton and Justin Haley's efforts at Las Vegas put all three cars in the top-10 finishing positions.
Burton has finished in the top 10 in all four of his starts and finished in the top five in three of those. Haley finished in the top 10 in three of those four starts and Allmendinger finished in the top-10 twice and top-five twice.
Looking ahead to this weekend at Phoenix, Kaulig Racing as a team has 12 starts at the track with one top five and seven top 10s. Last season, Haley finished fifth and eighth in both races at the Arizona track and Ross Chastain finished ninth and seventh for the organization.
Burton has only one Xfinity Series start at the track and that was in 2016 for Richard Petty Motorsports when he started 15th and finished 17th.
Haley will be making his fifth start at Phoenix on Saturday. He has one top five and three top 10s at the track.
Allmendinger has two starts at Phoenix from 2007 and 2008 when he finished 13th and 12th. He will be making his first start at the track since then on Saturday.
Haley (91.2), Burton (75.2) and Allmendinger (73.8) all have an average driver rating in the top 15.
NASCAR Xfinity Series, Etc.
Harvick heading back to Xfinity, Trucks – Kevin Harvick will compete in three Xfinity Series races in 2021 in support of his role as a brand ambassador for Xfinity and to gain more road course experience. He will kick off his three races in the NXS race at COTA and then will hit the track again in the NXS race at Road America. His final NXS race will be at the Indianapolis Motor Speedway Road Course in August. Harvick is a two-time Xfinity Series champion (2001 and 2006) and has 47 wins. He'll pilot a Ford Mustang for Stewart-Haas Racing in all three events. Before he heads back to the Xfinity Series, he'll already join the NASCAR Camping World Truck Series for the Bristol Dirt race on March 27. This will be his 124th start in the Truck Series. He will pilot the No. 17 for David Gilliland Racing.
Sunoco Rookie Update – Josh Berry is now in the lead for Sunoco Rookie of the Year honors with 71 points. Ty Gibbs is in second with 50 points and Ryan Vargas is in third with 47. Jordan Anderson and Sam Mayer are fourth and fifth because both drivers haven't made a start in the series so far this season.
Manufacturer Update – With AJ Allmendinger's win at Las Vegas, Chevrolet broke the three-way tie and is now leading the manufacturer's championship with two wins and 147 points. Toyota is in second with one win and 144 points and Ford is in third with one win and 140 points.
Tire Pros partners with JRM – JR Motorsports announced that they have entered a partnership with Tire Pros, the nation's largest franchise network of independent tire dealers, for 2021.
COURTESY NASCAR INTEGRATED MARKETING COMMUNICATIONS