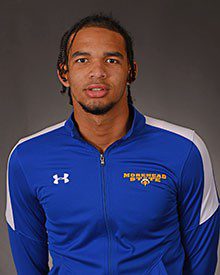 MOREHEAD, Ky. – Add yet another accolade to what has been an outstanding start to Johni Broome's college career. With his latest OVC Freshman of the Week award, the 6-10 forward now holds the MSU record for most individual OVC honors in a season. The previous mark belonged to Kenneth Faried who earned eight awards throughout the 2010-11 campaign.

Broome's ninth honor now ranks him tied for third-most in OVC history in FOTW wins in a season. The freshman also has the third-most career individual honors in MSU history.
Broome once again averaged a double-double for the week in helping Morehead State set a program record for league wins with 17. He opened the week Monday at SIUE by tying his career-high with 13 rebounds while also nearing his career-high with 23 points to go along with three blocked shots. Broome hit a career-high seven free throws as well.
Despite a constant double-team from the Tennessee State defense, Broome still managed to score nine points while grabbing 13 rebounds Thursday.
In the overtime win over Belmont, Broome posted his 10th double-double with 20 points and 12 rebounds while also rejecting three shots. On the week, he hit 51 percent (19-of-37) while averaging 17.3 points, 12.7 rebounds, and 2.3 blocks.
This marks the fifth straight week that Broome has been named FOTW.
COURTESY MOREHEAD STATE ATHLETIC MEDIA RELATIONS