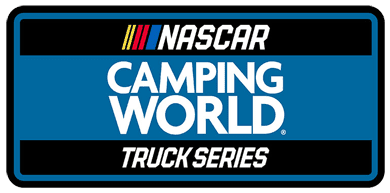 Next Race: Bucked Up 200
The Place: Las Vegas Motor Speedway
The Date: Friday, March 5
The Time: 9 p.m. ET
TV: FS1, 8 p.m. ET
Radio: MRN, SiriusXM NASCAR Radio
Distance: 201 miles (134 Laps); Stage 1 (Ends on Lap 30),
Stage 2 (Ends on Lap 60), Final Stage (Ends on Lap 134)
Camping World steps up to fill sponsorship void in Vegas
With a single tweet Monday night, Camping World CEO Marcus Lemonis sent NASCAR Camping World Trucks Series teams' graphics departments into high gear.
He simply said, "Which @NASCAR_Trucks are unsponsored this weekend? Respond here if you are and if you know of someone get their attention quick."
And respond they did.
So far, more than five entries in Friday night's Bucked Up 200 at Las Vegas Motor Speedway (9 p.m. ET on FS1, PRN and SiriusXM NASCAR Radio) will sport the familiar blue and yellow of Camping World including No. 2 Sheldon Creed; No. 3 Jordan Anderson; No. 9 Grant Enfinger; No. 24 Raphael Lessard; No. 33 Jesse Iwuji; and the No. 41 of Dawson Cram.
The Camping World sponsorship offers teams a sliding scale based on performance. If the truck wins with the Camping World paint scheme, it would increase the sponsorship payout.
This week's sponsorship bonanza comes on the heels of an announcement made by Lemonis prior to the start of the season in Daytona that added $500,000 in bonus money and prizes for the Camping World Truck Series participants this year. That included a total of $50,000 ($25,000 driver bonus and $25,000 road crew bonus) that went to the No. 99 ThorSport Racing team of Ben Rhodes after taking the checkered flag in the season opener.
Where they will start
Series points leader, and 2017 Las Vegas race winner, Ben Rhodes will start on the pole for Friday night's Bucked Up 200 at Las Vegas Motor Speedway (9 p.m. ET on FS1, PRN and SiriusXM NASCAR Radio) by virtue of Metric Qualifying to determine starting order while we race under COVID-19 protocols.
Another former Vegas race winner, Grant Enfinger (2018 fall race), will start 18th. And multi-time Las Vegas race winners Kyle Busch (2018, 2019 and 2020 spring races) and Austin Hill (2019, 2020 fall races) will start much further back. Busch will be 29th while Hill starts 31st.
Sheldon Creed, who was the runner-up to Rhodes on the Daytona Road Course two weeks ago, will start alongside him on the front row. John Hunter Nemechek, Matt Crafton and Christian Eckes will make up the remainder of the top five.
Rowdy returns to race at home
Las Vegas native Kyle Busch returns to the NASCAR Camping World Truck Series this weekend, making his season debut at his home track in his own No. 54 Kyle Busch Motorsports Toyota.
Busch has raced four times in a truck at Vegas – the first was in 2001, driving for Jack Roush. He finished ninth.
After a long hiatus, he returned in 2018 for this spring race…and won it. He then won the spring race in 2019 and again last year. He started on the pole in 2018 and 2019, and all the way from third in his other two races in the trucks.
This year, he will be starting in 29th due to the lineup matrix used to determine starting position while we race without qualifying due to COVID-19 protocols.
Busch has also found success in other series at Las Vegas. He has a win in the NASCAR Cup Series at the track (2009) and a pair of wins in the NASCAR Xfinity Series (2016, 2019).
Austin Hill looks to rebound at Las Vegas
The start of the 2021 season hasn't been exceptionally generous to Austin Hill, who finished 22nd on the oval and 33rd on the road course at Daytona International Speedway over the past two weeks. So, he's definitely one driver that took the off-weekend to regroup before heading out west to Las Vegas Motor Speedway.
But he should be very happy that's the next stop on the NASCAR Camping World Truck Series schedule, as he won the most recent race there last September, and also won the same race a year prior.
In fact, four of Hill's six career wins in the series have come at 1.5-mile tracks (Las Vegas – 2019, 2020; Homestead-Miami – 2019; Kansas – 2020). And in six races at Las Vegas, he has recorded a pair of wins as part of three top-five and four top-10 finishes.
COURTESY NASCAR INTEGRATED MARKETING COMMUNICATIONS