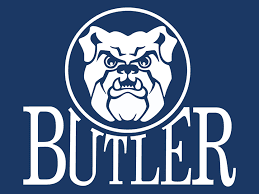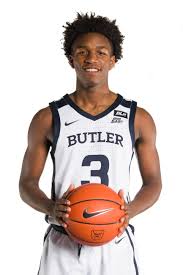 3/1/2021
After leading the Bulldogs to a 2-0 week, Chuck Harris has been named BIG EAST Freshman of the Week. The conference office made the announcement Monday, March 1.
 
For Harris, it is his second weekly freshman honor after also being recognized Dec. 28.
 
Harris had a game-high 20 points in Butler's win over No. 8 Villanova Sunday. It marked his fourth 20-point game of the season. He went 4-of-9 from three-point range, adding five rebounds and four assists. In Wednesday's win over Seton Hall, Harris had 14 points and tied career-highs with six rebounds and five assists.
 
For the week, he averaged 17.0 points, 5.5 rebounds and 4.5 assists per game, shooting 50 percent from the field.
 
Harris is only the third Bulldog to earn Freshman of the Week honors since the Bulldogs joined the BIG EAST prior to the 2013-14 season. He joins Kelan Martin (final week of the 2014-15 regular season) and Kamar Baldwin (twice during the 2016-17 season) on that list. He and Baldwin are the only Bulldogs to win multiple weekly honors.
 
Harris leads the Bulldogs in scoring this season, averaging 12.0 points per game. Among freshmen in the BIG EAST, only Marquette's Dawson Garcia averages more (13.3).
COURTESY BUTLER ATHLETIC COMMUNICATIONS