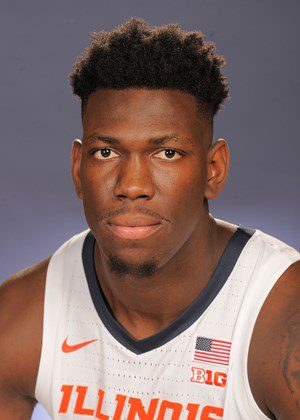 Career Record: 175-82 (.681), 8th year
At Illinois: 66-55 (.545), 4th year
SERIES NOTES VS. OHIO STATE
Record: Illinois leads 106-80
Streak: Ohio State W-2
Record at Columbus: Ohio State leads 49-42
Streak at Columbus: Ohio StateW-1
Last Meeting: #21 OSU 87, #14 ILL 81 (Jan. 16 @ILL)
Underwood vs. Ohio State: 1-4
OPENING TIPS
• Winners in 10 of its last 11, No. 4 Illinois wraps up the regular season Saturday at No. 7 Ohio State (3 p.m. CT, ESPN).
• Illinois finishes Big Ten play with five out of six away from home. Illinois' last three games are all on the road against teams ranked in the top 11 in kenpom, with its remaining contest at Ohio State (7) after victories at Wisconsin (11) and at Michigan (2).
• Following the win at No. 2 Michigan, Illinois heads to No. 7 Ohio State seeking wins over top-10 teams in back-to-back games for the first time since the 2005 NCAA Tournament, when the No. 1-ranked Illini defeated No. 9 Arizona in the Elite Eight and No. 4 Louisville in the Final Four.
• Illinois is also aiming for its 20th victory, which would achieve the 34th 20-win season in school history and first back-to-back 20-win campaigns since 2013 (23) and 2014 (20).
• Illinois has 15 Big Ten wins, tying its most ever in a season. The school record of 15 league victories was set in 1984 (15-3, co-champions) and equaled in 2005 (15-1, champions).
• Illinois is fourth in the current NET rankings. The Illini were No. 5 overall (No. 2 seed) in the NCAA Tournament Committee's initial ranking of the top 16 teams (released Feb. 13), and are challenging for a No. 1 seed.
• Illinois leads the nation with eight Quad 1 wins. The Illini own a combined 13 victories in Quads 1 and 2, meanwhile, tied for second nationally behind Alabama (14).
• Illinois is one of four teams ranked in the top 10 in both offensive (9th) and defensive (7th) efficiency by kenpom, joined by Gonzaga, Michigan and Houston.
• Illinois is No. 4 this week, its highest ranking since claiming the No. 1 spot in the final AP poll of 2005. The Illini are in the Top 5 of a March poll for just the fourth time in the last 65 seasons (1989, 2001, 2005, 2021).
• Illinois is 29-28 all-time in top-10 match-ups, including 4-11 on the road. Two of those four road wins have happened this season, with the first two occurring in 1989:
No. 8 Illinois 70, No. 3 Indiana 67 – 3/5/1989, Bloomington, Ind.
No. 4 Illinois 89, No. 8 Michigan 73 – 3/11/1989, Ann Arbor, Mich.
No. 6 Illinois 83, No. 10 Duke 68 – 12/8/2020, Durham, N.C.
No. 4 Illinois 76, No. 2 Michigan 53 – 3/2/2021, Ann Arbor, Mich.
• The Illini have recorded a total of six top-10 wins the last three years under Coach Underwood, including an active streak of three straight this season (at No. 10 Duke-Dec. 8, No. 7 Iowa-Jan. 29, at No. 2 Michigan-March 2). The school record for top-10 wins in a single season is five, set by the 1989 Flyin' Illini.
• Over the last two Big Ten seasons, Illinois has the league's best win percentage (.718) and most wins (28).
• Illinois has clinched the 2 seed in next week's Big Ten Tournament and will play the 7/10 winner Friday at 5:30 p.m.
• Leading the Illini is Ayo Dosunmu. Owning numbers of 21.0 points, 6.3 rebounds, and 5.3 assists per game, Dosunmu is not only solidifying his candidacy for First-Team All-America status, but contending for National Player of the Year as well. A Naismith Trophy Semifinalist and Cousy Award Finalist, Dosunmu is the only player in the NCAA over the last 11 seasons to average at least 20 points, six rebounds and five assists, all while leading Illinois Basketball back among the nation's elite.
• Dosunmu is on pace to become just the second Big Ten player since 1993 to average 20 points, six rebounds and five assists, joining Ohio State's Evan Turner, the National Player of the Year in 2009-10.
• Dosunmu recorded two triple doubles last month (vs. Wisconsin and at Minnesota) to join Michigan State's Magic Johnson as the only two players in Big Ten history with multiple triple doubles in league play.
• Dosunmu is the Big Ten's second-leading scorer while also leading the conference in assists.
• Kofi Cockburn ranks second in the NCAA with 15 double-doubles this season. He has posted double-doubles in 12 Big Ten games, averaging 18.6 points and 10.1 rebounds during league play.
• Cockburn's season-rebounding average has dipped just under 10. At 17.5 ppg and 9.8 rpg, Cockburn is vying to become the first Illini player since Nick Weatherspoon in 1973 (25.0 ppg, 12.3 rpg) to average a double-double for an entire season.
• Dosunmu and Cockburn are combining for 38.5 points per game, the sixth-highest scoring duo nationally, and third among the high-major conferences.
• Trent Frazier has seen his scoring increase recently, averaging 14.1 points (155) and shooting 38.8% from 3-point range (26-67) while making an average of 2.4 treys over the last 11 games.
• Along with the scoring, Frazier continues to be a menace at the other end of the floor and is a contender for Big Ten Defensive Player of the Year honors. He had a career-high 6 steals while holding Minnesota star Marcus Carr to 3-of-11 shooting. He then held Nebraska's Teddy Allen to seven points on 3-of-7 shooting two days after Allen scored 41. Frazier's most recent defensive job came on Michigan point guard Mike Smith, who went just 2-of-6 from the field and did not record an assist for the first time in a game this season.
• Freshman Andre Curbelo ranks third inthe Big Ten in assists during league play at 4.5 apg. He is averaging 4.1 assists on the season, standing fifth on the school's all-time freshman assists chart behind legendary Illini point guards Bruce Douglas, Derek Harper, Dee Brown and Deron Williams.
• Curbelo is the reigning Big Ten Freshman of the Week, with the rookie point guard playing a more prominent role in the Illini lineup while Dosunmu has been sidelined by injury.
• Over the last three games, Curbelo is averaging 14.7 points (44), 8.3 rebounds (25) and shooting 51.4% (18-35).
NOTES FROM THE LAST TIME OUT: #4 ILLINI 76, #2 MICHIGAN 53 | BOX SCORE
• Illinois recorded its highest ranked road win in program history at No. 2 Michigan. Its previous were wins were at No. 3 Indiana on March 5, 1989, and at No. 3 Kentucky on Dec. 5, 1966.
• Illinois' 23-point win is the largest margin on the road against a No. 1 or No. 2 team in 26 years, since No. 15 Villanova won 96-73 at No. 1 Connecticut on Feb. 18, 1995.
• Illinois handed Michigan its third-largest loss ever at Crisler Arena:
27 points – 2001 vs. No. 5 Michigan State (64-91)
25 points – 1985 vs. No. 12 Indiana (62-87)
23 points – 2021 vs. No. 4 Illinois (53-76)
23 points – 2010 vs. No. 12 Purdue (57-80)
• Illinois beat a top-2 ranked team for the seventh time in program history. It is the first top-2 win since Feb. 7, 2013 when the Illini defeated No. 1 Indiana at home.
• Illinois won its fifth game against an AP-ranked team, its most in a season since 2004-05 (9).
• Illinois won its third straight game against an AP top-10 opponent.
• Illinois improved to 15-4 in the Big Ten, tying for its most Big Ten wins in program history.
• Illinois has now won 10 of its last 11 games, including three straight wins in six days and back-to-back road wins against top-25 opponents.
• Illinois' 23-point win was its largest margin of victory against a top-5 team since a 110-83 win vs. No. 2 UCLA on Dec. 4, 1964.
• Illinois improved to 8-3 on the road this season, including wins at Duke, Indiana, Wisconsin, and Michigan. The Illini's eight road wins are most among high-major conference teams.
• Trent Frazier had a game-high 22 points, scoring in double figures for the seventh time in the last 11 games and recording his third 20+ point outing over the last 10 games.
• Freshman Andre Curbelo had 17 points and six rebounds. He matched his high-point mark in Big Ten play with his second straight games scoring 17 points on the road at a ranked opponent.
» Complete Illinois Game Notes (PDF)
COURTESY ILLINOIS ATHLETIC COMMUNICATIONS