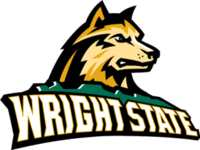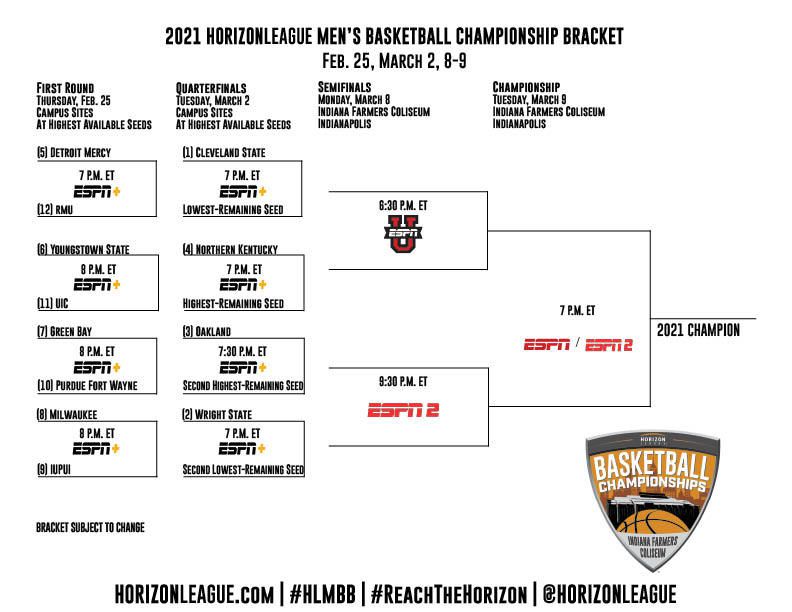 The Wright State men's basketball team begins postseason play at home on Tuesday night, as the No. 2-seeded Raiders host No. 8 Milwaukee inside the Nutter Center in the 2021 Horizon League Championship quarterfinals. Wright State clinched at least a share of the Horizon League regular season championship for the third consecutive season on February 20, and is the No. 2 seed, based off tiebreaker procedures. Milwaukee opened tournament play with a win over No. 9 IUPUI last Thursday to advance to a matchup with the Raiders.
Tuesday's tip is set for 7 p.m. and will be streamed on ESPN+, where Chris Collins and Jim Brown will call the action. Raider fans can also tune in to WRZX 106.5 FM, where Scott Leo and Justin Kinner will have the play-by-play on the radio.
Quarterfinal round winners will advance to Indianapolis for the semifinals on March 8 and the championship on March 9. Complete information on the 2021 Horizon League Championship can be found here.
TUESDAY: WATCH ON ESPN+ | FOLLOW LIVE STATS | LISTEN ON WRZX 106.5 FM | GAME NOTES
Last time out, Wright State split its weekend matchups at Northern Kentucky to close the regular season, falling in the opener 81-75 before a 77-71 victory on Saturday. Friday night, Loudon Love turn in the only double-double of the game, finishing with 16 points and 10 rebounds, while Grant Basile tallied 15 points of his own, while Trey Calvin and Jaylon Hall both had 12 points. Tim Finke finished with 11 points of his own and added eight rebounds. On Saturday, the Raiders were paced by Basile's 21 points, including a stretch where he scored 10 consecutive Raider points early in the second half. Love tallied his 12th double-double of the season with 18 points and 11 rebounds.
Tanner Holden also finished with 18 points, adding six rebounds, while Finke had 10 points and eight rebounds of his own.
MILWAUKEE MATCHUP
Milwaukee has won two games in a row, taking the regular season finale over Oakland in 2OT before a win over IUPUI in the first round of the HL tournament. Prior to the wins, Milwaukee had lost five games in a row. Wright State handed Milwaukee a pair of loses on Feb. 12 (92-81) and Feb. 13 (92-82). The teams have now met 65 times overall, with the Raiders holding a 35-30 lead over Milwaukee in the overall series, including six in a row and 11 of the last 15 meetings. Loudon Love paced the Raiders in both regular season games, finishing with 21 points on Friday and 29 points on Saturday.
RAIDERS-MILWAUKEE IN THE POSTSEASON
The Raiders and Panthers have met five times in postseason play, most recently in the 2018 Horizon League tournament, with Wright State holding a 3-2 advantage. The last meeting prior to Tuesday night came on March 5, 2018, as the Raiders dispatched the Panthers 59-53 in HL semifinal action in Detroit, MI on their way to the 2018 Horizon League Championship and an NCAA berth.
PANTHER POINTS
Milwaukee is coming off of an 84-72 victory over IUPUI at home in the opening round of the HL tournament on Thursday night, with four players finishing in double figures. A pair of Panthers set career highs against Wright State Feb. 12, with DeAndre Gholston leading the way with his 29-point outburst. Courtney Brown Jr. also stepped up with a career-high 14 points against the Raiders.
LOVE THE BACK-TO-BACK
Loudon Love earned his second consecutive Horizon League Player of the Year selection on February 23, becoming just the sixth player in League history to win two Player of the Year awards and only the third Horizon League player to garner multiple Player of the Year honors and also have been named the League's Newcomer of the Year. It's been 20 years since a Horizon League player has pulled off back-to-back Player of the Year honors, while Love joins former Xavier standout Byron Larkin and former Detroit Mercy standout Rashad Phillips on the pedestal with multiple Player of the Year awards and a Newcomer of the Year honor. The only other Wright State player to earn the Horizon League's top individual honor other than Love was DeShaun Wood following the 2006-2007 season.
AWARDS SEASON
In addition to his Player of the Year honor, Loudon Love was also recognized on the Horizon League first team, joined by sophomore Tanner Holden, while redshirt-sophomore Grant Basile was a second team selection. Love and Tim Finke each earned All-Defensive Team recognition as well. Read more here.
ALL IN THE NAME OF LOVE…
Entering the postseason, Loudon Love has 1,770 career points and is fourth all-time in program history. Next up is Vaughn Duggins (3rd, 1,777pts) and Love is 80 points shy of surpassing DaShaun Wood for 2nd most all-time. Through 23 games, Love is averaging 16.7 points per game, and is adding a 10.3 rebounds/game average. 
COURTESY WRIGHT STATE ATHLETIC COMMUNICATIONS