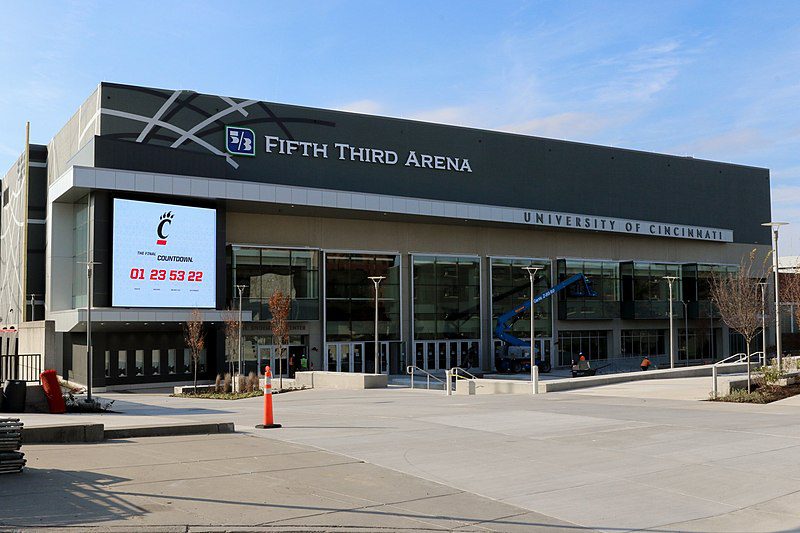 WEB LINK: http://bit.ly/2NvieMw
CINCINNATI – The University of Cincinnati Department of Athletics announced additional ticket availability inside Fifth Third Arena for upcoming men's basketball games and volleyball matches.

Athletics was granted an attendance variance by the State of Ohio which allows for crowds of around 1,135 fans inside the arena on game days.

All additional seating will be in the upper bowl with fans seated socially distant in the Incline, Upper Sideline and Varsity View sections. Masks are required at all times unless fans are eating or drinking.

MEN'S BASKETBALL
• Tickets will be priced at $40 apiece for games against Tulane (Feb. 26), Memphis (Feb. 28) and SMU (March 4).
• Season ticket holders in the Top-300 of UCATS Red Priority Points will be given a 24-hour exclusive window to purchase. After this window, all remaining season ticket holders will have an opportunity to purchase any remaining single-game seats
• Purchase your seats by logging into your ticket account or by calling the ticket office at 1-877-CATS-TIX.
• If any seats are available for purchase by the general public, additional information will be sent out to fans and posted on GoBEARCATS.com and the department's social media accounts.

VOLLEYBALL
• Although volleyball is an Experience UC event with complimentary admission, tickets will be made available to invited guests only for matches against UCF on March 12 and 13.
• Fans are encouraged to sign up online to have the opportunity to receive event tickets, based on availability and on a first-come, first-serve basis.
• Fans will be notified after sign-ups on further instructions on how to attend the event.

MOBILE TICKETS
UC will utilize mobile ticketing for games in Fifth Third Arena. Ticket buyers will receive an email with a link(s) to their tickets, allowing them to download to their Apple Wallet (iPhone) or to Google Pay (Android). Just prior to reaching the venue gates, fans simply pull up the tickets with QR codes on their smartphone screen to show the gate attendant for scanning.

Athletics Ticket Office Windows on the east side of the arena will be open on gameday to assist fans.

MOBILE TICKETING HOW-TO-GUIDE
• Purchase tickets at GoBEARCATS.com/tickets.
• An email will be sent with links to access tickets
• Download tickets to Apple Wallet(iPhone) or Google Pay(Android)
• At the stadium/arena, pull up the ticket within the wallet and have the gate attendant scan the barcode
• Enjoy the game!

FOLLOW THE BEARCATS
For all the latest information on Cincinnati athletics, please visit GoBEARCATS.com. For up-to-the-minute updates, follow Cincinnati Athletics on Twitter, Instagram and Facebook.
COURTESY UC SPORTS COMMUNICATIONS