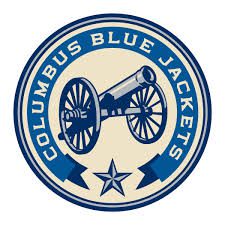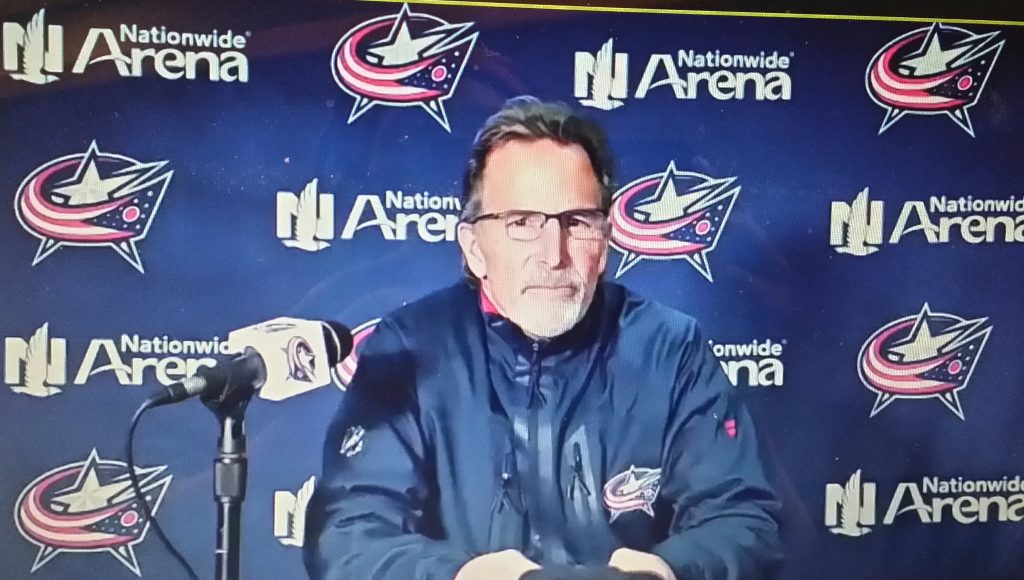 Columbus Blue Jackets: Media Notes
THE LAST GAME: Feb. 23, 2021 – CBJ (5) vs. CHI (6) (SO)
CBJ Goal Scorers: Atkinson, PP – Laine, PP – Laine, PP – Bjorkstrand, Bjorkstrand
CHI Goal Scorers: PP – Soderberg, Kane, Hagel, Kubalik, PP – Boqvist, SO – DeBrincat
Goalies: CBJ – Korpisalo (29/34, 65:00); CHI – Lankinen (25/30, 64:56)
CBJ PP: 3/4; PK: 2/4 | Shots: CBJ: 30 / CHI: 34
3 Stars: 1. Kane, CHI; 2. Laine, CBJ; 3. Bjorkstrand, CBJ
Noteworthy: CBJ trailed 2-0, 3-2 and 5-3 before tying it each time… CBJ scored 2 goals in final 10 minutes of play to tie game at 5… CBJ registered 3
PPG for the 1st time this season… Atkinson recorded his 3rd multi-point game this season (1-1-2)… Bjorkstrand scored two goals, his 1st multi-goal
contest this season… Laine tallied 2-1-3 for 3rd 2-goal game/2nd 3-point game.
OhioHEALTH INJURY REPORT
Nyquist (shoulder); Placed on Injured Reserve (1/11); five to six months; (20 games)
Werenski (lower body); day-to-day: (4 games)
Merzlikins (upper body); week-to-week (1 game)
Del Zotto (lower body); day-to-day (1 game)
TOTAL MAN GAMES LOST: 52
RECENT TRANSACTIONS
Feb. 25 Recalled Bemstrom from taxi squad as well as Dalpe and MacInnis to taxi squad from Cleveland (AHL)
Feb. 24 Assigned Peeke to Cleveland (AHL)
Feb. 23 Placed Merzlikins on IR and recalled Kivlenieks from taxi squad
Feb. 21 Recalled Kivlenieks from Cleveland (AHL) to taxi squad
Feb. 20 Recalled Carlsson from taxi squad
Feb. 19 Assigned Foudy and Clendening from taxi squad to Cleveland (AHL) and recalled Bayreuther to taxi squad
Feb. 18 Activated Kivlenieks off IR and assigned him to Cleveland (AHL)
AGAINST THE BLACKHAWKS
2020-21 Series: 2-1-2 (0-0-1 vs. CHI)
2019-20 Series: 0-0-2 (0-0-1 vs. CHI)
All-Time Series: 36-42-2-12 (19-18-1-7 vs. CHI)
Last 10 (Overall | HOME): 4-2-4 | 4-3-3
All-Time GF/GA: 251-302
All-Time SF/SA: 2,640-2,810
All-Time PP: 62-of-382
All-Time PK: 298-of-365
SEASON SERIES LEFT: Apr. 10 at CBJ… Apr. 12 at CBJ
CBJ/CHI CONNECTIONS
CBJ: McCudden served as skating and skills coach of AHL's Chicago Wolves from 1994-97, 2002-15… // CHI: Murphy was born in Dublin and played
for AAA Blue Jackets.
NOTED (Team Highlights vs. CHI)
Home team is 9-4-2 in last 15 meetings… CBJ are 4-2-4 in past 10 meetings and 8-5-4 in last 17… CBJ are 4-1-2 in last 7 home games vs. CHI… 9 of
last 10 games at NWA have been decided by a single goal (5 after regulation)… CBJ are 9-of-23 on PP vs. CHI in last 9 GP at NWA (39.1 pct.)… Most goals scored vs. CHI: 8 (3/25/10)… Most goals allowed vs. CHI: 7, 3x (MR: 2/1/11).
NOTED (Player Highlights vs. CHI)
Atkinson played in 300th career NHL game on 4/9/16 vs. CHI… Bjorkstrand skated in his 100th career game on 2/24/18 vs. CHI… Foligno tallied 1st
assist in CBJ uniform on 1/26/13 vs. CHI… Savard skated in 100th career game on 4/4/14 vs. CHI.
HOW THE JACKETS WERE BUILT (Active: 23, Injured Reserve: 2, Taxi Squad: 5)
Drafted (12): Atkinson, Bemstrom, Bjorkstrand, Carlsson, Gavrikov, Jenner, Korpisalo, Merzlikins (IR), Savard, Stenlund, Texier, Werenski
Trade (7): Domi, Foligno, Harrington, Jones, Laine, Matteau (TS), Roslovic
Free Agent (10): Bayreuther (TS), Del Zotto, Grigorenko, Johnson (TS), Kivlenieks, Kukan, Matteau (TS), Nash, Nyquist (IR), Robinson
Waivers (1): Dalpe (TS)
BLUE JACKETS NOTES
CBJ IN CLOSE AFFAIRS
The Blue Jackets have played in twelve one-goal contests this season (6-1-5) as six of the last nine games have been decided by a single goal.
Columbus is tied for second in the NHL in one-goal games (ARI), trailing Anaheim (13) and only trail Pittsburgh (8) as well as Florida, Boston and
Toronto (7) in wins in that end result in 2020-21. That success has been the norm over the past few seasons as CBJ leads the League in one-goal
victories and ranks fourth in win percentage in one-goal games since 2016-17 (.560; 89-31-39). Almost half of the club's games have been decided by a
single goal over that span (47.3 pct.; 158-of-336).
STRIKE FIRST, STRIKE FAST
CBJ have made it a habit of scoring the first goal in their game this season, scoring first in a league-high fourteen of their twenty contests. That includes scoring first in seven of the last nine games. Columbus' +9 goal differential (23-14) in the opening 20 minutes is tied for best in the NHL (TBL), while the 23 goals are second-most (EDM; 29). Eleven of the club's first period goals have been scored in the first 10 minutes of play in the game, including five in the opening five minutes
HOME AT NWA
Columbus is mid-way through a stretch heavy in home games, playing five-of-seven games at NWA from Feb. 18-Mar. 2 (1-1-1). The club has picked up
points in eight of its eleven home games (5-3-3), including the first four home games of a season for the first time in franchise history (2-0-2).
POWER PLAY HEATS UP
The Blue Jackets recorded a season-high three power play goals, finishing 3-of-4 on the man advantage in Tuesday's shootout loss. That helped the
club improve to fourth in the NHL in power play percentage in the month of February (29.2 pct.; 7-of-24). The team has scored a power play goal in four of its 10 February contests.
ATKINSON HEATS UP
Forward Cam Atkinson notched a goal and an assist on Tuesday for his third multi-point game of the season (all against the Blackhawks; 3-6-9). He has posted 7-5-12 and two game-winning goals in 10 February games, ranking third-T in the NHL in goals in the month. That stretch included goals in fivestraight games from Feb. 8-18 (5-4-9), the second-longest goal streak of his career. It only trailed his franchise-best seven-game goal streak from Nov. 10-25, 2018 (tied with Geoff Sanderson). His recent stretch has propelled him into a tie for the team lead in goals and points with 8-8-16 in 20 games this season.
KEEP UP WITH THE JONES
Defenseman Seth Jones has collected points in eight of his last 10 games (1-9-10), including two multi-point efforts. That stretch included a career-best
five-game assist streak from Feb. 4-13 (0-6-6) and six-game point streak (tied) from Feb. 2-Feb. 13 (1-6-7). He leads the club in assists (tied) and CBJ
defensemen in points with 1-10-11 in 20 contests. In the 2019-20 season, Jones was selected to play in his fourth consecutive All-Star Game and
ranked seventh in the NHL in time on ice (25:17), finishing with 6-24-30 in 56 games.
HOMETOWN KID
Jack Roslovic made his Blue Jackets debut at Nationwide Arena against the Panthers on Jan. 28 and has since recorded points in eight of the last 11
games (4-8-12). That includes a career-long six-game point streak from Jan. 31-Feb. 11 (4-5-9). The 25th overall pick in the 2015 NHL Draft became the
second Columbus native (New Albany's Kole Sherwood on Feb. 16, 2019 at Chicago) to play for the franchise with his first game. He grew up playing in
the Ohio AAA Blue Jackets program, suiting up for the 14U team in 2011-12 and 16U/18U teams in 2012-13.
LAINE IN COLUMBUS
Patrik Laine made his CBJ debut Feb. 2 vs. Dallas at Nationwide Arena and has points in seven of the last nine games (6-4-10). He has three multi-point
games and two three-point outings this season (8-5-13). The 2016 second overall pick was acquired along with Roslovic in a trade from the Jets on Jan. 23 Laine, who has 146-114-259 in 316 career GP, ranks third in the NHL in PPG (53), eighth in goals and ninth in goals-per-game (.46) since making
his NHL debut in 2016-17.
MAESTRO MAGIC
Forward Oliver Bjorkstrand leads the team in assists (tied), points (tied) and multi-point efforts with 6-10-16 and five multi-point outings in 20 games in
2020-21. On Tuesday vs. Chicago, he recorded his ninth career multi-goal contest and first in 2020-21. The winger, who signed a five-year contract
extension with CBJ on Jan. 6, led the club in goals (21), GWG (five) and multi-point efforts (11) in 2019-20 despite being limited to 49 contests due to
injury.
JENNERATING OFFENSE
Forward Boone Jenner has five points in the last six games (3-2-5) and has tallied points in six-of-nine road games this season, including five of his six
goals (5-2-7). He ranks third-T on the club in goals and fifth-T in points with 6-5-11 in 20 games.
RECENT MILESTONES
•Carlsson scored his 1st NHL career goal on 2/20 vs. NSH
•Del Zotto scored his 1st goal as a Blue Jacket on 2/11 vs. CHI
•Foligno notched his 200th career NHL goal on 2/7 vs. CAR
•Jones collected his 200th CBJ career point on 2/7 vs. CAR
UPCOMING MILESTONES
•Harrington is 3 games from 200 in his NHL career
•Domi is 5 games from 400 in his NHL career
•Roslovic is 7 games from 200 in his NHL career
•Kukan is 8 games from 100 in his NHL career
2020-21 TEAM QUICK HITS
•Thursday is the 2nd game in a stretch of 4 games in 6 days for CBJ between 2/23-2/28
•CBJ, who have 15 Thu. games this season (4-1-1), have posted points in 5-straight Thu. games (4-0-1), incl. wins in last 4-straight
•CBJ (59 goals overall) have scored 23 goals in the 1st period and 22 in the 3rd period this season
2020-21 PLAYER QUICK HITS
•Carlsson has points in both games played in 2020-21 (1-1-2)
•Foligno, who finished 7th in the NHL with a career-high 212 hits in 2019-20, is 2nd on the club in hits (50)
•Gavrikov has assists in 4 of the last 7 home games (0-4-4)
CBJ 2020-21 TEAM GAME HIGHS
GOALS: 6 (2/11 at CHI)… GOALS AGAINST: 7 ( 2/15 at CAR)… PPG: 3 (2/23 vs. CHI)… PPGA: 2 – 3x (MR: 2/23 vs CHI)… SHOTS: 44 (1/16 at NSH)…
SHOTS AGAINST: 45 (2/20 vs. NSH)… PIM: 24 (1/18 at DET)… HITS: 39 (1/31 at CHI)… FOW: 34 (1/14 at NSH)… BKS: 22 (2/8 vs CAR)
CBJ 2020-21 PLAYER GAME HIGHS
GOALS: 2 – 4x, MR: Laine, Bjorkstrand (2/23 vs. CHI)… ASSISTS: 3, Atkinson (2/11 at CHI)… POINTS: 4, Atkinson (2/11 at CHI)… HITS: 7 – 2x, MR:
Jones (2/11 at CHI)… PLUS/MINUS RATING: +3 – 3x, MR: Nash (2/18 vs. NSH)… SOG: 7, Atkinson (2/15 at CAR)… TOI: 31:58 – Jones (2/23 vs.
CHI)… SAVES: 35 – 2x, MR: Merzlikins (2/20 vs. NSH, 45 shots)
COURTESY BLUE JACKETS COMMUNICATIONS