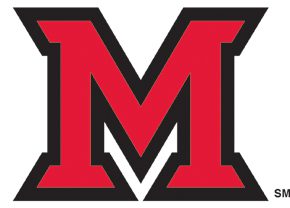 Tue, Feb 23, 2021
MOUNT PLEASANT, Mich.—Bolstered by a program single-game record 18 three-pointers in a dominant performance, the Miami University men's basketball team rolled to a 96-54 win at Central Michigan University on Tuesday evening. It was the second-straight road win for the RedHawks, who move to 10-9 on the season and 7-7 in Mid-American Conference play. The Chippewas drop to 6-13 overall and 2-10 in MAC action.

HOW IT HAPPENED:
The RedHawks scored the first seven points of the game, giving Miami a quick 7-0 lead off a sophomore guard Dae Dae Grant triple at the 17:44 mark.
A jumper and trey from Grant and another triple by redshirt sophomore guard Myja White pushed the RedHawk lead to 23-12 with 12:27 to go in the opening half.
A 22-0 run from 10:40 to 3:30 in the opening half catapulted the RedHawks to a 45-14 lead. The scoring surge included five of Miami's 12 first-half three-pointers, two coming from senior forward Dalonte Brown. Miami extended its lead to 40 points and carried a 58-18 lead into the intermission.
The RedHawks continued to apply pressure in the second half. Miami pushed its lead to 49 points, 94-45 with 5:20 to go in the game, off a three-pointer by redshirt junior guard Isaiah Coleman-Lands, which was the record-setting triple for the RedHawks.
NOTES:
Dae Dae Grant led all players with 25 points, including a 7-for-12 effort from three-point range. His seven treys tie for eighth among all-time Miami leaders in a single game.
It was Grant's fifth 20-point scoring effort of the season and second straight. He has the top four scoring outputs by a RedHawk this season (28, 27, 26 and 25 points).
Three other RedHawks scored in double figures: Javin Etzler (13), Dalonte Brown (12), Mekhi Lairy (10).
Isaiah Coleman-Lands tied a career high with eight rebounds and tied a season high with six assists.
Miami set a program record for three-pointers in a game with 18, eclipsing the previous record of 17 against Midway on Nov. 29, 2017.
The 96 points against the Chippewas match the season-best scoring effort the RedHawks had earlier this season against Bowling Green on Jan. 21.
The 58 first-half points for the RedHawks were their most in a half this season, besting a 55-point second-half effort against Bowling Green on Jan. 21.
Miami shot a sizzling 52.1 percent from the floor and 51.4 percent from three-point range for the game. The RedHawks were a scorching 61.1 percent from the field and 63.2 percent from three-point range in the opening half.
The 42-point win for the RedHawks ties for the 19th-largest margin in a win and is third-largest margin of victory against a MAC opponent. It is Miami's biggest win against Central Michigan in series history.
UP NEXT:
The RedHawks round out a rugged road stretch, playing the second of three games in five days when Miami travels to Western Michigan for a noon game on Thursday, Feb. 25.
COURTESY MIAMI ATHLETIC COMMUNICATIONS