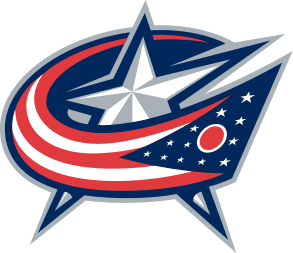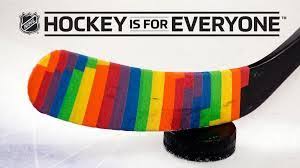 "HOCKEY IS FOR EVERYONE" NIGHT, PRESENTED BY VORYS
FEBRUARY 24, 2021
COLUMBUS, OHIO — The Columbus Blue Jackets will host Hockey Is For Everyone Night, presented by Vorys, on Thursday when they face off against the Chicago Blackhawks at Nationwide Arena. This annual game-night celebration of diversity and inclusion will feature video recognitions throughout the game and FOX Sports Ohio broadcast representing a wide spectrum of leagues and programs; an auction of rainbow-colored Pride taped sticks and Pride-themed pucks used by players during pregame warmups; and several other acknowledgements.
Players will use rainbow colored Pride tape on sticks during warm-ups and practice with Hockey Is For Everyone Official Warm Up Pucks as a badge of support for the LGBTQ community. Select players' sticks will be individually autographed by the respective players then auctioned off with proceeds benefiting the You Can Play Project and its efforts to promote safety and inclusion of all in sports – including LGBTQ athletes, coaches and fans. A limited number of the pucks used during warmups will be on sale online for $45 each. Fans can text CBJAUCTION to 76278 or visit www.cbjauction.givesmart.com to purchase pucks, and bid on the individually-signed sticks used in warmups as well as other unique Hockey Is For Everyone-themed items. The auction closes at 11 p.m. ET on Friday.
The Foundation will host a 50/50 Raffle, presented by KEMBA Financial Credit Union, with 50% of the proceeds benefiting the Columbus Ice Hockey Club (CICHC) while the other 50% going to the winner. Fans can visit www.bluejackets.com/5050raffle to purchase tickets. Must be 18 years or older to participate. The 50/50 Raffle is open now and will close at 11 p.m. ET on Friday.
Prior to face off, Scott Humes, a Worthington Kilbourn graduate who won gold medals for the Team USA at the World Deaf Ice Hockey Championships in 2017 and 2019, will sign the National Anthem in ASL alongside Blue Jackets anthem singer Leo Welsh. A cancer survivor, Humes is a 2019 graduate of Wright State University and the son of Mike Humes, the Blue Jackets' senior vice president of business development from 1999-2004.
Vorys also will be presenting $15,000 to support the Columbus Ice Hockey Club (CIHC), whose mission is to allow youth from diverse communities and extenuating circumstances in Central Ohio the opportunity to develop core values through hockey and use it as a vehicle to open doors and excel in all aspects of their lives, during a check and video presentation during the first television timeout of the first period.
"The Columbus Ice Hockey Club provides important learning and leadership opportunities to young people across our community. We're excited to offer the club a grant, through the Columbus Blue Jackets Foundation, to expand the program's capacity and breakdown some of the barriers holding Columbus kids back from learning how to skate. We are honored to be a supporter of this very important program and their efforts to make hockey more inclusive," said Vorys Managing Partner Michael Martz.
The Blue Jackets and Blackhawks will face off at 7 p.m. ET on Thursday.  Live coverage on FOX Sports Ohio begins with the Blue Jackets Live pre-game show starting at 6:30 p.m. All Blue Jackets games televised on FOX Sports Ohio will also be streamed live via FOX Sports GO. The game may also be heard on the Eldorado Scioto Downs Blue Jackets Radio Network, including 105.7 FM in Columbus, and online at BlueJackets.com.
COURTESY BLUE JACKETS COMMUNICATIONS