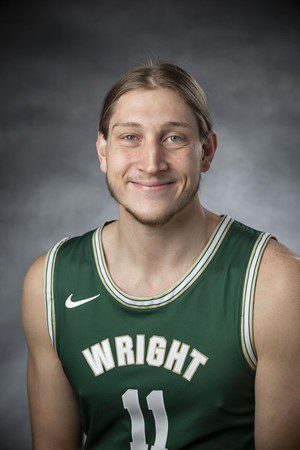 2/19/2021
The Wright State men's basketball team saw its nine-game winning streak snapped on Friday night as the Raiders fell 81-75 at Northern Kentucky despite five players finishing with double digit scoring nights.

The Raiders (17-5 overall, 15-4 HL) trailed at the half for just the third time this season, while the Norse (13-9, 11-6 HL) have now won seven of their last eight.

Friday night, Wright State saw Loudon Love turn in the only double-double of the game, finishing with 16 points and 10 rebounds, while Grant Basile tallied 15 points of his own, while Trey Calvin and Jaylon Hall both had 12 points. Tim Finke finished with 11 points of his own and added eight rebounds.

The Raiders finished the night shooting 44 percent (28-of-64) from the floor, while Northern Kentucky connected at a 46 percent (29-of-63) rate. The Norse hit two more three-pointers, 10 to the Raiders' eight, and hit 81 percent (13-of-16) from the free throw line, while Wright State was 11-of-15 (73 percent).

The first half was back-and-forth, remaining a four-point margin or less until Northern Kentucky took a six-point lead with 3:46 remaining in the half, extending the advantage to eight with just over a minute to play. The Raiders closed the half on a 5-1 run to go into the break down four.

Wright State closed to within one on a Holden three to make it 44-43 two minutes into the second half and briefly took the lead on a Hall three-pointer at 51-49 with 15:05, only to see the hosts answer with a 10-0 run over the next two minutes. Northern Kentucky again pushed the lead to 10 with 7:24 remaining, but again the Raiders responded, this time with a five-point run, to pull back within five points with just over five minutes remaining. Wright State cut the deficit to four twice in the closing minutes, but each time Northern Kentucky had an answer down the stretch.
COURTESY WRIGHT STATE ATHLETIC COMMUNICATIONS