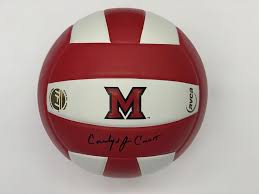 Wed, Feb 17, 2021
THURSDAY AND FRIDAY'S MATCHES: The Miami University volleyball team returns to the court this week, hosting Western Michigan. The RedHawks and Broncos square-off on Thursday, Feb. 18 at 7 p.m. and Friday, Feb. 19 at 6 p.m.
SENIOR NIGHT: Miami will hold its Senior Night on Friday and honor four seniors: Abigail Huser, Avarie Powell, Morgan Seaman and Sarah Wojick.
ABOUT WESTERN MICHIGAN: The MAC West Division leading Broncos enter the Thursday/Friday matches having won four straight and are coming off a pair of wins at Central Michigan last week. Andelyn Simkins leads the MAC in service aces, averaging 0.52 per set and with 15 on the season. Rachel Bontranger averages 4.28 kps to lead the Broncos, while Logan Case averages 11.31 aps. Kaley Smith averages a team-leading 5.79 dps
THE SERIES WITH THE BRONCOS: Thursday marks the 48th meeting between Miami and Western Michigan with the Broncos holding a 26-21 edge in the all-time series. When playing in Oxford, Miami is 14-13 against WMU. The RedHawks won the last meeting between the teams, 3-0, on Nov. 16, 2019 in Oxford. Western Michigan's last win in the series was in five sets in Kalamazoo on Nov. 3, 2018. The Broncos' last win in Oxford was on Sept. 23, 2017, 3-1.
TELEVISION: Thursday's match will be streamed live on ESPN3, while Friday's match will be streamed live on ESPN+.
ODDS 'N ENDS:
Senior Morgan Seaman has recorded three assist/dig double-doubles this season, two coming at Akron on Jan. 28 and 29 and the other coming at Bowling Green on Feb. 4.
Senior Sarah Wojick has been in double figures for kills in Miami's last three matches. She tallied 18 at Akron on Jan. 29 and notched 11 at Bowling Green on Feb. 4 and 15 against the Falcons on Feb. 5.
Senior Abigail Huser has been in double figures for digs in four of MU's six matches this season and amassed a season-best 24 digs at Bowling Green on Feb. 5.
Sophomore Allyson Severance notched a kill/dig double-double at Bowling Green on Feb. 5 with 14 kills and 12 digs. Both were career high numbers.
NEW KIDS ON THE BLOCK: Freshman Maggie McCrary has twice recorded five block assists in a match (Jan. 28 at Akron; Feb. 5 at Bowling Green). McCrary has recorded three or more blocks in four of the RedHawks' six matches this season. Freshman Abby Stratford amassed an impressive three solo blocks along with four block assists against Akron on Jan. 28.
TAKING AIM: Miami ranks third in the MAC in hitting percentage with two RedHawks ranking among MAC leaders. Senior Sarah Wojick ranks third with a .400 hitting percentage, while junior Sophie Riemersma ranks ninth with a .315 hitting percentage.
ECLIPSING 750 CAREER WINS: With a 3-0 win versus Buffalo on Jan. 22, Miami head coach Carolyn Condit posted her 750th career win. Condit owns a 752-560 career record in her 41st season as a head coach. Condit's 752 total victories are tied for eighth among active NCAA Division I coaches, and tied for 24th all-time. Owning more victories than any coach in the history of the Miami Athletic Department, Condit holds a 653-482 record in her 37th season in charge of the Red and White. Condit is the only volleyball coach in the history of the Mid-American Conference to win over 300 league matches, holding a conference mark of 358-213.
UP NEXT: Miami begins a four-match road stretch when the RedHawks head to Northern Illinois for a 5 p.m. (ET) match on Thursday, Feb. 25 and a 7 p.m. match on Friday, Feb. 26.
COURTESY MIAMI ATHLETIC COMMUNICATIONS