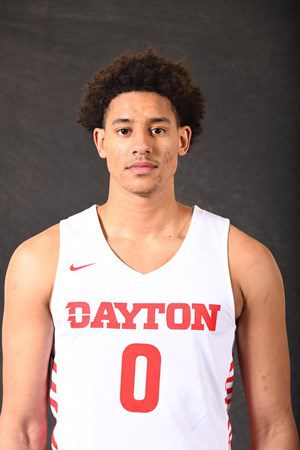 Zimi Nwokeji's 29 Points Are The Second-Most-Ever In A Game By A UD Freshmen
KINGSTON, R. I. – The University of Dayton Flyers fell in double overtime at Rhode Island, losing 91-89 to the Rams.
The Flyers squandered a near-record-setting performance by redshirt Zimi Nwokeji. Nwokeji's career-high 29 points were one short of the Flyer freshmen record of 30 set by Shawn Haughn set on Feb. 13, 1994 against Saint Louis.
Dayton is now 11-7 overall and 7-6 in the Atlantic 10. Rhode Island broke a four-game losing streak and improves to 10-12, and 7-8 in the A-10.
GAME BREAKDOWN
First Half: Dayton 34, Rhode Island 28
· Rhode Island started out hot, making its first three shots en route to a 7-0 lead.
· The Rams led 8-5 with 15:20 left in the first frame.
· Coming out of the media timeout at 15:20, Flyer guard Rodney Chatman made his first appearance since Dec. 30. Chatman tore a tendon in his right hand in the La Salle game, and the surgery to repair that tendon sidelined him for 11 games.
· Dayton got it going in the next four minutes, forcing a URI timeout after a 6-0 run. UD led 18-12 at the 11:10 mark.
· Rhody went on a 6-0 run of its own to pull to within 20-18 at the 7:44 media break.
· The Flyers match the 6-0 run to lead 28-23 with 3:20 left in the half, and closed the half with a 12-5 spurt to lead 34-28.
· Zimi Nwokeji established a new scoring career high in the first half alone, scoring 12 points. He also matched his previous career best with six rebounds.
· The two teams combined to make just three of 24 three pointers in the half. Dayton was 1-for-13, while Rhode Island was 2-for-11.
Regulation: Dayton 69, Rhode Island 69
· Jalen Crutcher scored Dayton's first six points of the half and UD led 43-36 at the 15:27 mark.
· The Flyers used a 9-0 run to lead 52-38 with 11:30 left.
· At the 9:30 mark, URI broke a six-and-a-half minute stretch without a field goal and the Rams began climbing back from Dayton's 18-point advantage with the score Dayton 58, Rhode Island 43.
· The Flyers still led by 10, 59-49, with 7:18 to go.
· It was a four-point game (65-61) with 3:57 left.
· The Rams took a 69-68 lead when Mahkel Mitchell grabbed an airball and scored on a stickback with 1:33 remaining.
· Neither team could score for four possessions until Jordy Tshimanga was fouled while rebounding a Rhode Island miss with 6.8 seconds left. He made one of two free throws to send the game into overtime when a URI three missed.
First Overtime: Dayton 78, Rhode Island 78
· Dayton led by four (76-72) with 2:54 left in the first OT, but URI scored five straight points to lead 77-76.
· Zimi Nwokeji's difficult tip-in gave the lead back to Dayton with 19 ticks left.
· Malik Martin made one of two free throws with 10 seconds on the clock to tie it.
· Dayton had to inbound the ball in front of its own bench with 1.7 seconds to go. Jalen Crutcher was able to work himself free but his 25-footer rimmed off.
Second Overtime: Rhode Island 91, Dayton 89
· The game was a one-possession affair for the entire overtime.
· Dayton took its last lead on a free throw by Jalen Crutcher with 1:54 to go.
· Rhode Island scored the next four points.
· The Flyers had a chance to tie 3.2 seconds left, but Crutcher could only make one of two free throws. After Antwan Walker made one of two freebies, Dayton turned the ball over in the backcourt trying to run a specialty play that would tie or win the game.
BY THE NUMBERS
· Zimi Nwokeji's 29 points were the most by a Flyer freshman in more than 25 years, and the second-most ever by a Dayton rookie. He scored a game-best seven points in the overtimes. He was 9-of-10 from the field, 9-of-11 from the line and also grabbed a career-high nine rebounds.
· Of the Dayton players to play more than 20 minutes in the game, Nwokeji was the only one to have a positive +/- rating (+7).
· Jalen Crutcher's 22 points were the eighth time this season he scored 20 or more points. He also had five assists.
· Ibi Watson scored 16 points, with 11 coming after halftime.
· Stats were mostly even. Dayton shot 45% from the field, but just 19% from three and 65% from the line. Rhode Island was held to a 39% FG%, and shot 27% from three and 63% at the line. The Rams had a slight rebounding edge (49-47), but the Flyers fell down in turnovers. Dayton coughed it up 16 times, compared to nine for URI.
UP NEXT
· UD will return home to play Saint Louis on Friday on the Flyers' Senior Night.
·         Game time is 7 p.m. ET.
GAME RECAP COURTESY DAYTON MEDIA RELATIONS