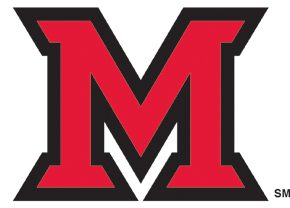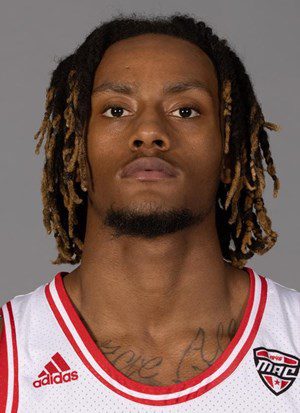 TOLEDO, Ohio—Senior forward Dalonte Brown scored a season-high 21 points but it was not enough as the Miami University men's basketball team (8-9; 5-7 Mid-American Conference) dropped an 87-75 decision to the University of Toledo (17-6; 12-3 MAC) at Savage Arena on Tuesday evening.
HOW IT HAPPENED:
Five unanswered points from Brown gave Miami a 15-12 lead by the 14:24 mark of the first half.
Triples from junior guard Mekhi Lairy and redshirt freshman forward Javin Etzler handed Miami respective one-point advantages, the last coming at 12:18, 21-20. A 12-1 run by the Rockets gave them a 10-point cushion by the 7:27 mark, 32-22.
Miami shrunk the gap to six twice late in the opening half, the last coming at 1:22, 43-37, but three free throws by Toledo down the stretch gave the Rockets a 46-37 advantage going into the intermission.
Toledo quickly pushed its lead to double figures in the second half and used a 13-0 run to take a 69-45 lead by the 12:03 mark.
Miami staged a late 11-0 flurry, powered by eight points from sophomore guard Dae Dae Grant, to cut the gap to single digits by the 1:04 mark, 82-73. The Rockets hit five free throws down the stretch to push their lead back to double figures. A Grant layup with 18 seconds remaining left the final score at 87-75.
NOTES:
Brown had a season high with 21 points, his first 20-point scoring effort of the season. He tied a season high with three triples.
Brown's 21 points in addition to his 11 rebounds gave him his fourth double-double of the season. He added two blocked shots and two steals to his line.
Etzler hauled in a career-high 12 rebounds to lead all players, doubling his previous career best on the boards. Six of Etzler's rebounds game on the offensive glass. He also tied a career high with nine points.
Grant matched a career high with five assists. He chipped in 17 points and was the RedHawks' other double-figure scorer in addition to Brown.
The RedHawks' 16 offensive rebounds were a season high, besting the 15 they hauled in at Wright State on Dec. 5. They converted those into 21 second-chance points.
UP NEXT:
The RedHawks continue a two-game road stretch when they travel to Northern Illinois for a 6 p.m. (ET) game. 
COURTESY MIAMI ATHLETIC COMMUNICATIONS