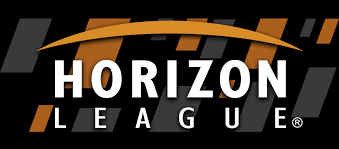 #HLMBB Standings | #HLMBB Statistics
INDIANAPOLIS – Week 9 of the #HLMBB season began on Friday with Detroit Mercy earning the lone road win of the evening in the final #FRIDAYisHLMBB game of the regular season on ESPNU. In other games, Wright State and Youngstown State extended their winning streaks, Green Bay and RMU needed extra time to claim victories, and IUPUI's seniors led the Jags to a home victory.
Today also marked Coach John McLendon Day around the Horizon League as all teams celebrated the legacy of former Cleveland State head coach John McLendon for his impact on the game of basketball both on and off the court.
GAME RECAPS
IUPUI 89, UIC 69
IUPUI has now won two out of its last three contests and improved to 5-8 in Horizon League play.
Three Jags scored 20-plus points led by Marcus Burk with a season-high 36 points, Jaylen Minnett totaled 22 points with five triples and Elyjah Goss tied the program's Division I record with a fifth straight double-double, closing with a season-high 20 points and 11 rebounds. Mike DePersia tied the IUPUI single-game record with 14 assists in the win.
Four UIC players scored in double figures with Teyvion Kirk finishing with 19 points and Maurice Commander hit four 3-pointers.
The 89 points are the most by IUPUI this season as the Jags shot 57.4 percent from the floor, including 55.0 percent from long range.
Youngstown State 84, Purdue Fort Wayne 70
The Penguins extended their longest winning streak of the season to four games including three-straight wins in HL play.
Michael Akuchie tallied his fifth double-double during HL play for Youngstown State with a team-high 23 points and 13 rebounds, while Garrett Covington added 18 as five YSU players finished in double figures.
Purdue Fort Wayne's Jarred Godfrey recorded a game-best 24 points and Jalon Pipkins tallied 18.
YSU held a 39-28 advantage on the boards and outscored the Mastodons 20-6 in points off turnovers.
Green Bay 86, Northern Kentucky 82 (OT)
Green Bay won its second game in a row and its second overtime game at home during HL play.
A pair of GB players registered 20-point performances with Josh Jefferson registering a game-best 27 points with nine rebounds and Emmanuel Ansong ended the game with 24 points and nine boards.
Bryson Langdon tallied 22 points for NKU and Adrian Nelson recorded a double-double with 12 points and 16 rebounds.
Langdon sent the game to overtime with a jumper with less than 40 seconds in regulation, but the Phoenix were able to pull away in OT shooting 3-for-6 from the floor and hitting 6-of-7 free throws.
The Raiders extended their winning streak to eight games as they posted their seventh 90-point performance during Horizon League play.
WSU had five players record double-digit points as Loudon Love nearly posted a double-double with 21 points and nine rebounds, while Tanner Holden finished with 17.
MKE's DeAndre Gholston tallied 29 points with five triples and Courtney Brown Jr. added 14 points on 3-of-4 shooting from behind the arc.
Wright State shot 54.4 percent from the floor, marking the seventh time this season the Raiders have shot over 50 percent in HL play, and went 11-for-22 from 3-point range.
RMU snapped an eight-game losing skid with a thrilling double overtime winner at home.
Six Colonials scored double figures with Kahliel Spear tallying a double-double with 16 points and 15 rebounds and Enoch Cheeks totaled 15 points.
Daniel Oladapo recorded his sixth double-double of the HL season for Oakland with a career-high 25 points and career-best 20 rebounds, just the second 20-rebound effort during HL play this season. Rashad Williams added 22 points with six triples.
This marked the fifth overtime game for the Colonials this season and third OT game in a row, but just their first victory when going into an extra period.
Detroit Mercy 89, Cleveland State 83
Detroit Mercy earned a win on ESPNU for its sixth victory in a row, including eight out of its last nine, and handed Cleveland State its first loss of the season at home.
Antoine Davis registered his League-best fourth 30-point effort during HL play for the Titans with 35 on four triples and went 13-for-13 from the free-throw line. Bul Kuol added 18 points and Noah Waterman went 5-for-7 from behind the arc to finish with 17.
CSU's Torrey Patton registered a career-high 33 points with 13 field goals and D'Moi Hodge tallied 11.
The Titans led by as many as 22 points in the first half, but the Vikings stormed back after halftime to tie the game with six minutes to play. However, the Titans never surrendered the lead as Davis scored 12 of his 35 in the final six minutes and Waterman hit three triples down the stretch to seal the win.
COURTESY HORIZON LEAGUE COMMUNICATIONS