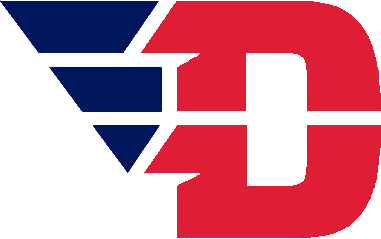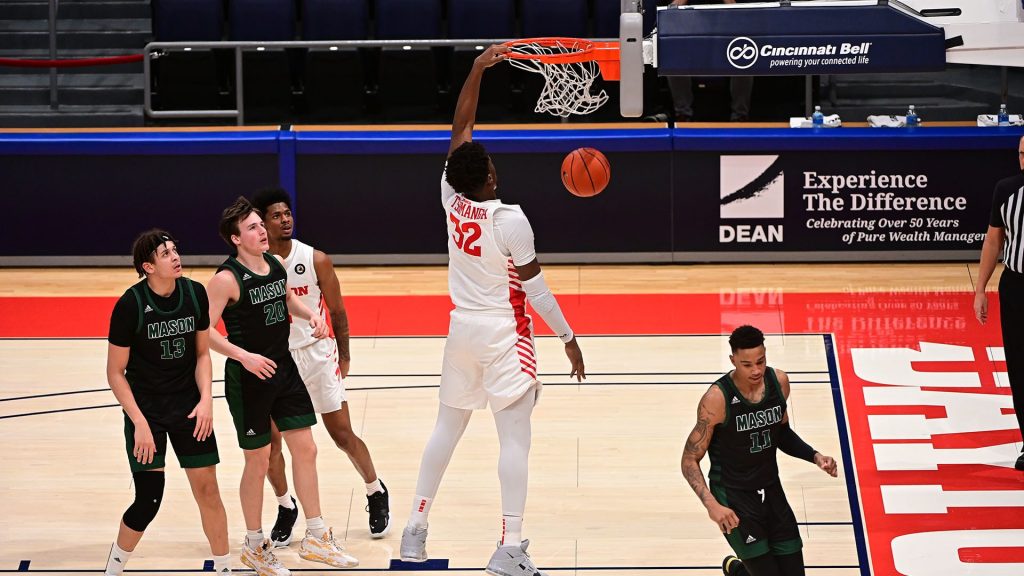 32
JORDY
TSHIMANGA
C • Gr. • 6-11 • 278
Montreal, Qubec
2020-21: 6.9 ppg, 8.1 rpg, .592 FG%
• Had 14 points and 12 rebounds in the second VCU game
• Scored 10 points (5-6 FG) at VCU; Had 10 rebounds at Saint Louis
• Had 16 rebounds and was five-of-six from the line at Fordham
• Missed six weeks of 2019-20 fall practice with a knee injury, but still
saw action in 27 games, averaging 9.8 minutes, 3.0 ppg and 2.4 rpg
• Had 27 starts in two seasons at Nebraska, including 18 in 2017-18
• Jordy Tshimanga pulled down 16 rebounds at Fordham, the most by a Flyer in three years.
He is averaging 9.2 rebounds in his last 10 contests. He has reached double digits in some
way in the last 4 of the last 5 games: 10 points at VCU, 10 rebounds at SLU, 11 points vs. URI, 14
rebounds vs. George Mason and 14/12 vs. VCU.
LORDY JORDY
• Jordy Tshimanga started for the first time in a Dayton uniform
and came through with 10 points (4-4 FT) and eight rebounds.
His +/- rating for the night was a game-high +16.
• He had eight points, 12 rebounds and three steals vs. SMU, and
once again led UD with a +8 rating.
• He scored all eight of his points in the second half vs. Ole Miss.
• He grabbed 16 rebounds and had five points at Fordham.
• Tshimanga played in his 100th college game in the first GW
contest, getting nine points, eight rebounds and two assists.
• He had 10 points (5-6 FG) at VCU.
• In the win at Saint Louis, he grabbed 10 rebounds and his +13
efficiency rating was more than double anyone else in the game.
• He had 11 points and eight rebounds vs. Rhode Island.
• Tshimanga was a team-high +11 in efficiency after getting
eight points (three dunks) and 14 rebounds in the GMU win.
• He had his first UD double-double with 14 and 12 vs. VCU.
• He transferred from Nebraska and after sitting out the 2018-19
season, Tshimanga's Dayton debut was delayed after he was
injured in the preseason and missed six weeks of practice.
. • After recovering from the knee injury, he saw his first action of
the year in the Georgia win at Maui, playing seven minutes.
• He went on to see action in 27 games, averaging 9.8 minutes,
3.0 points and 2.4 rebounds, and shot .667 (34-51) from the field
• He played in 62 games with 27 starts in his two seasons at
Nebraska
• In 2017-18, he had 18 starts in his 31 games played and
averaged 4.0 points, 4.6 rebounds and 13.6 minutes per game
• Some of his best efforts came against the best teams on the
schedule – 15 points, nine rebounds vs. Michigan State; 10 and
eight rebounds at No. 3 Kansas in 2016-17.
• Was the 2017 recipient of the Big Ten Sportsmanship Award.
INFORMATION COURTESY DAYTON MEDIA RELATIONS