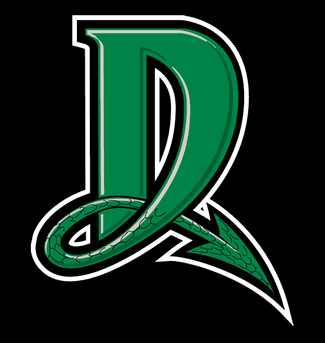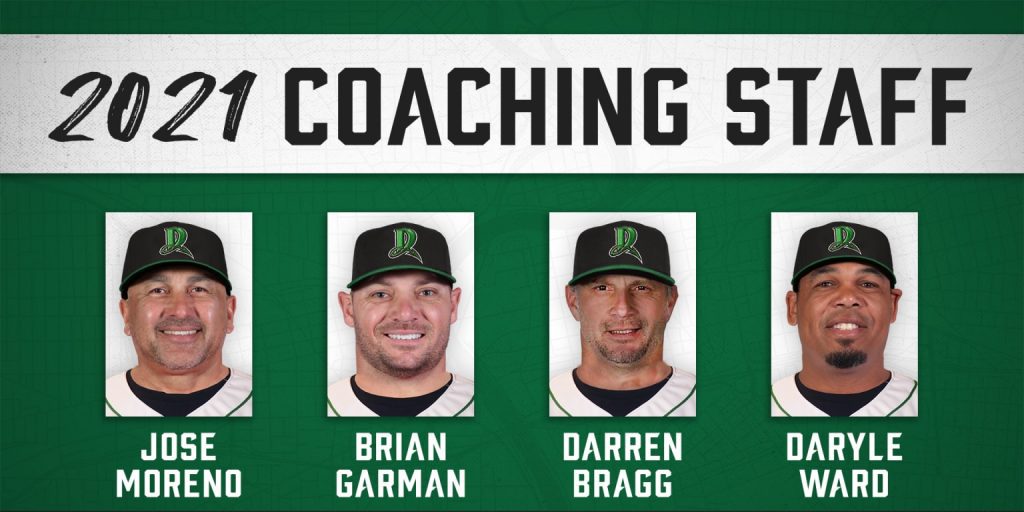 2/15/21
Dayton, Ohio – The Reds and Dragons announced a new four-man coaching staff that will bring a combined total of 42 years of coaching experience in professional baseball to the Dragons during the 2021 season.
Jose Moreno: Manager
Darren Bragg: Development Coach
Brian Garman: Pitching Coach
Daryle Ward: Hitting Coach
Jose Moreno will serve as the Dragons manager in 2021 in his 21st year as a coach, instructor, or coordinator in professional baseball. Moreno earned the "Manager of the Year" award in the Venezuelan Winter League for the 2020-21 season when he led the Lara Cardinals to a first-place finish. Moreno spent 19 years in the Seattle Mariners organization in a variety of coaching roles, most recently serving as manager of Everett in the Northwest League in 2019. Moreno joined the Reds organization in 2020.
Darren Bragg returns to the Dragons in his 15th year as a coach or instructor in the Reds organization. He will serve in a newly named position within the Reds organization, carrying the title of development coach. Bragg was the Dragons hitting coach for two seasons in 2007-08, helping the club to the playoffs in both years as he worked with future Reds Todd Frazier, Zack Cozart, Chris Heisey, Drew Stubbs, Juan Francisco, and others in Dayton. Bragg served as the Reds minor league outfield coordinator from 2009-18 before returning to a coaching assignment with an individual team. He was the bench coach at Double-A Chattanooga in 2019 and was slated to fill the same role with Daytona in 2020 before the minor league season was canceled. Bragg spent 11 years as a player in Major League Baseball from 1994-2004, appearing in 916 big league games with nine teams. He was the starting right fielder for the 1998 Boston Red Sox club that went to the American League playoffs and was a key reserve with the Atlanta Braves in 2002-03 on back-to-back 100-win teams.
Brian Garman joins the Dragons as pitching coach in 2021 after being named to that position in 2020 before the season was canceled. Garman, a native of Wapakoneta, Ohio, spent the 2018-19 seasons as a pitching coach in the Los Angeles Angels system. He pitched at the University of Cincinnati and spent four seasons as a pitcher in the Milwaukee Brewers organization.
Daryle Ward returns to the Dragons as hitting coach in 2021 after spending the 2017-18 seasons in the same role in Dayton. Ward was the hitting coach at Double-A Chattanooga in 2019 and was named to the same position in 2020. In 2017 with the Dragons, Ward worked closely with all-star outfielder Jose Siri, who enjoyed one of the finest years in Dragons history and led the Midwest League in six major offensive categories. Ward also worked closely in the development of star prospects Taylor Trammell and Tyler Stephenson, as well as Midwest League all-stars T.J. Friedl and Michael Beltre. Ward, the son of two-time Major League All-Star Gary Ward, enjoyed an 11-year big league playing career as a first baseman/left fielder, playing for six different clubs. Ward belted a career-high 20 home runs for the Astros in 2000. Ward transitioned into one of the top pinch hitters in baseball in the later years of his career. He led all of baseball in pinch hits and runs batted in as a pinch hitter in 2006 while finishing tied for first in pinch hit home runs.
The Reds also have named Ryan Ross as the Dragons athletic trainer and Daniel Donahue as strength and conditioning coach.
The Dragons are still awaiting the release of the 2021 season schedule, while also working with state and local health officials on the safe re-opening of Day Air Ballpark. Once more is available on re-opening plans, game schedule, and seating assignments for the 2021 season, the Dragons will reach out to all ticket holders and media.
Dragons All-Time Coaching Staffs
Year Manager Pitching Coach Batting Coach Coach
2000 Freddie Benavides Don Alexander Brian Conley
2001 Donnie Scott Bill Moloney Brian Conley
2002 Donnie Scott Ted Power Brian Conley
2003 Donnie Scott Jaime Garcia Billy White
2004 Alonzo Powell Larry Pierson Max Venable
2005 Alonzo Powell Larry Pierson Chris Sabo
2006 Billy Gardner, Jr. Larry Pierson* Alonzo Powell
2007 Donnie Scott Doug Bair Darren Bragg
2008 Donnie Scott Doug Bair Darren Bragg
2009 Todd Benzinger Tony Fossas Tony Jaramillo
2010 Todd Benzinger Tony Fossas Ken Griffey Sr.*
2011 Delino DeShields Tony Fossas Alex Pelaez
2012 Delino DeShields Tom Browning Alex Pelaez
2013 Jose Nieves Tony Fossas Alex Pelaez
2014 Jose Nieves Tony Fossas Luis Bolivar
2015 Jose Nieves Tom Browning Luis Bolivar Corky Miller
2016 Dick Schofield Derrin Ebert Luis Bolivar Corky Miller
2017 Luis Bolivar Derrin Ebert Daryle Ward Kevin Mahar
2018 Luis Bolivar Seth Etherton Daryle Ward Kevin Mahar
2019 Luis Bolivar Seth Etherton Mike Devereaux Kevin Mahar
2020 Season canceled
*Pete Magre served as pitching coach for a portion of the 2006 season. Jason Baker served as Batting Coach for a portion of the 2010 season.
PRESS RELEASE AND PHOTO COURTESY DAYTON DRAGONS MEDIA RELATIONS