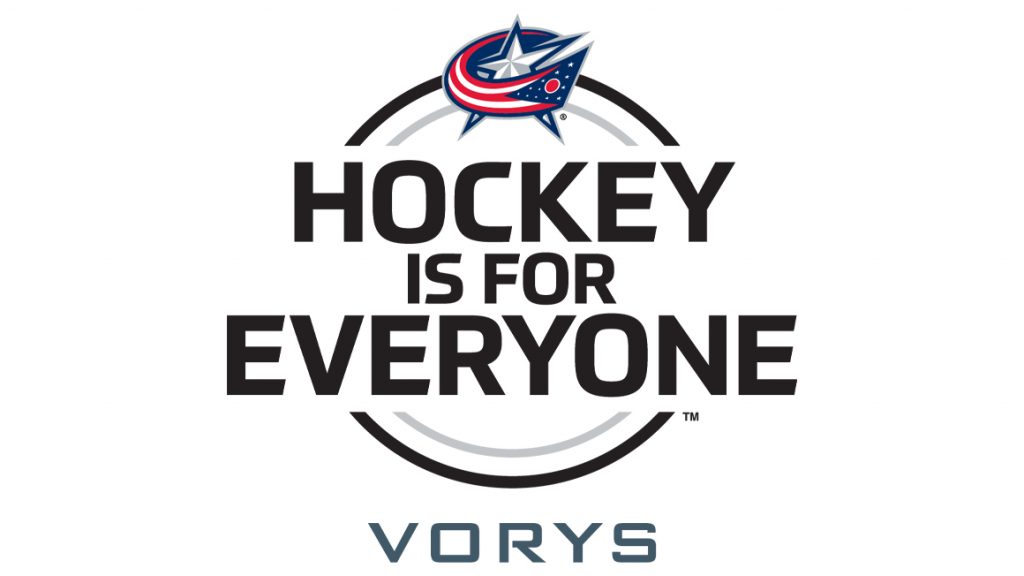 FOR IMMEDIATE RELEASE:  FEBRUARY 11, 2021
Month-long activities include Hockey Is For Everyone Night, presented by Vorys, on Thursday, February 25 vs. Chicago
COLUMBUS, OHIO — The Columbus Blue Jackets will celebrate diversity and inclusion in the sport with a number of activities throughout the month of February during Hockey Is For Everyone Month, presented by Vorys. The club will celebrate inclusion in the sport by hosting a variety of on-ice and off-ice clinics, virtual hockey-themed wellness curriculum and Science of Hockey week launched in schools, resources in racism and social justice and game-day activities intended to recognize and celebrate diversity and inclusion in hockey.
February's 28 days will feature 15 unique events intended to recognize and celebrate diversity and inclusion in hockey. Some highlights of planned activities include:
POWER PLAY CHALLENGE, presented by PNC: This hockey-themed wellness curriculum features a virtual physical education course to support remote learning in elementary schools, at no cost. The Blue Jackets have partnered with eight central Ohio school districts (Columbus, Dublin, Gahanna, Olentangy, South-Western, Upper Arlington, Westerville and Worthington) to receive instructional street hockey video lessons and CBJ-themed incentives for completing the challenges. In 2020-21, this program will reach 150 elementary schools impacting 45,000+ students and donate 15,000+ sticks in the community. 
WILLIE – LESSONS IN RACISM & SOCIAL JUSTICE: In recognition of Black History Month, the Blue Jackets join the NHL in honoring the legacy of Willie O'Ree, who in 1958 broke the league's color barrier. The NHL and Classroom Champions have come together to create a digital experience to facilitate discussion and learning around social justice and race through the lens of O'Ree's experiences shown in the documentary Willie. Willie provides historical context and depth to O'Ree's journey and his lasting impact on the game. Free resources can be found at www.lessonsfromwillie.com and include inspirational videos from players, lesson plans to aid parent and teacher conversation with children, live chats, and links to watch the documentary. The Blue Jackets are sharing this special program with its local education partners and classrooms that sign up will be invited to a Zoom call with CBJ personalities later in the season to continue the conversation.
GET OUT AND LEARN! Powered by PERFORMANCE COLUMBUS: This program gives boys and girls ages 5 to 8 that have never skated a chance to try out hockey for the first time for free. Participants will receive a Blue Jackets branded jersey, stick and winter gloves to keep. Skate rental and helmets to use during the clinic will be provided at no charge. Annually, GOAL! aims to reach 800 new participants. As part of Try Hockey For Free Day on Saturday, February 20, special GOAL! clinics will be held at the OhioHealth Chiller at Easton at 7:50 a.m., followed by a girls-only clinics at 8:35 a.m. and 9:20 a.m. Advanced registration is required. To register or for more information, visit www.BlueJackets.com/Goal.
SCIENCE OF HOCKEY WEEK, presented by AEP: The Blue Jackets are teaming up with Columbus City Schools to host the third annual Science of Hockey Week, presented by AEP, from February 22-26. Science of Hockey Week features five days of virtual hockey-related science, technology, engineering, and math (STEM) content. With a new video and interactive quiz released each day, students in grades 4 and 5 can demonstrate their understanding of the relationship between hockey and STEM concepts. Educators can register today at www.bluejackets.com/scienceofhockey and be entered to win a virtual classroom visit from a CBJ player during the week.
HOCKEY IS FOR EVERYONE NIGHT, presented by Vorys: On Thursday, February 25, the Blue Jackets are hosting their annual Hockey Is For Everyone Night, presented by Vorys, when they host the Chicago Blackhawks at Nationwide Arena. This game-night celebration of diversity and inclusion will feature video recognition of individuals representing a wide spectrum of leagues and programs; auction of rainbow-colored Pride taped sticks and Pride-themed pucks used by players during pregame warmups; and several other recognitions.
Hockey Is for Everyone uses the game of hockey to drive positive social change and foster more inclusive communities. We support any teammate, coach or fan who brings heart, energy and passion to the rink. We believe all hockey programs – from professionals to youth organizations – should provide a safe, positive and inclusive environment for players and families regardless of race, color, religion, national origin, gender, disability, sexual orientation and socio-economic status.
Stick, Puck Auction to benefit You Can Play Project: Players will use rainbow colored Pride tape on sticks during warm-ups and practice with Hockey Is For Everyone Official Warm Up Pucks as a badge of support for the LGBTQ community. Select players' sticks will be individually autographed then auctioned off with proceeds benefiting the You Can Play Project and its efforts to promote safety and inclusion of all in sports – including LGBTQ athletes, coaches and fans.

A limited quantity of the pucks used during warmups will be on sale online for $45 each.
Fans can text CBJAUCTION to 76278 or visit www.cbjauction.givesmart.com to purchase pucks and bid on the signed sticks used in warmups, as well as other unique Hockey Is For Everyone-themed items. The auction opens at 9 a.m. ET on Tuesday, February 23 and closes at 11 p.m. ET on Friday, February 26.

50/50 Raffle to benefit Columbus Ice Hockey Club: The Foundation will host a 50/50 Raffle, presented by KEMBA Financial Credit Union, with proceeds benefitting Columbus Ice Hockey Club. CIHC provides on and off-ice opportunities for Central Ohio youth, serving over 3,000 kids per year with over 65 percent of participants being minority and 25 percent being female. To participate, fans can visit www.bluejackets.com/5050raffle to purchase tickets. Age and location restrictions apply.
The Blue Jackets return to action tonight when they visit the Chicago Blackhawks at United Center. Game time is 8 p.m. ET. Live coverage on FOX Sports Ohio begins with the Blue Jackets Live pre-game show starting at 7:30 p.m. All Blue Jackets games televised on FOX Sports Ohio will also be streamed live via FOX Sports GO. The game may also be heard on the Eldorado Scioto Downs Blue Jackets Radio Network, including flagship station 97.1 The Fan, and online at BlueJackets.com.
COURTESY BLUE JACKETS COMMUNICATIONS