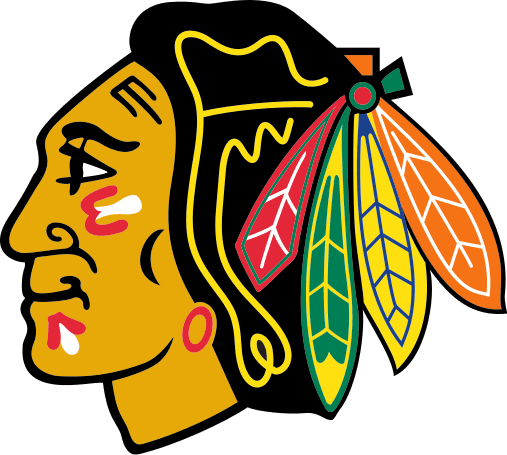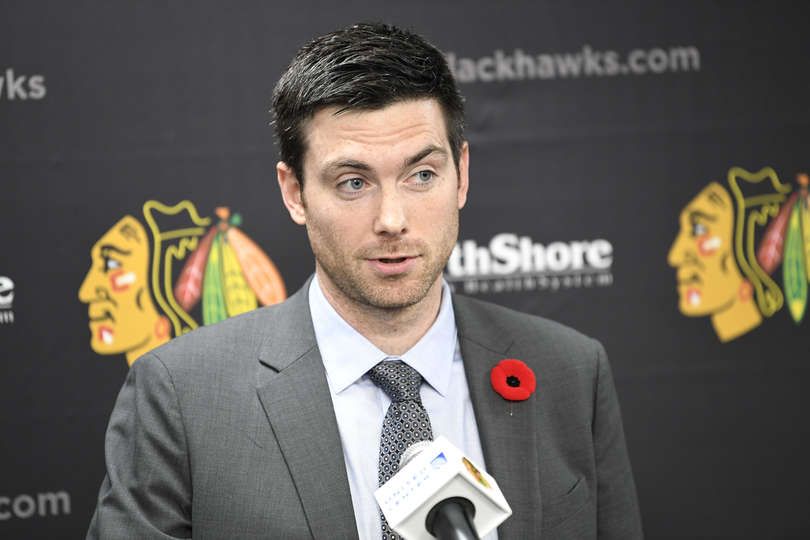 Chicago Blackhawks: Media Notes
UPCOMING SCHEDULE
Sat., Feb. 13 vs. CBJ, 7:00 p.m., NBCSCH, WGN Radio, TUDN Radio-1200 AM (Spanish)
Mon., Feb. 15 at DET, 6:30 p.m., NBCSCH+, WGN Radio, TUDN Radio-1200 AM (Spanish)
Wed., Feb. 17 at DET, 6:30 p.m., NBCSN, WGN Radio, TUDN Radio-1200 AM (Spanish)
Fri., Feb. 19 at CAR, 6:00 p.m., NBCSCH, WGN Radio, TUDN Radio-1200 AM (Spanish)
Sat., Feb. 20 at CAR, 6:00 p.m., NBCSCH+, WGN Radio, TUDN Radio-1200 AM (Spanish)
RECENT TRANSACTIONS: Feb. 10 – Lucas Wallmark was removed from COVID-19 Protocol … Feb. 8 – Adam Boqvist was removed from COVID-19
Protocol and added to the active roster … Feb. 3 – Re-assigned Madison Bowey to the taxi squad … Feb. 3 – Re-assigned Michal Teply Wyatt Kalynuk to
Rockford … Feb. 2 – Alex DeBrincat and Nicolas Beaudin were removed from COVID-19 Protocol … Jan. 30 – Ryan Carpenter and Nicolas Beaudin
were placed in COVID-19 Protocol … Jan. 29 – Assigned Madison Bowey to Rockford … Jan. 29 – Michal Teply and Anton Lindholm re-assigned to the
taxi squad … Jan. 28 – Agreed to terms with Madison Bowey … Jan. 27 – Lucas Wallmark placed in COVID-19 Protocol … Jan. 25 – Alex DeBrincat and
Adam Boqvist placed in COVID-19 Protocol … Jan. 21 – Re-assigned MacKenzie Entwistle and Reese Johnson to the taxi squad.
LAST TIME OUT
Score: Blackhawks 2, Stars 1 (OT) – Tues., Feb. 9, American Airlines Center
CHI Goals: Janmark (5) – PP, Suter (5)
DAL Goals: Hintz (3)
Goalies: CHI – Lankinen (34/35, 62:13); DAL – Oettinger (27/29, 62:15)
CHI PP:1/4; PK:2/2 DAL PP:2/2; PK: 3/4
Recap: Roope Hintz opened the scoring with a first-period marker, the only goal between the clubs in the first 20 minutes … Mattias Janmark evened
the score with a tally in the second … It was his second goal with the man advantage this season … It's his first season with multiple power-play goals
since he notched a career-high four during the 2017-18 campaign … Neither team scored in the third period and the Blackhawks and Stars headed to
overtime for the second consecutive contest … Pius Suter netted the game-winning goal in overtime … The victory stretched Chicago's win streak to a
season-long three games … The Blackhawks have picked up a point in 10 of their last 11 games.
CHICAGO ACTIVE LEADERS VS. CBJ

GOALS ASSISTS POINTS
Kane, 20 Kane, 38 Kane, 58
Toews, 19 Keith, 32 Toews, 43
Seabrook, 9 Seabrook, 29 Keith/Seabrook, 38
TEAM NOTES
SWISS BLISS: With his overtime marker on Tuesday, Pius Suter became the first European-born Blackhawks rookie to score in overtime since Artemi
Panarin on Jan. 5, 2016 at PIT … He leads league rookies with five goals and his eight points share second among first-year skaters this season … He has a point (2G, 2A) in four of his last five games … Philipp Kurashev registered a helper on Tuesday … He has a point (2G, 3A) in four of his last five
games … Kurashev shares fourth in the league among rookies with seven points (4G, 3A) during the 2020-21 campaign.
YOUNG GUNS: Suter's goal, assisted by Brandon Hagel and Kevin Lankinen, was the first time three rookies combined on an OT goal since March
28, 1992, when Steve Heinze, Gord Hynes and Joe Juneau accomplished the feat for BOS … The last time the Blackhawks had multiple rookies contributing to an overtime goal was on March 23, 2008 vs. STL when Niklas Hjalmarsson registered his first career assist on Patrick Kane's first
career OT winner.
CLIMBING THE RANKS: Patrick Kane was named the National Hockey League's second star for the week ending Feb. 7 … He matched league highs
in assists (5) and points (7) during that period … With two helpers against the Stars on Sunday, Kane posted his 272nd career multi-point game … That
total matches Joe Mullen for sixth most career multi-point games by a U.S.-born player in NHL history … Kane tallied four points (1G, 3A) on Thursday
and in the process moved past Doug Weight (1,033 career points) for sole possession of sixth place on the National Hockey League's all-time scoring
list among U.S.-born players … It was the 14th time in his career that he has had four or more points in a game.
POWER-PLAY PROWESS: Dominik Kubalik picked up his 10th power-play point (3G, 7A) of the season on Tuesday … That total is second in the
National Hockey League this season … Kubalik had eight PPPs (4G, 4A) during his rookie season … The Blackhawks recorded three first period powerplay markers on Thursday vs. the Hurricanes for the first time since Dec. 29, 2015 at ARI (Keith, Anisimov, Panarin) … Prior to Thurs., the last time the
franchise netted three power-play goals in any period was on Jan. 9, 2018 at OTT (Schmaltz (2), Rutta) … The Blackhawks have scored a PPG in 12 of
14 games this season … The club's 16 PPGs are most in the NHL and their 35.6% power-play percentage is third in the National Hockey League.
HELPING HIS OWN CAUSE: Kevin Lankinen recorded his first career NHL point with a helper on the overtime tally Tues. evening … The last rookie
goaltender with an assist was Mackenzie Blackwood (NJD) on Feb. 6, 2020 … Lankinen is the 42nd netminder in league history to record an assist on a
GWG for their first NHL point … The Helsinki, Finland native also stopped 34 of 35 shots on Tues. … It was the fourth time this season he has allowed
just one goal … He is fifth in the National Hockey League with a .933 save percentage and seventh with a 2.17 goals-against average (min. 5
appearances).
SPECIAL-TEAMS SUCCESS: Chicago killed off both of their penalties against the Stars last game and have killed 13 straight over their last six games
… Chicago has killed off 21 of their last 22 penalties overall … Their 95.5% penalty-kill percentage ranks first in the NHL since Jan. 25
STAT-SHEET STUFFER: With two markers again on Sunday, including the GWG in OT, Alex DeBrincat scored multiple goals in consecutive games
for the second time in his NHL career (Oct. 11-13, 2018) … The forward had a team-best seven shots on goal against DAL, his second consecutive
contest with six-plus shots on net … The GWG was the 10th of his NHL career … He led the club in goals (2), shots on goals (6), takeaways (2) and a
career-high four hits on Thursday vs. CAR … DeBrincat has a point in five of his last six games played (4G, 5A).
UPCOMING MILESTONES
Kane needs 5 goals for 400 career
Kampf needs 7 games for 200 career
Strome needs 3 points for 100 career with Chicago
BLACKHAWKS FRANCHISE LEADERS
GAMES POINTS GOALS ASSISTS
Mikita, 1396 1. Mikita, 1467 1. B. Hull, 604 1. Mikita, 926
Keith, 1152 2. B. Hull, 1153 2. Mikita, 541 2. Savard, 719
Seabrook, 1114 3. Savard, 1096 3. Larmer, 406 3. Kane, 644
B. Hull, 1,036 4. Kane, 1039 4. Kane, 395 4. Wilson, 554
Nesterenko, 1013 5. Larmer, 923 5. Savard, 377 5. B. Hull, 549
B. Murray, 1008 6. Toews, 815 6. Toews, 345 6. Larmer, 517
Kane, 987 7. Wilson, 779 7. D. Hull, 298 7. Keith, 514
Toews, 943 8. D. Hull, 640 8. Amonte, 268 8. Toews, 470
Wilson, 938 9. Martin, 627 9. Roenick, 267 9. Pilote, 400
D. Hull, 904 10. Keith, 615 10. Mosienko, 258 10. Chelios, 395
BLACKHAWKS RECORD VS. DISCOVER NHL CENTRAL DIVISION

TEAM RECORD
CAROLINA 1-0-1
COLUMBUS 1-1-0
DALLAS 2-0-0
DETROIT 2-0-0
FLORIDA 0-1-1
NASHVILLE 0-0-2
TAMPA BAY 0-2-0
COURTESY BLACKHAWKS MEDIA RELATIONS