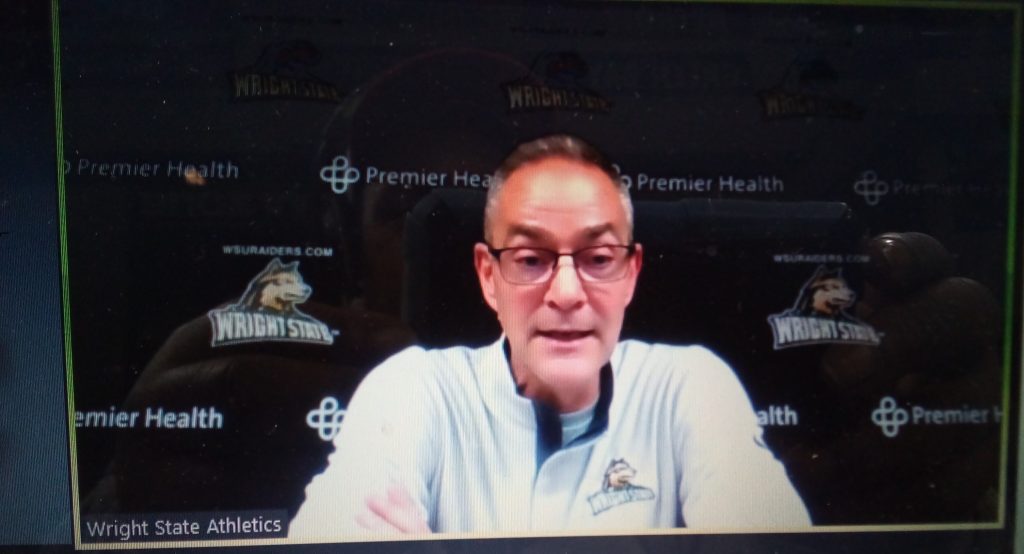 The Wright State men's basketball team bounced back with a convincing 85-49 win over Cleveland State inside the Nutter Center on Saturday night, as four Raiders finished in double digits and 11 different players found the scoring column overall.
The win also gave head coach Scott Nagy his 100th career victory at Wright State, as he became third head coach in program history to record 100 career wins with the Raiders, joining the legendary Ralph Underhill (356 Wright State wins in 18 years) and Billy Donlon (109 career Wright State wins in six years).
 
Wright State jumped out to a quick, 10-2 lead in the opening four minutes to force an early Cleveland State timeout and never looked back, holding a double-digit advantage throughout the half before taking a 42-22 lead into the locker room. The Raiders opened the second half scoring with a Tim Finke steal that lead to a Tanner Holden dunk and Cleveland State was never able to attempt a run to cut into the lead.
 
Holden finished with a game-high 23 points, one point shy of his season best, hitting 6-of-8 shots from the floor and connecting on 11-of-16 at the free throw stripe, both of which were new career highs. Finke finished with 15 points, one shy of his career high, while he was 6-of-8 from the free throw stripe – also career highs. Holden and Finke each finished with nine rebounds as well.
 
In all, Wright State finished with 48 free throw attempts, connecting on 38, for a 79 percent clip.  
 
Grant Basile turned in a 13-point, seven rebound night with three steals, while Loudon Love collected 10 points and eight rebounds. The pair combined to go 12-for-12 at the free throw line. Andrew Wellage turned in new career high six points in 22 minutes, also a new personal best.
 
Wright State shot 38 percent from the floor overall (21-of-56) and had five three-point makes (5-17, 29 percent). Cleveland State was just 28 percent (17-of-61) from the floor and hit three three-pointers (3-14, 21 percent), but only went to the free throw line 19 times (12-of-19, 63 percent).
 
The Raiders won the rebound battle 50-38 overall, pulling down 37 defensive boards. Wright State forced the visitors into 19 turnovers, turning those into 22 points.
Wright State moves to 9-4 overall and 7-3 in Horizon League play with the win, while Cleveland State dropped to 9-4 overall and 9-1 in League play as the Raiders snapped the visitors' nine-game winning streak.
GAME RECAP COURTESY WRIGHT STATE ATHLETICS