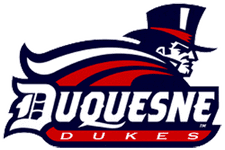 G7 | DUQUESNE (3-3, 2-2) at DAYTON (6-3, 2-2)
Wed., Jan. 13, 2021 • 7:00 pm ET • Dayton, Ohio • UD Arena (13,409)
TELEVISION: CBSSN with Joel Godett & Steve Wolf
RADIO: WJAS-AM 1320 / iHeartRadio with Ray Goss ('58) & Jarrett Durham ('71)
Duquesne (3-3,2-2) hits the road for a pair of nationally televised games in a three-day span when it takes on Dayton on Wednesday, Jan. 13 at 7:00 p.m. (CBSSN) and St. Bonaventure on Friday, Jan. 15 at 7:00 p.m. (ESPN2). The Dukes, who went one month without a game (Dec. 2 to Jan. 2) only to play three games in four days (Jan. 2, 3 & 5), are coming of a pair of "home" games at La Roche University's Kerr Fitness Center, which is serving as the temporary venue for the Dukes as renovation work on the on-campus UPMC Cooper Fieldhouse is being completed. DU is 1-1 on the road with a split at George Washington on Jan. 2 & 3. DU gave up a Feb. 24 home game with the Colonials to play on consecutive days against the same opponent for the first time in the 105-year history of the program. DU, which has won five of its past seven A-10 road games, heads to Dayton looking to snap a five-game series losing streak. Since 2004-05, only one school, Rhode Island (6), has more wins at UD Arena than Duquesne's three.
TRENDING
Tavian Dunn-Martin, Michael Hughes & Marcus Weathers graduated in December, giving the Dukes four players with degrees (grad transfer Ryan Murphy is the fourth).
DU was picked to finish fifth in the A-10 preseason poll. It is the highest the Dukes have appeared in the poll since the 2010 team, which returned four starters from a group that advanced to the 2009 A-10 Championship game, was picked tied for fifth.
Marcus Weathers, who will be playing in his 100th college basketball game on Wednesday, averaged 17.0 points and 7.0 rebounds on 60 percent shooting (15-of-25) in DU's two games vs. Dayton last year.
Michael Hughes ranks 10th among active D-I players in career blocks (167) and 17th in blocks/g. (1.96). Hughes averaged 14.5 points and 7.0 rebounds, with five steals in DU's two games vs. the Flyers last year.
In their first two "home" games at La Roche University last week, the Dukes were able to go 1-1 despite shooting .313 (31-of-99), including 11-of-46 (.239) from the 3-point arc. DU scored 48 points in each of the two games (a 61-48 loss to Davidson and a 48-45 win over Fordham).
By the same token, DU held Davidson and Fordham to a combined 38-of-111 (.342) from the field and .220 (11-of-50) from 3-point.
DU's 48 points against Fordham were its fewest in a victory since a 43-34 home win over Steubenville on Dec. 4, 1972.
Duquesne is playing its first four home games at Division III La Roche University located 10 miles north of campus while renovation work to the on-campus UPMC Cooper Fieldhouse is completed.
DU hasn't played a game on campus since Mar. 9, 2019 (vs. Dayton).
The Dukes have won five of their past seven Atlantic 10 road games dating back to last year, including victories at Saint Louis, St. Bonaventure and VCU.
Duquesne (6), UMass (6), St. Bonaventure (5) & Fordham (4) are the only Atlantic 10 schools who began the week having played six or fewer games.
DUKES AND FLYERS
Series Record: Dayton leads 57-24
At Pittsburgh: Dayton leads 22-15
At Dayton: Dayton leads 34-6
Neutral Site: Duquesne leads 2-1
A-10 Regular Season: Dayton leads 35-10
A-10 Championship: Tied 1-1
MCC Regular Season: Tied 1-1
Dambrot vs. Dayton/at Duquesne: 1-9/1-5
This is the 82nd meeting in a series that dates to Jan. 5, 1953. Dayton leads the series 57-24, including a 35-10 lead in Atlantic 10 regular season games. In games at Dayton, UD leads 34-6. Dayton has won nine of the past 10 at UD Arena, including a 76-74 win in 2016, a 64-63 win in 2011, a 78-72 OT win in 2010 and a 68-64 win in 2019. DU's last win at Dayton came on Feb. 1, 2012 (83-73, a span of seven games).
Duquesne, which lost 16 in a row to Dayton from 1997 through 2004, is 9-19 against the Flyers in the past 28 games.
Duquesne head coach Keith Dambrot is 1-9 vs. Dayton (1-5 at Duquesne), with four losses coming when the fourth-year DU coach was at Akron. Three of the four games were single-digit affairs including an 83-81 double overtime loss to the No. 20 (AP) Flyers at UD Arena on Jan. 2, 2008 and a 54-50 home loss on Dec. 6, 2008.
MOST WINS AT DAYTON (since 2004-05)
Rhode Island – 6
DUQUESNE – 3
Massachusetts – 3
Saint Louis – 3
Temple – 3
Xavier – 3
VCU – 2
ALL HANDS ON DECK
At least 10 players have seen action in each of DU's first six games, with a high of 13 taking the court in the Jan. 3 game at GW. The Dukes have used five different starting lineups so far.
COVID CHALLENGES
Duquesne, which didn't play from Dec. 2 to Jan. 2, had five games canceled or postponed in December for COVID-related reasons. The Dukes were on the bus ready to head to Indianapolis for neutral games vs. both Southern Illinois and Loyola Chicago, but were forced to cancel due to positive tests within the program. DU which, did not have a practice with the full team from Dec. 3-26, made the charter flight to St. Louis for a Dec. 30 game vs. SLU, but had that game postponed due to positive tests within the SLU program. In a program first, DU waived its Feb. 24 home game with George Washington to play twice in two days in D.C. on Jan. 2 & 3, before playing its latest home opener in 89 years on Jan. 5 vs. Davidson. The Dukes also had a two-week COVID-related program pause that ended October 29.
LAST GAME – DUQUESNE 48, FORDHAM 45
Recap
COURTESY DUQUESNE ATHLETIC COMMUNICATIONS