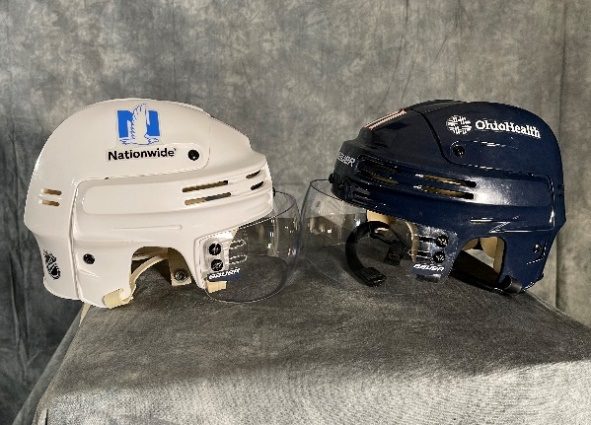 Club will wear white helmets featuring Nationwide decals on the road, blue helmets featuring OhioHealth at home
COLUMBUS, OHIO – The Columbus Blue Jackets announced on Monday that brand marks of long-time corporate partners Nationwide and OhioHealth will adorn helmets worn by Blue Jackets players throughout the 2020-21 National Hockey League season.  This announcement marks a unique milestone for the NHL and the club, which is celebrating its 20th season in 2020-21, as it is the first time corporate partner marks have appeared on club helmets.
"This special opportunity to engage corporate partners in a way that has never been done before in the NHL is an exciting one for our franchise," said Blue Jackets Sr. Vice President/Chief Operating Officer Cameron Scholvin.  "To be able to share this with Nationwide and OhioHealth, two of the nation's premier companies and long-time Blue Jackets partners, is something of which we are very proud."
During the upcoming season Nationwide's brand mark will appear on white helmets worn during road games, while OhioHealth's brand mark will be affixed to blue helmets worn by players during home games at Nationwide Arena. The brand marks will be visible as 2.25" by 3.75" decals on the right and left sides of each player's helmet. This exclusive brand position will elevate partner awareness and each company's connection with the Blue Jackets through television broadcast, traditional media, as well as digital and social media platforms.
"As a Blue Jackets partner since the inaugural season, Nationwide is proud to be one of the first team sponsors presented on player helmets," said Jim McCoy, Nationwide's Associate Vice President of Sports Marketing. "Having Nationwide featured on the helmets provides a new and unique opportunity to be further integrated into the club's 20th anniversary season."
Both Central Ohio-based companies have been Championship Partners of the Blue Jackets since the inaugural 2000-01 season. Additional elements around this special program that will have a positive impact on the Columbus community and engage the fan base will be announced in the coming weeks.
"OhioHealth congratulates the Columbus Blue Jackets on 20 years in the National Hockey League," said Sue Jablonski, OhioHealth senior vice president and chief marketing and communications officer. "As an organization, we knew we wanted to be part of this team from day one. Now, two decades later, this partnership is stronger than ever and our commitment to the community and fans is stronger than ever. We are honored to have CBJ players carry our logo at every home game this year, and can't wait to fire the cannon many, many times in 2021."
In celebration of this special partnership activation, the Blue Jackets are giving fans an opportunity to nominate someone – a healthcare provider, teacher, first responder, frontline worker – or anyone else they believe went above and beyond to help others during difficult times over the past year.  Four winners will be selected, and each will be presented a helmet signed personally by one of the club's four captains – Nick Foligno, Cam Atkinson, Boone Jenner and Seth Jones.  Fans can visit www.BlueJackets.com/helmets to make a nomination by 11:59 p.m. ET on Monday, January 11. 
COURTESY COLUMBUS BLUE JACKETS COMMUNICATIONS