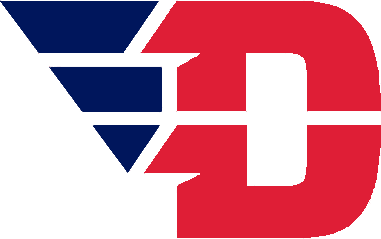 BRONX, N.Y. — The University of Dayton men's basketball team fell to 5-3 on the season and 1-2 in the Atlantic 10 Tuesday night, when the Flyers fell 55-54 at Fordham. Chris Austin's three-pointer with 24 seconds left lifted the Rams (1-2, 1-2 A-10) to the win after Ibi Watson's jumper from the right wing misfired at the buzzer.
Jalen Crutcher led Dayton with 14 points, while Mustapha Amzil added 10. Jordy Tshimanga grabbed a career-high 16 rebounds.
GAME BREAKDOWN
First Half: Dayton 27, Fordham 24
Fordham scored the first two points of the game, and then UD next scored the next seven points.
Dayton did not trail the rest of the half, but Fordham hung with the Flyers, trailing by two points at every media break.
A dunk by Zimi Nwokeji gave UD a 27-22 lead, but the Flyers did not score over the final 3:09 of the half to lead 27-24 at the break.
Jalen Crutcher scored nine points for UD, while Jordy Tshimanga grabbed 11 rebounds.
Dayton shot 35% (7-20) FG, and committed 11 turnovers (5 charges) in the first half.
Fordham shot 32% (8-25) from the field.
Second Half: Fordham 55, Dayton 54
The Flyers scored the first four points of the second half to take a 31-24 lead two minutes into the half.
Fordham used an 11-2 run to lead 50-45 with 5:40 left.
UD answered with a 7-0 spurt to lead 52-50 at the 2:09 mark.
Ram point guard Josh Navarro got free for a layup with 54 seconds to go.
Dayton's Elijah Weaver slashed into the lane for the layup that put the Flyers ahead 54-52 with 35 seconds to go, setting up Austin's heroics.
UD shot 48% (11-23) in the second half, but made just one of 12 three-point attempts.
Fordham shot 60% (12-20), and made six of eight from beyond the arc.
INSIDE THE NUMBERS
Jalen Crutcher (14 points) and Mustapha Amzil (10) reached double digits for the Flyers.
Jordy Tshimanga also reached double digits in rebounds, with a career-high 16. He topped his previous mark of 12 set against SMU earlier this season.
Fordham's Chris Austin led all scorers with a career-high 20 points.
Dayton made 14 of 20 of its two-point field goal attempts, but just four of its 23 three-point attempts.
UP NEXT
The Flyers are at Davidson on Friday.
ESPN2 will carry the game, which tips at 9 p.m. ET.
GAME RECAP COURTESY OF DAYTON MEDIA RELATIONS