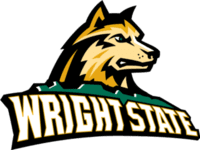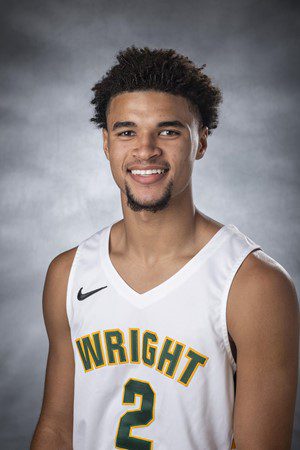 The Wright State men's basketball team opened the 2021 calendar year in the same way it ended 2020 – with hot team shooting and another win. The Raiders saw three players finish in double digits scoring on the way to a 90-51 win at Oakland on Friday night, their first of two straight against the Golden Grizzlies, as they ran their winning streak to seven in a row overall and five straight in Horizon League play.
Tanner Holden, Tim Finke and Loudon Love all finished with double digit scoring nights. Holden's 24 points were a season-best for him and a game-high, while Finke's 16 points and 11 rebounds were both career highs as well. Love tallied his fifth double-double of the season with his 12 points and 11 rebounds. Friday night was the first time this season that Wright State had multiple players with double doubles in the same game.
 
After Oakland scored the game's first points on a jumper at the 18:53 mark, the Golden Grizzlies would not score again until there was 4:44 remaining in the half. Wright State outscored the hosts 44-9 during that 13-minute stretch, going 17-of-26 from the floor as Finke (11) and Love (10) combined for nearly half of the Raider points during the run as eight total Wright State players contributed points during that time.
 
The Raiders led 49-21 at the half, their third time this season holding opponents to 21 points in the opening half, and fourth time overall this year, and opened the second half with an 8-0 run to effectively wrap things up.
 
Holden scored 13 of his season-high 24 points in the second half, while Finke tallied 11 of his career-best 16 in the first 20 minutes.
 
In all, 10 different Raiders entered into the scoring column, with Alex Huibregtse, James Manns and Andrew Wellage all recording double-digit minutes, while T.J. Nagy connected on his first career three-point basket in the closing minutes.
 
Wright State finished the night shooting 47 percent from the floor (33-for-71) and hit 10 three-pointers (10-34, 29 percent). The Raider defense held Oakland to 27 percent shooting overall (18-for-67) after holding the hosts to 21 percent shooting in the first half. The Golden Grizzlies were only 5-of-29 (17 percent) from three-point range.
 
The Raiders outrebounded Oakland 61-37, including tallying 41 defensive rebounds. Wright State recorded 44 points in the paint and had 21 second chance points thanks to their efforts on the boards. Wright State had 25 total assists – including five each from Finke and Jaylon Hall – as 10 different Raiders passed out an assist.
Saturday's game is scheduled for a 5 p.m. tipoff and will be available on ESPN+. Fans can also tune into Chris Collins and Jim Brown calling the play-by-play on WRZX 106.5 FM.
GAME RECAP COURTESY OF WRIGHT STATE ATHLETIC COMMUNICATIONS