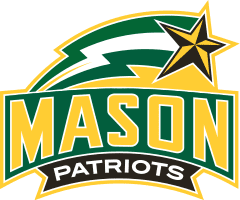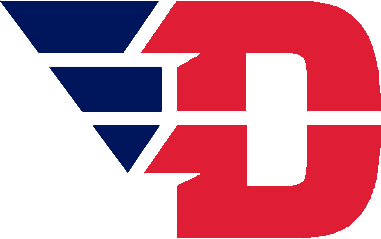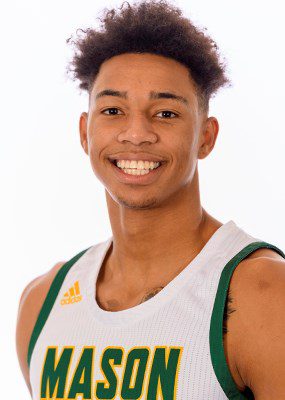 WHEN: Saturday, 4:30 p.m.
WHERE: UD Arena – Dayton, Ohio
RECORDS: George Mason (5-2, 1-0), Dayton (4-2, 0-1)
SERIES RECORD: Mason trails, 3-8
LAST MEETING: #4/3 Dayton def. Mason, 62-55, on Feb. 25, 2020 at EagleBank Arena
TELEVISION: NBC Sports Network
LIVE VIDEO: Click here
LIVE AUDIO: Click here
LIVE STATS: Click here
GAME NOTES:Click here (PDF)
DAYTON, Ohio – The George Mason University men's basketball team wraps up its opening A-10 road trip with a Saturday contest at Dayton.
Tip-off between the Patriots and Flyers is set for 4:30 p.m. inside UD Arena. Saturday's game will be broadcast nationally on NBC Sports Network, featuring commentary from Ahmed Fareed and Ron Thompson. In addition, Bill Rohland will call the game on the GoMason Digital Network, with streaming coverage beginning at 4:15 p.m.
PATRIOT POINTS* The Patriots began A-10 play in dramatic fashion Wednesday, earning a 93-92, double overtime win at UMass. The Patriots trailed by eight (59-51) with 1:20 left in regulation, by seven (73-66) with 3:04 to go in OT and by five (91-86) with 1:25 to go in double OT, but mounted remarkable comebacks in each period. * Junior Jordan Miller led Mason with team highs in points (26), rebounds (8) and assists (5) Wednesday. He has posted 26+ points in two of his past three games and ranks third in the A-10 in scoring (18.4 ppg).  * Junior Jamal Hartwell II added a season-best 19 points (4-5 3pt FG) and went 4-of-4 from deep in the two overtime periods. His triple with under 10 seconds to play in the first OT sent the game to a second, while his two triples with under 90 seconds to go in 2OT erased a 5-point deficit and gave the Green & Gold the lead.  * Reigning A-10 Rookie of the Week Tyler Kolek matched his career high with 19 points (6-9 FG, 3-5 3pt FG) and scored eight points (3-3 FG) in the two overtime sessions. He's shooting 50 percent (8-16) from 3-point range over the past two games.Kolek ranks fifth in the A-10 in 3pt FG made/game (2.6). * AJ Wilson ranks second in the A-10 with 2.8 blocks/game. He is sixth nationally in career swats (181). * The contest vs. UMass marked Mason's first double OT game since Jan. 2018 vs. Duquesne and the first 2OT win since a December 2010 triumph over the Dukes. * Javon Greene has recorded 133 career steals (40th nationally) and needs just two more to tie Kenwan Alford for 11th on Mason's all-time list.  * Mason is allowing an offensive rebound on just 22.2 percent of opponent possessions this season (32nd nationally) and has given up less than 10 offensive boards in six of seven games. * The Patriots are assisting on 56.2 percent of their made field goals this season (91st nationally). That comes in contrast to the previous five seasons, when Mason on averaged has ranked 310th in assist rate. * The Patriots rank fourth in the A-10 and 52nd nationally with 8.6 steals per game. Mason generates a steal on 12.1 percent of opponent possessions (28th nationally).  * The Patriots have shot 38.1 percent (48-126) from 3-point range in their five wins and just 14.8 percent (8-54) in their two losses. Mason made 7-of-16 attempts (.438) in the win over UMass. 
HISTORY vs. DAYTONSaturday's matchup marks the 12th all-time meeting between Mason and Dayton. Dayton holds an 8-3 advantage in the series, although Mason has won two of the past three matchups. The Flyers have won five of seven meetings in A-10 play and are 4-1 against the Patriots at UD Arena. The programs played a four year home-and-home series from 2007-2010, before the Patriots joined the A-10 in 2013-14. 
This past season, Mason pushed No. 3/4 Dayton to the brink in Fairfax and trailed by just two (57-55) with 1:18 left on Feb. 25, 2020. The Flyers, led by National Player of the Year Obi Toppin, scored the final five points of the contest to win. AJ Wilson paced Mason with 18 points (7-14 FG) while Jordan Miller added a double-double (13 pts, 10 reb). The previous season, Mason earned its first ever win at UD Arena, 67-63, on Jan. 23, 2019.  Select Career Averages vs. Dayton (Min. 2 games played)AJ Wilson (2 games): 10.0 ppg, 4.0 rpg, 50.0 FG% (7-14)Jordan Miller (2 games): 9.0 ppg, 7.5 rpg, 1.0 apg, 38.1 FG% (8-21)Javon Greene (3 games): 7.0 ppg, 4.7 rpg, 1.3 spg, 36.8 FG% (7-19), 27.3 3pt FG% (3-11)Jamal Hartwell II (2 games): 6.0 ppg, 40.0 FG% (4-10), 20.0 3pt FG% (1-5)Greg Calixte (2 games): 4.7 ppg, 4.7 rpg, 66.7 FG% (6-9) A LOOK AT THE FLYERS (4-2, 0-1 A-10, KenPom #67)Dayton was picked to finish third in the A-10 preseason poll and received a pair of first place votes. The Flyers went 4-1 in non-conference play, including KenPom top-75 wins over Ole Miss (65-62) and Mississippi State (85-82). The lone loss came by two at home to KenPom #48 SMU (66-64). The Flyers opened A-10 play Wednesday with a 67-65 home loss to La Salle. Dayton is one of the oldest teams in America with 2.47 years experience/player on average (10th nationally). The Flyers rank third in the A-10 in field goal percentage (.503), but are second to last in turnover margin (-2.5). In his first game of the season, freshman Mustapha Amzil poured in 22 points (9-14 FG) and grabbed seven rebounds in the loss to the Explorers. Amongst players who have suited up multiple times for UD, Preseason All-A-10 First Team selection Jalen Crutcher leads the team in scoring (17.5 ppg), dishes out a team-best 5.2 assists per game (6th in A-10) and shoots 39.2 percent from 3-point range. Ibi Watson adds 16.5 points per contest and shoots 43.3 percent (13-30) from deep. Rodney Chatman (10.0 ppg, 4.2 apg) also averages double figures for the reigning A-10 champs.  UP NEXTMason returns to Fairfax to begin a three-game homestand. The Patriots commence the series with a contest against VCU on Wednesday (January 6). The 7 p.m. contest against the Rams will air regionally on MASN and be broadcast nationally on ESPN+. 
GAME PREVIEW COURTESY OF GEORGE MASON ATHLETIC COMMUNICATIONS