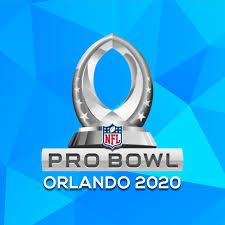 PRO BOWL WEEK CULMINATES WITH AFC-NFC MATCHUP
AT CAMPING WORLD STADIUM IN ORLANDO ON SUNDAY, JANUARY 26
The NFL announced the AFC and NFC All-Stars for the 2020 Pro Bowl presented by Verizon, which kicks off at 3:00 PM ET on Sunday, January 26, and will be televised live on ESPN, ESPN Deportes and simulcast on ABC and Disney XD – the third time the game will be available on both broadcast and cable networks.
The Pro Bowl players were determined by the consensus votes of fans, players and coaches. Each group's vote counted one-third toward determining the 88 All-Star players who were selected to the Pro Bowl. The NFL is the only sports league that combines voting by fans, coaches and players to determine its All-Star teams. It was also the first professional sports league to offer online All-Star voting in 1995.
Thirty teams had at least one player selected to the 2020 Pro Bowl and 24 clubs had multiple players chosen as All-Stars. The BALTIMORE RAVENS, including second-year quarterback LAMAR JACKSON, placed a league-best 12 players on the Pro Bowl roster, while the NEW ORLEANS SAINTS led the NFC with seven players selected. The 2019 Ravens join the 2007 DALLAS COWBOYS (13 players) and 1973 MIAMI DOLPHINS (12) as the only teams to have at least 12 players selected to the Pro Bowl since 1970.
Twenty-five of the players selected to the Pro Bowl today are first-time All-Stars, including three rookies – defensive end NICK BOSA of the San Francisco 49ers, return specialist MECOLE HARDMAN of the Kansas City Chiefs and return specialist DEONTE HARRIS of the New Orleans Saints.
The 2020 Pro Bowl coaching staffs will be from the losing teams in the AFC and NFC Divisional playoffs with the best regular-season records.
Under terms of the Collective Bargaining Agreement, each player on the winning Pro Bowl team receives $70,000, while each player on the losing squad earns $35,000.
Pro Bowl tickets start at just $45 and are on sale at NFL.com/ProBowlOnSale. Get Access to Awesome as fans in attendance can watch and cheer on the Pro Bowl players as they enter the stadium on the Pro Bowl Red Carpet, bringing them closer than ever to the NFL's All-Stars. Concession deals and "Kid Zone" activities will be available inside the stadium. Additionally, fans will be able to enjoy post-game fireworks to conclude the celebration.
COURTESY NFLmedia.com