Audi 2020 MLS Cup Playoffs – Conference Final
Seattle Sounders FC vs. Minnesota United
Lumen Field – Seattle
December 7 – 9:30 PM ET
TV: FS1, FOX Deportes, TSN 4, TVA Sports
STREAMING: FOX Sports App in US
Seattle Sounders FC are 90 minutes away from their fourth trip to MLS Cup in five years, while Minnesota United are 90 minutes away from a first-ever trip to the title match when the sides square off in the Western Conference Final at Lumen Field Monday night.
Columbus Crew SC, which defeated the New England Revolution 1-0 in the Eastern Conference Final, await and will host MLS Cup at MAPFRE Stadium Dec. 12.
The Sounders' march to the Conference Final has been professional and not unexpected. They dispatched LAFC 3-1 in Round One before grinding out a 1-0 victory over FC Dallas in the Conference Semifinals to extend an MLS-best home playoff winning streak to 14 games.
Not to be outdone, Minnesota United are making their first Western Conference Final appearance after matching 3-0 victories over the Colorado Rapids and top-seeded Sporting Kansas City at Children's Mercy Park. Emanuel Reynoso assisted on all six goals, earning a spot in the MLS history books as the first to do that in the regular season or playoffs since Jaime Moreno in September 2004, per Opta.
The Sounders and Loons haven't met in the postseason before or during the regular season in 2020. The Rave Green, though, have won all three all-time meetings at Lumen Field, including a 1-0 victory on Decision Day presented by AT&T to end the 2019 regular season.  
Seattle Sounders FC
After a thoroughly impressive win over LAFC in Round One, the Sounders survived and advanced after edging FC Dallas 1-0 in a slugfest. Shane O'Neill scored the lone goal off a corner kick off a Nico Lodeiro corner kick, with the aid of a pick by Yeimar Gomez Andrade. It was a different type of victory, but a playoff win nonetheless by a squad that has made a habit of postseason success in the last half decade.
"That might not have been the prettiest soccer game. That might not have been our best performance as a team," said Sounders coach Brian Schmetzer at Lumen Field afterward. "But that team gutted it out. And I think I've stood in front of all you guys and said that that group of players finds different ways to win. And that's what makes them champions, that's what gives them a realistic shot at winning trophies. Because you can't always win the right way, the prettiest way, the best way. I mean, you have to gut out some victories."
While it may sound simplistic, Schmetzer boiled down a Western Conference Final featuring a bevy of game-changers to one factor.
"Monday, when the game's played, the team that makes the most plays, whether it's Reynoso or Nico or Lod or Raul or Jordan or Molino, which team makes the most plays, they're going to win," Schmetzer said.
Injury Report:

OUT: Danny Leyva (M) – right quad strain

Suspended: None
Suspended after next caution: None
International duty:  None
Minnesota United
"Awful at best" was the way Adrian Heath described his team in their previous five matches at Children's Mercy Park. He was singing a different tune after a stunning and comprehensive victory in the Western Conference Semifinals Thursday night. Kevin Molino struck twice and Bakaye Dibassy headed in a corner kick, all from Reynoso services, in a magical 12-minute span to give Minnesota a 3-0 halftime lead.
Previously they had scored just once at Children's Mercy Park in five defeats.
The Loons have now won three consecutive games by the same 3-0 scoreline and they'll go to Lumen Field full of confidence they can be the team advancing to the MLS Cup.
"We spoke about, a few weeks ago, can we go undefeated 'til the end of the season? And then we said we've got five games, if we win five games we'll be MLS champs. Now we've got two," Heath said after the match. "And the last three games, 3-0. Big games, important games, a lot at stake. I think that's a testimony to the players. I thought we actually were really resolute late on in our defending, we played when we could, we cleared it when we should. And there's a lot of pleasing things.
"But as I've said all along to a lot of people, my belief in this group, and the belief within the group, is really, really high. And if people on the outside don't think that, that's OK. Because the only people that matter are the players and the staff, and probably our supporters now. So I'm really happy for everybody."
Now the Loons are full of confidence as they head to Seattle with another chance to make history. And in Ozzie Alonso, have an original MLS Sounder on their side to do so. The 35-year-old defensive midfielder has played in the Audi MLS Cup Playoffs in all 12 of his seasons in Major League Soccer, including 10 in Seattle.
"The mentality does shift a little bit. We know that playoff games are life or death," Alonso said. "If you lose, you go home and we can't lose here, there's always extratime to think about. In the regular season, you have games where you can play poorly and lose, but there are always more games where you can find results to keep advancing. … So the mentality is different, we know this team is getting better every day. I'm pleased with what we gave in the last match, to get to the Conference Final"
Injury Report:

OUT: Tyler Miller (GK) – hip injury
OUT: Ike Opara (D) – undisclosed injury
OUT: Luis Amarilla (F) – ankle injury
OUT: Sam Gleadle (D) – undisclosed injury
OUT: Kevin Partida (M) – undisclosed injury

Suspended: None
Suspended after next caution: None
International duty: None
Series Matchup at Seattle Sounders
Sounders: 3 wins, 6 goals
Minnesota United: 0 wins, 2 goals
0 draws
MLS Cup Playoffs
This is the first all-time meeting between Seattle Sounders FC and Minnesota United in the Audi MLS Cup Playoffs
Officials
Referee: Ismail Elfath
Assistant Referees: Corey Rockwell, Cameron Blanchard
4th Official: Joseph Dickerson
VAR: Timothy Ford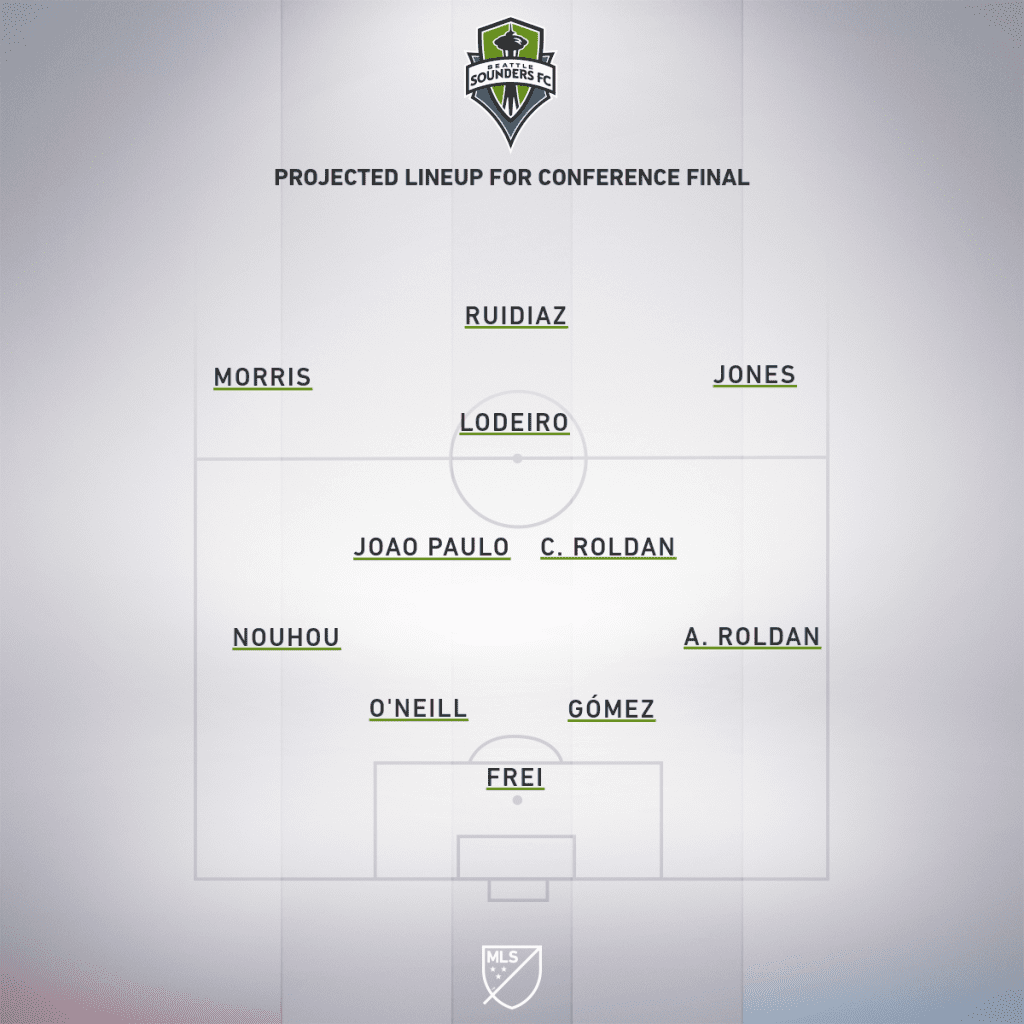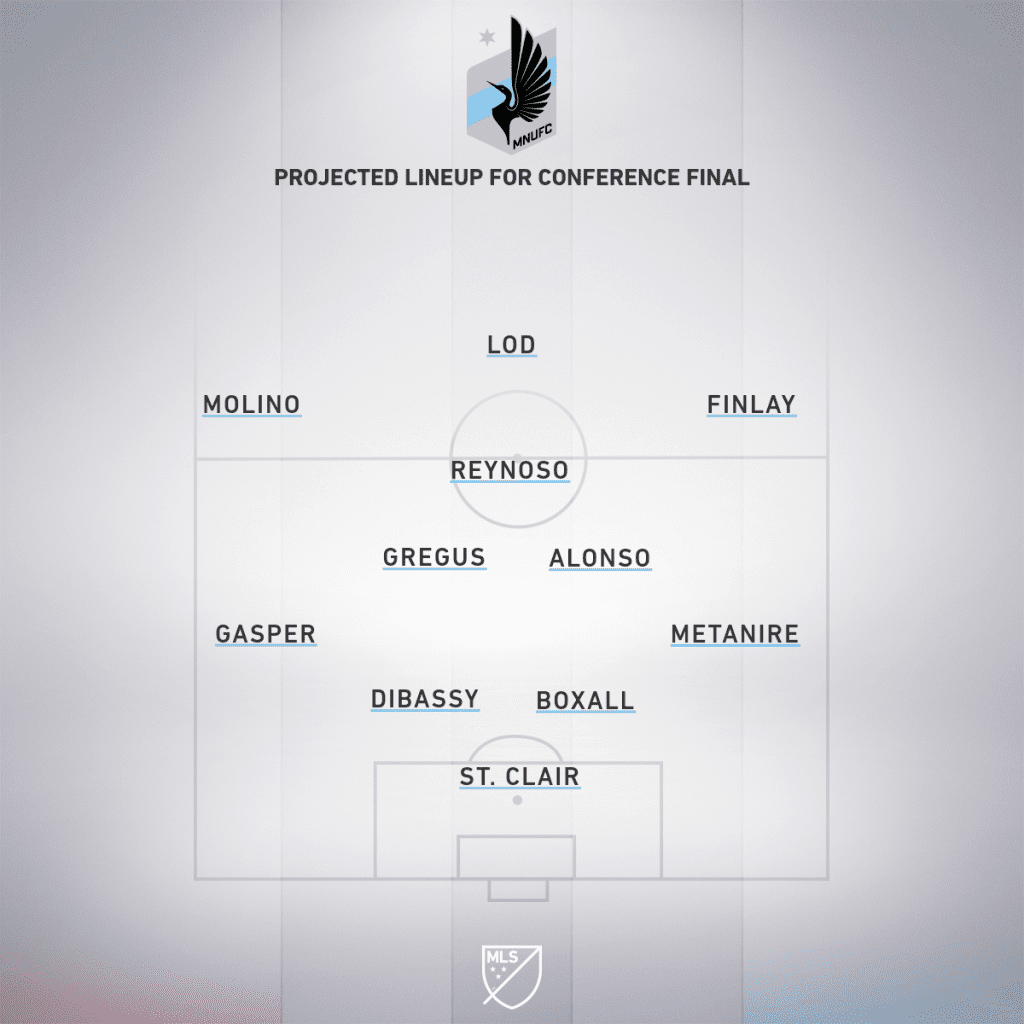 Previous Meetings
Current Form
Seattle WLDWWW
Minnesota WWDWWW
Season Goal Leaders
Season Stats
Seattle Sounders FCMinnesota United FC
24
Games Played
23
13
Wins
11
5
Losses
5
6
Draws
7
48
Goals
42
24
Goals Conceded
26
232
Shots
248
109
Shots on Target
116
252
Fouls committed
306
265
Fouls suffered
279
48
Offside
26
137
Corners
104
Goals Scored
| | | | | | | | |
| --- | --- | --- | --- | --- | --- | --- | --- |
| | 0 | 1 | 2 | 3 | 4+ | Total | Avg |
| SEA | 5 | 7 | 4 | 6 | 2 | 48 | 2 |
| MIN | 7 | 4 | 5 | 5 | 2 | 42 | 1.8 |
Goals Conceded
| | | | | | | | |
| --- | --- | --- | --- | --- | --- | --- | --- |
| | 0 | 1 | 2 | 3 | 4+ | Total | Avg |
| SEA | 8 | 12 | 2 | 2 | 0 | 24 | 1 |
| MIN | 11 | 3 | 7 | 2 | 0 | 26 | 1.1 |
GAME PREVIEW COURTESY OF DYLAN BUTLER & MLS COMMUNICATIONS