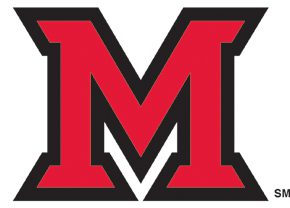 SATURDAY'S GAME: After having its Monday game canceled due to COVID-19 reasons, Miami hits the road to take on local foe Wright State on Saturday, December 5. Tip time is 4 p.m. and it will air live on ESPN3. An audio broadcast will be available on the Miami Sports Network, powered by Pepsi.
ABOUT WRIGHT STATE: The Raiders are coming off an 80-64 loss to Marshall in their season opener Thursday night. Eight players saw action in that contest with Trey Calvin leading Wright State with 16 points and Loudon Love chipping in a double-double with 11 points and 16 rebounds. WSU returns three starters and 10 letterwinners from a team that won the Horizon League regular-season title last season. Among the Raiders' top returners is Love, who averaged 16.7 ppg and 9.9 rpg a season ago. Tanner Holden (12.1 ppg/6.5 rpg) and Jaylon Hall (7.8 rpg, 2.9 apg) are the Raiders' other two returning starters.
THE SERIES WITH WRIGHT STATE: This is the 37th meeting between Miami and Wright State with the RedHawks holding a 21-15 advantage in the all-time series. WSU won the last two meetings between the teams, both coming last season with a 71-66 Nov. 27 neutral-site win in the Gulf Coast Showcase and an 88-81 Nov. 9 win in Millett Hall. The last time the teams met at the Nutter Center, Miami captured a 65-62 win on December 5, 2018. When playing in Dayton, the series is tied 8-8.
TELEVISION: The match-up at Wright State will be carried live on ESPN3.
RADIO: In its second year of its partnership with Van Wagner, the Miami Sports Network, powered by Pepsi, continues its coverage of Miami Basketball with a group of affiliates blanketing most of Southwest Ohio and Southeast Indiana. The radio broadcast also will be carried via the TuneIn App. Steve Baker and Terry Bridge will call the action. Tune-in to one of Miami's gameday affiliates:
WFMG-FM 101.3 (Richmond, Ind.)
WMOH-AM 1450 (Hamilton, Ohio)
WONE-AM 980 (Dayton, Ohio)
TuneIn App
DOUBLING UP: In his Miami debut, redshirt junior James Beck had an impressive outing, notching a double-double with 14 points and 10 rebounds. His 10 boards led all players. Beck had six points and seven rebounds in 10 minutes of action in the opening half.
ROARING 20s: In the opening game of the 2020-21 season, sophomore guard Dae Dae Grant roared out of the gates, pouring in a career-high 21 points off 8-of 15 shooting from the field. Grant also drained three triples to tie a career high. His 21 points led all players. This was the second 20-point scoring effort of his career, notching 20 points against Western Michigan on Feb. 4, 2020. It was the 16th career double-figure scoring game for Grant.
LAIRY PERFECT FROM FREE-THROW LINE: Sinking 10-of-10 free-throws in the season opener against North Dakota, redshirt junior guard Mekhi Lairy joined several others in tying a Miami record for single-game free-throw percentage (minimum of 10 attempts). The last time a Miami player was perfect from the charity stripe while hitting double figures in free throws was when Willie Moore went 12-for-12 from the line at Bowling Green on Jan. 25, 2014.
CLOSING IN ON 1,000: Entering the RedHawks' next game with 921 career points, senior forward Dalonte Brown is just 79 away from becoming 37th member of Miami's 1,000 Point Club. Last season, Brown averaged 9.5 ppg. At that pace, he would hit the 1,000-point plateau in Miami's ninth game.
OLDIES BUT GOODIES: Miami boasts five seniors on its 2020-21 roster and also features five juniors to provide the most-veteran squad in head coach Jack Owens' tenure. Among the senior group are fifth-year seniors Precious Ayah and Milos Jovic. They are joined by Dalonte Brown, Benjamin Litteken and Michael Ritchie. The junior class includes redshirt juniors Isaiah Coleman-Lands and James Beck. They are joined by Mekhi Lairy, Elijah McNamara and Josh Brewer.
FRESH FACES: New to the RedHawk roster are freshman center Jackson Ames, freshman forward Luka Eller and freshman guard Bryson Tatum. Although not new to the team, redshirt junior James Beck saw his first game action in a Miami uniform after sitting out the 2019-20 season due to NCAA transfer guidelines.
ODDS 'N ENDS
Redshirt freshman forward Javin Etzler had a strong showing in the RedHawks' season opener, going 3-for-3 from the field, including 2-for-2 from 3-point range to tally eight points.
Freshman center Jackson Ames saw his first action in a Miami uniform in the RedHawks' season opener against North Dakota.
Junior guard Mekhi Lairy tied a career high with four steals against North Dakota in Miami's season opener. Lairy and sophomore guard Dae Dae Grant accounted for seven of the RedHawks' eight steals against the Fighting Hawks.
Redshirt junior guard Isaiah Coleman-Lands dished out five assists while committing no turnovers against North Dakota.
Miami shot 50.9 percent from the field against North Dakota, including 64.0 percent from the floor in the second half.
UP NEXT: Miami returns to Millett Hall for a three-game home stretch, starting with the recently-announced Miami Invitational Dec. 9-11. The RedHawks will face Western Illinois on Wednesday, Dec. 9 and Mount St. Joseph on Friday, Dec. 11 as part of the invite. Both tip times are 5:30 p.m. Another schedule move announced late last week pushes Miami's Mid-American Conference opener to Tuesday, Dec. 15 as the RedHawks host Buffalo at 5:30 p.m. All three upcoming games will be carried on ESPN+ or ESPN3. 
Follow the Miami RedHawks at www.MiamiRedHawks.com
COURTESY MIAMI ATHLETIC COMMUNICATIONS