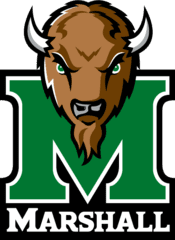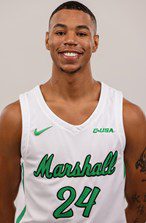 Taevion Kinsey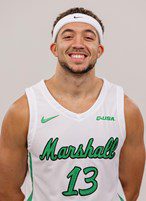 Jarrod West
DAYTON, Ohio – On a night senior guard Jarrod West made history, Marshall men's basketball (2-0) came back from a 13-point first-half deficit to down Wright State (0-1), 80-64, in its first road game of the 2020-21 season in Dayton on Thursday night at the Nutter Center.
West made history early in the first half as he collected his second of four steals in the game to pass Skip Henderson to become the Marshall men's basketball all-time leader in steals with 209. The Clarksburg, W.Va. also performed on the offensive end of court scoring 19 points, falling one assist shy of a double-double with nine and grabbing six rebounds in the win.

"It's an honor and I'm grateful and I'm blessed," West said about breaking the record. "I'm thankful we are playing basketball. To get the steals record two games in, it's an honor. It's my identity. I take defense very seriously. At the end of the day, it's my job to make sure the defense works."

Junior Taevion Kinsey also had a career-night scoring a career-high 31 points on a 9-for-14 night from the field and making 13-of-15 attempts from the free-throw line. The guard also brought down seven rebounds.

Darius George concluded a trio of Herd student-athletes in double-figure scoring with 11 points. The junior forward also brought in a team-high eight rebounds. The Staunton, Va., native also went 3-for-5 from behind-the-arc.

Kinsey started the second half by scoring the first four points of the frame to pull Marshall within one, 34-33.

WSU then went on a 9-0 run across the next two minutes to extend its lead to double-digits, 43-33, with 16:15 left in the game. Then after trading baskets, Marshall still saw a 10-point deficit with just under 16 minutes left.

Goran Miladinovic then made a layup on an assist from West. West followed with a jumper and then an Andrew Taylor three cut the WSU lead to three, 45-42. After a Raider jumper, West made a pair from the charity stripe, and Kinsey made a layup to give MU its first lead since three minutes into the first half, 48-47, with 12:07 on the clock as the Herd never relinquished the lead the rest of way. West made another jumper and another free-throw to conclude the 14-2 run as the Herd led 51-47.

Marshall followed that with a 9-0 run to extend its lead to 60-49 with just over seven minutes left in the game.

The Green and White finished the game on a 9-0 run, with a pair of threes made by Jannson Williams and a layup and a free-throw from Taylor to finish the comeback with a 16-point victory, its largest lead of the game.

Marshall opened the contest with a make from Kinsey, but missed five of its first six attempts from the field. The Raiders went on an 11-2 run across the next six minutes and led 11-4 at the 13:29 mark.

West didn't take long to pass Skip Henderson, collecting his first steal just over five minutes into the game, and getting his program record 209 just over two minutes later when he picked Trey Calvin's pocket.

Wright State eventually held a 21-8 lead with just over 10 minutes left in the half with the 13-point margin being its largest of the game.

MU wasn't going away easy. It had three runs of four or more points in the last 10 minutes of the opening stanza. Starting at the 4:36 mark, Taevion Kinsey jump started a 7-2 run with three made free-throws and Darius George capped off with a three to pull its deficit to 31-29 with 2:31 left in the half.

Wright State ended the half with a three and led 34-29 at the break. Kinsey scored 15 of his 31 points in the first half.
"They (Wright State) played a lot harder than they looked on tape from last year," Marshall head coach Dan D'Antoni said after victory. "They were aggressive with ball screens and handlers. They didn't set the picks very well. Once we started to hold the screens, we figured it out and started getting better looks. The big thing was hitting threes, Darius (George) hit one and Jannson (Williams) hit a few."
NOTES
Marshall's 13-point comeback is the largest since overcoming a 15-point deficit against Western Kentucky on Jan. 15, 2019.

The Herd has opened the season by outrebounding its first two opponents, as it bested the Raiders 45-38 on the glass.

Kinsey scored 30 or more points for the first time in his career and is on a streak of 14 games of 10 or more points.

Iran Bennett and Taylor joined Kinsey, West and George with at least five rebounds in the contest.

George's eight rebounds tie a career-high which he has now done five times.

West now has 25 games of five or more assists.

West now has 211 career steals in his four years at Marshall.
For all the latest information about Marshall men's basketball, follow @HerdMBB on Twitter and Instagram.

To follow all Thundering Herd sports and get live stats, schedules and free live audio, download the Marshall Athletics App for iOS and Android.
—HerdZone.com—
GAME RECAP COURTESY MARSHALL ATHLETIC COMMUNICATIONS