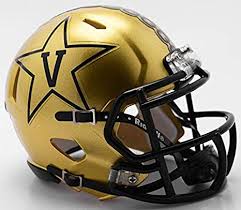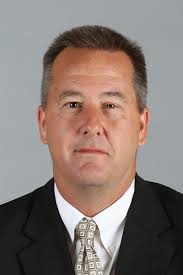 Todd Fitch, Vanderbilt interim head football coach/offensive coordinator
The Fitch File
2020 – Vanderbilt – Offensive Coordinator
2018-19 – Louisiana Tech – Offensive Coordinator/Quarterbacks
2016-17 – Louisiana Tech – Offensive Coordinator/Receivers
2015 – Boston College – Offensive Coordinator/Quarterbacks
2013-14 – Boston College – Wide Receivers/Passing Game Coordinator
2012 – South Florida – Offensive Coordinator/Quarterbacks
2010-11 – South Florida – Offensive Coordinator/Running Backs
2007-09 – East Carolina – Offensive Coordinator/Quarterbacks
2004-06 – Iowa State – Quarterbacks
2002 – South Carolina – Running Backs
1999-2001 – South Carolina – Wide Receivers
1996-98 – Connecticut – Offensive Coordinator
1994-95 – Connecticut – Quarterbacks
1992-93 – Colorado State – Running Backs/Special Teams
1990-91 – Bowling Green – Wide Receivers
1989 – West Virginia – Volunteer Assistant
1988 – Bowling Green – Graduate Assistant
1986-87 – Ohio Wesleyan – Assistant
An Ohio native, Todd Fitch is a 1986 graduate of Ohio Wesleyan, where he was a three-year starter at defensive back and an all-league performer in 1985. Following his playing career, Fitch moved on to an assistant coaching position at Ohio Wesleyan, a graduate assistant at Bowling Green (1988) and volunteer coaching pos at West Virginia (1989). He returned to Bowling Green as wide receivers coach (1990-1991) before moving on to Colorado State to serve as special teams coordinator and running backs coach in 1992.
Fitch and wife Julie are the parents of two children, Curtis and Peyton.
Todd Fitch, a 35-year college football veteran, came to West End after a successful stint with head coach Skip Holtz at Louisiana Tech where he helped the Bulldogs to four consecutive postseason victories. The 2020 season is his first with Vanderbilt.
Fitch has helped 16 teams make postseason appearances in his collegiate career.
In 2019, the Louisiana Tech offense played a critical role in the Bulldogs' 10-3 campaign capped by a shutout win over Miami (Florida) in the Independence Bowl. The unit ranked 36th nationally in scoring offense (32.5 points/game), 37th in total offense (436.8 yards/game) and 32nd in pass offense (268.5 yards/game).
Fitch helped develop J'mar Smith into one of the most productive quarterbacks in Louisiana Tech history. As a senior in 2019, Smith was named Conference USA's Offensive Player of the Year and first team all-conference after completing 64.3% of his throws (236 of 367) for 2,977 yards, 18 touchdowns and just five interceptions. Smith finished his Bulldog career with 9,323 passing yards and 51 touchdowns.
In 2017, despite losing three of the nations' top offensive stars to graduation and the NFL draft, Fitch's offense helped Louisiana Tech reach the Frisco Bowl where the Bulldogs capped with a convincing 51-10 victory over No. 25-ranked SMU.
In 2016 season, Tech finished with a 9-5 record with three Bulldogs winning top individual C-USA awards including Most Valuable Player (Ryan Higgins), Offensive Player of the Year (Carlos Henderson) and Special Teams Player of the Year (Henderson). The Bulldog offense lead the C-USA in completion percentage (66.7), first downs (358) and passing offense (363.4 ypg) while receivers Trent Taylor and Henderson ranked first (and fifth nationally with 1,803 and 1,535 receiving yards, respectively. Taylor and Henderson are currently with the San Francisco 49ers and Denver Broncos, respectively.
The Vanderbilt role is Fitch's fifth stint as offensive coordinator after holding similar positions at Louisiana Tech, Boston College, East Carolina and South Florida. He has coached several notable NFL players including Tennessee Titan running back Chris Johnson (East Carolina), three-time All-Conference USA honoree Davon Drew (East Carolina) and Troy Williamson (South Carolina).
Prior to joining Louisiana Tech, Fitch spent three years at Boston College first as wide receivers coach and passing game coordinator (2013-14) and then as offensive coordinator and quarterbacks coach (2015). At Boston College, Fitch was instrumental to a program that achieved back-to-back seven-win seasons in 2013 and 2014 and advanced to the 2013 Independence Bowl and 2014 Pinstripe Bowl after inheriting a program that went 2-10 in 2012. The five-win improvement from 2012 to 2013 is tied for fourth-best in the FBS.
In his first season at Boston College, he guided an Eagle passing attack highlighted by career receptions and receiving yards record-holder Alex Amidon and quarterback Chase Rettig, who finished the season with a 140.6 efficiency rating and the fewest interceptions in the Atlantic Coast Conference in 2013. He also mentored first team All-ACC honoree Alex Amidon, who concluded his collegiate career having registered a school record 191 receptions for a school-record 2,800 yards.
Fitch also served as offensive coordinator alongside Holtz at South Florida (2010-12) and at East Carolina (2007-09).
At USF, Fitch coached quarterback B.J. Daniels, who finished his career second in school history and third in Big East history in total offense (10,501) despite missing the last three games of his senior season because of injury. In his first season at USF, Fitch led an offense that helped USF to its fifth-straight eight-win season, making it one of just 15 programs nationally to accomplish the feat. He mentored both Mo Plancher (793) and Demetris Murray (542) to then-career highs in rushing yards.
The USF offense improved significantly in Fitch's second year, as the unit improved its national ranking in total offense 75 spots from 2010 to 2011, the largest jump of any school in the country. The most dramatic improvement came in the passing game where the Bulls improved by 85 yards per game. In addition, the USF offense increased their rushing production by 38 yards per game.
Fitch's was offensive coordinator and quarterbacks coach in three years at East Carolina. In his first season at ECU the offense broke a pair of school single-season records for most points (403) and touchdowns scored (52). While utilizing two first-year starters at quarterback, the 2007 ECU offense turned in its second-highest scoring average since 1991 and tallied 35 or more points in six of eight C-USA contests before closing the year with a 41-point performance against No. 24 Boise State in the Sheraton Hawai'i Bowl.
Fitch and the offense helped ECU to back-to-back C-USA titles in 2008 and 2009 becoming the first program in league history to win consecutive conference championships.
Fitch has also worked under legendary head coaches Don Nehlen, Earle Bruce and Lou Holtz during his career which spans back to 1986 and included stops at Iowa State, South Carolina, Connecticut, Colorado State, West Virginia, Bowling Green and his alma mater, Ohio Wesleyan.
From 2004-06, Fitch was quarterbacks coach Iowa State where he tutored All-America performer Bret Meyer who blossomed into Iowa State's most prolific signal-caller with 7,348 passing yards and 41 touchdown passes.
Fitch was South Carolina's quarterbacks coach in 2003 after a year as running backs coach and three seasons as wide receivers coach – all under head coach Lou Holtz and offensive coordinator Skip Holtz – where he helped lead the Gamecocks to consecutive Outback Bowl victories in 2001 and 2002.
Fitch came to South Carolina from Connecticut where he worked under Skip Holtz from 1994 to 1998. He coordinated the Huskies' offense in his final three years, playing a key role in UConn's high-powered and prolific offensive attack in 1998 that resulted in a school-record 10-win season and quarterfinal round appearance in the NCAA Division I-AA playoffs.
COURTESY VANDERBILT ATHLETIC COMMUNICATIONS