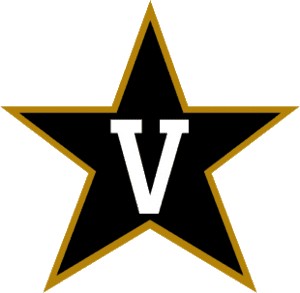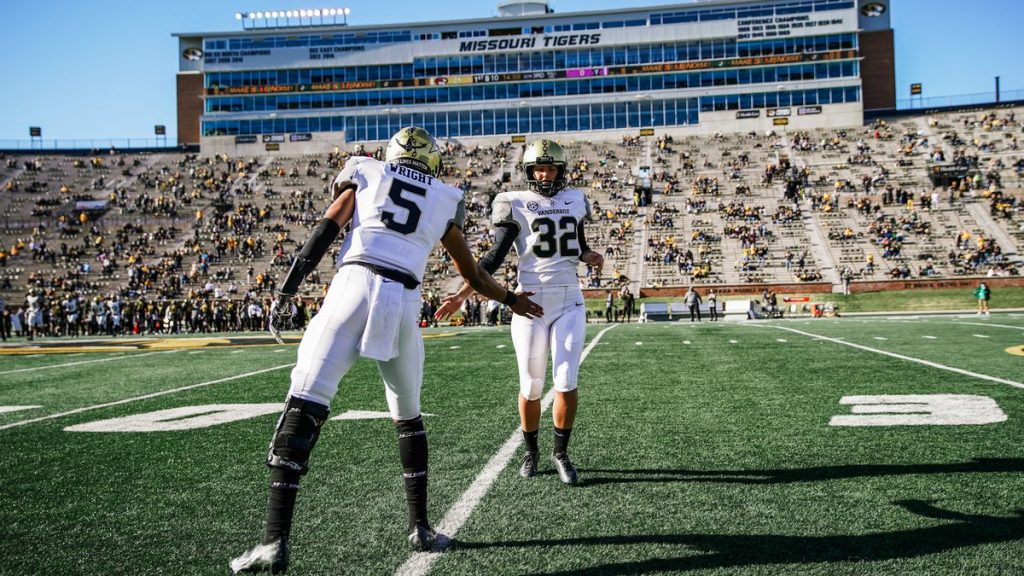 Sarah Fuller 32 coming off field gets congratulated by 5 Michael Wright (courtesy Vanderbilt Athletic Communications)
After Vanderbilt win a soccer championship last Sunday, Sarah Fuller returned to Nashville from Orange Beach, Alabama, and joined the football team. She was officially cleared to play against Missouri.
Sarah Fuller made history Saturday afternoon in Columbia, Missouri.
Vanderbilt's senior student-athlete became the first woman ever to officially take the field during a football game in a Southeastern Conference and Power 5 Conference game. Fuller took the opening kickoff of the third quarter during Vanderbilt's contest at Missouri.
Fuller's kick went 30 yards and was downed at the Missouri 35-yard line.
Fuller, from Wylie, Texas, spent four seasons as a keeper for the Vanderbilt soccer team. The Commodores recently won the 2020 SEC Tournament with Fuller in goal for all four postseason wins.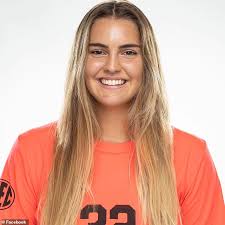 Sarah Fuller, Vanderbilt soccer goalkeeper & football placekicker
THE SARAH FULLER BIOGRAPHY
Student-Athlete Features
The Hustler — Making a Fuller Impact
VUCommodores.com – Living a Fuller Life
HONORS
2019 SEC Academic Honor Roll
2018 SEC Academic Honor Roll
2017 SEC First-Year Academic Honor Roll
As a Senior (2020)
Started nine of Vanderbilt's 12 games during the fall 2020 season, posting three clean sheets on the way to a 7-2-0 record in net
With an 0.97 goals against average, the number stands as the eighth-best mark in a season in Vanderbilt soccer history
Starting all four games during Vanderbilt's 2020 SEC Tournament championship run, posted a shutout in the second round against Mississippi State (11/15/20) and had an assist in the quarterfinals against No. 13 Tennessee (11/17/20)
Made her first career start in goal at home against South Carolina (10/11/20) and tallied six saves
Earned her first collegiate win in the 2-1 double-overtime victory at Florida (10/18/20)
Kept a clean sheet in Vanderbilt's 1-0 victory over No. 15 Georgia (10/25/20)
Earned a second consecutive clean sheet in the 2-0 victory at LSU (10/30/20)
Had a shutout streak of 314:34 during the regular season stretching from Oct. 18 at Florida to Nov. 7 against Ole Miss
As a Junior (2019)
Played in one game for the Commodores against Chattanooga (9/12/19)
Combined for a shutout against Chattanooga
As a Sophomore (2018)
Saw action in one game for the Commodores and contributed to one of the team's 10 shutouts.
As a Freshman (2017)
Did not see game action as a freshman for the Commodores.
Personal:
Major is Medicine, Health and Society
Began playing soccer at the age of five
Played goalkeeper for Hugh Bradford at D'Feeters ECNL
COURTESY VANDERBILT ATHLETIC COMMUNICATIONS