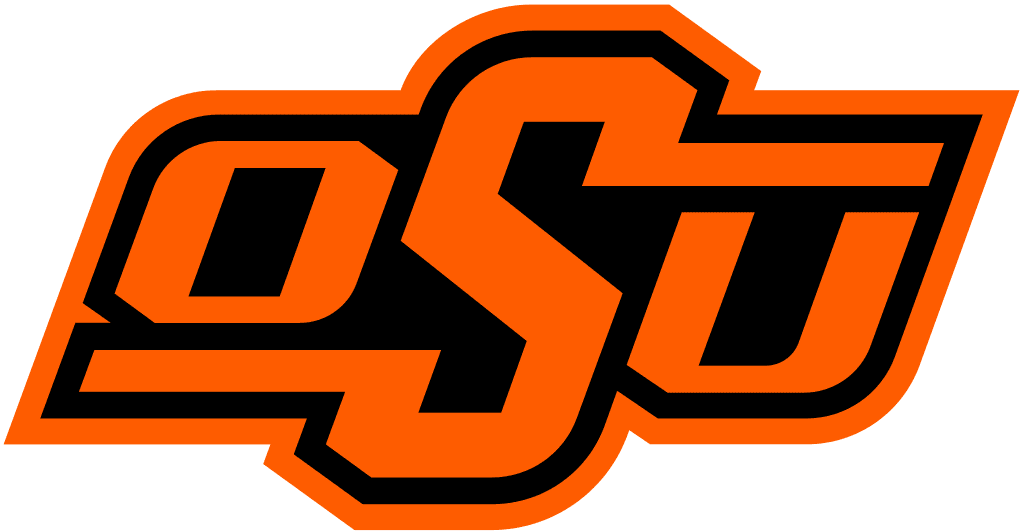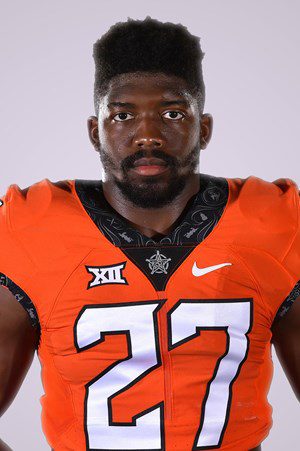 Oklahoma State running back Dezmon Jackson in third in the rotation of backs
STILLWATER, Okla. (AP) — Dezmon Jackson rushed for career highs of 235 yards and three touchdowns, and No. 21 Oklahoma State bounced back from a disappointing loss to rival Oklahoma to beat Texas Tech 50-44 on Saturday.
Jackson had 36 carries in part because the top two backs, Chuba Hubbard and LD Brown, did not play. The Cowboys still ran for a season-high 317 yards.
Hubbard was out with a right ankle injury. The redshirt junior was introduced with the seniors on Senior Day. He walked onto the field during a pregame ceremony wearing his jersey without pads and a medical boot on the injured leg. Brown also has been fighting through injuries.
Spencer Sanders passed for 222 yards and ran for 78, and Tylan Wallace caught seven passes for 129 yards and a score for Oklahoma State (6-2, 5-2 Big 12), which remained in the running for a spot in the Big 12 title game.
Alan Bowman passed for 384 yards and three touchdowns, Erik Ezukanma caught seven passes for 183 yards and two touchdowns, and SaRodorick Thompson ran for 133 yards and two scores for Texas Tech. The Red Raiders (3-6, 2-6) gained 639 yards, but Oklahoma State made up for it with a safety, an onside kick return for a touchdown, and an interception return for a score.
THE TAKEAWAY
Texas Tech: The Red Raiders are a few less mistakes away from being a good team. They gained more yards against the Cowboys than Oklahoma did, but Oklahoma State took advantage of Tech's mistakes.
Oklahoma State: The Cowboys proved they could still win games the old-fashioned Big 12 way, with points coming in bunches on both sides. Oklahoma State had relied on its defense for much of the season, but this time, the offense kept up and carried the load.
Oklahoma State Postgame Notes vs. Texas Tech – Nov. 28, 2020
The Oklahoma State win…
• Marked its 10th win in its past 12 meetings with Texas Tech.
• Gave it wins in eight of its past nine matchups against Texas Tech in Stillwater.
• Gave it wins in nine of its past 12 Big 12 games.
• Made it 73-15 in its past 88 games vs. unranked opponents, dating back to 2010.
• Gave it wins in 32 of its past 39 games when playing as an AP ranked team vs. an unranked team.
• Made it 6-2 or better for the first time since 2017 and for the eighth time in the Mike Gundy era.
• Made it 9-3 in its past 12 games at Boone Pickens Stadium.
• Made OSU 48-15 at Boone Pickens Stadium since the start of the 2011 season.
• Improved it to 39-17 in its past 56 games and 53-23 in its past 76 games.
• Made it 22-23-3 all-time vs. Texas Tech and 13-8 vs. Texas Tech in Stillwater.
• Improved Mike Gundy's career record vs. Texas Tech to 12-4.
• Improved Mike Gundy's record in Big 12 games to 82-54.
• Improved it to 63-33 in Big 12 games since 2010.

Inside The Numbers
:: OSU is 25-9 in its past 34 games decided by fewer than 10 points.
:: OSU is 29-4 in its past 33 games when leading at halftime, dating back to Sept. 17, 2016.

:: CB Rodarius Williams tied the Oklahoma State career record for consecutive starts vs. Texas Tech, making the 47th-straight start of his career. He tied the streak of 47 that offensive lineman Russell Okung made from 2006-09. He is just four behind the school record for total starts as Andre Sexton had 51 from 2006-09.

:: With several offensive linemen out to injury, the starting lineup looked different than it has all season. Josh Sills moved to RT and Preston Wilson played LG. Jake Springfield, Ry Schneider and Hunter Woodard stayed in their spots from the last game at LT, C and RG, respectively.

:: The Cowboy offense picked up the pace dramatically, playing with a noticeably faster tempo that its previous games.

:: Oklahoma State has held its opponent scoreless on its opening drive in 15 of 16 halves this season.

:: Running back Dezmon Jackson made his first career start at Oklahoma State, stepping in for an injured Chuba Hubbard and LD Brown. Entering today, he had 18 career carries for 135 yards.

:: Jackson was outstanding in his starting debut. He scored the first three touchdowns of his Cowboy career in the first half. He also finished with career highs in carries (36), rushing yards (235) rushing touchdowns (3), receptions (2) and receiving yards (10).
:: Jackson's 235 rushing yards was the fourth-highest total by an OSU running back in the Mike Gundy-era. Chuba Hubbard had games of 296 and 256 in 2019, and Kendall Hunter rushed for 257 in 2010.

:: It marked the first time this season that an OSU player has scored more than two touchdowns in one game. The last time an OSU player scored three touchdowns in one half was when Jalen McCleskey had three receiving touchdowns at Pitt on Sept. 16, 2017.

:: Tylan Wallace surpassed 100 yards receiving midway through the second quarter of today's game. He finished with seven catches for 129 yards. It marked his highest receiving yards total since his 187-yard effort earlier this season against Texas.

:: Wallace now has 14 100-yard receiving games in his career, ranking as the fifth-most in OSU history.

:: Dillon Stoner has at least one catch in 45 of his past 46 games.

:: OSU's 317 rushing yards were a season high, topping their previous best of 295 against Kansas.

:: The Cowboy defense held Texas Tech to 4-of-16 converting on third down.

:: OL Josh Sills, CW Dayton Metcalf, CB Rodarius WIlliams and WR Tylan Wallace served as Oklahoma State captains for today's game.

:: Jason Taylor's 48-yard kickoff return for a touchdown marked the first OSU kickoff return touchdown since Tyreek Hill's 99-yard return at Kansas on Oct. 11, 2014. It was Taylor's second non-offensive score of the season as he also had the game-winning 85-yard fumble return at Kansas State.

:: Tre Sterling's 65-yard interception return touchdown marked OSU's first "pick-six" since Malcolm Rodriguez's game-winning play in last year's game at Iowa State.

:: Those two plays marks OSU's first game with multiple non-offensive touchdowns since the 2016 win vs. Southeastern Louisiana when Madre Harper and Ramon Richards both scored on fumble returns.

:: Tre Sterling tied a career high with nine tackles; it marked the seventh time in his career he's had nine stops.
COURTESY OKLAHOMA STATE ATHLETIC COMMUNICATIONS